All international indexes are conspiracies: Minister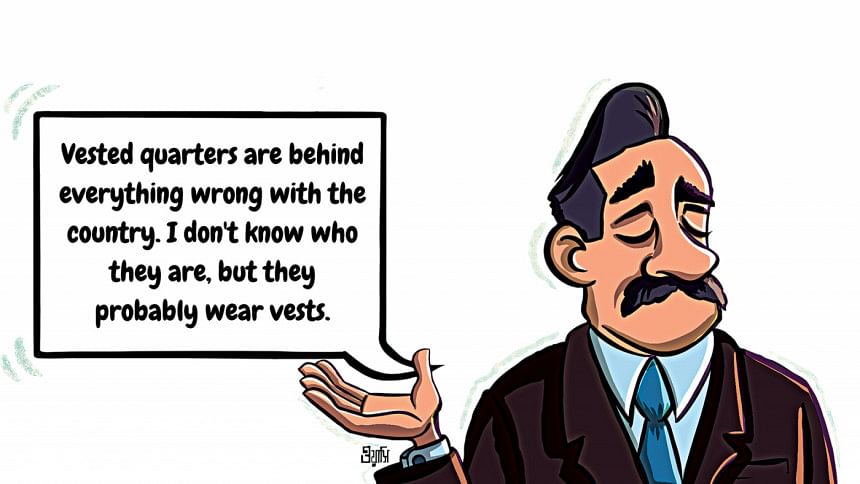 Chapasthan has landed at the bottom of yet another international index, but the country's top officials, like every other time, are not convinced by the report. 
"A vested quarter is behind all this," said Disinformation Minister Mahmudul Hossainullah Rocky, and all citizens totally believed him and definitely did not groan after hearing the response.
The minister said this during a press conference centring the Freedom to Dissent Index, published recently.
When asked to identify the vested quarter, Rocky said, "There are so many quarters, man. You expect me to remember all of them? Just know that it's vested."
One not-so-bright journalist asked, "Sir, what do you mean by vested? Do they wear vests?"
And the official replied, "They might wear vests, but we don't know for sure. These people scheme from the shadows, and shadows indicate darkness, which means it's hard to decipher whether they wear vests in absence of adequate lighting."
Other dumb back-and-forths like this took up a major part of the conference.
"If these useless indexes, which always put us at the bottom, are so accurate, how come we are developing the country at break-neck speed? Other countries are just jealous of our sexy development," Rocky remarked.
When asked whether economic development is all that matters, the minister said, "Like, duh."
"And what's all this about dissent? We allow DNP, the opposition party, to say the stupidest things every day. They should be jailed for their comments, but like good guys, we tolerate their existence," he said.
One brave journalist disputed Rocky's remark on the report's accuracy, to which the official replied, "Are you implying that these international organisations know Chapasthan better than us Chapasthanis?"
He went on to say that Chapasthan Bureau of Statistics (CBS) produces the best reports on the country, way better than global ones, and revealed that CBS has published an index on how bad international agencies are at making indexes.
"The CBS report found that they are really, really bad," Rocky stated. The CBS report gave CBS and its affiliated bodies a full score of 100, that too with stickers of stars and smiley faces, and gave all international agencies negative 100.
The minister urged all citizens to only believe CBS for the country's good and their own wellbeing. "If you hear anything bad about us, remember that it's all part of a conspiracy," he said.
The brave journalist could not be found after the conference. 
Email your satire pieces, cartoons, comic strips or whatever tickles your funny bone to [email protected] and you too may have something to show for wasting your time