Russia cheers
Unhappy US to continue to work with govt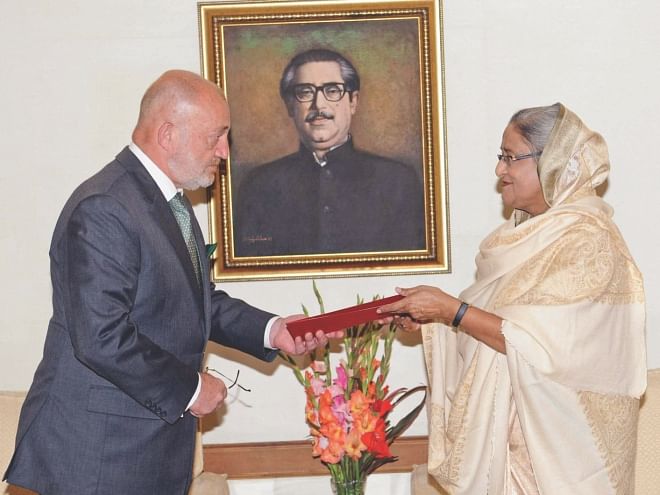 After India and China, Russia on Tuesday congratulated Sheikh Hasina on her assumption of office as the prime minister of Bangladesh.
The very day the United States said it would continue to work with the government of Sheikh Hasina despite its disappointment with the January 5 parliamentary elections.
Like the US, the UK, Canada, France, Japan, Germany, the United Nations, and Commonwealth and European Union countries have expressed their disappointment with the polls and are yet to congratulate the new government.
They stressed an inclusive political process in Bangladesh.
BNP chief Khaleda Zia yesterday termed the new Hasina-led government "illegal". Diplomats, however, told The Daily Star that the government was constitutionally sound and not illegal at all and the international community would not ignore the new government.
The elections remain controversial, they added.
They believe the political deadlock in Bangladesh is not over and it must be solved peacefully through dialogues so that its socio-economic and other progresses face no hindrance.
A free, fair, peaceful, participatory and credible election, reflecting the will of the Bangladeshis would solve the crisis, they added.
They also said it was now the obligation of the BNP and Jamaat to avoid hartals, blockades, and "especially the violence" to create an atmosphere conducive to dialogue and the government should come forward to hold a meaningful dialogue on a way towards an inclusive, peaceful and credible election as soon as possible.
On Tuesday, Russian President Vladimir Putin in a letter of felicitation extended his congratulations to Sheikh Hasina on her re-election as the prime minister of Bangladesh.
Russian Ambassador to Bangladesh Alexander Nikolaev handed over the letter to Hasina at her Gono Bhaban residence.
"Russia counts on the government formed by you to continue the lines aimed at further increase of mutual beneficial Russia-Bangladesh cooperation in all spheres," said Putin's letter in which he expressed his high satisfaction with the friendly relations between the two countries.
The Russian president wished good health and new successes for Hasina.
Belarus Prime Minister Mikhail Myasnikovich yesterday congratulated Hasina on her election victory.
"I would like to confirm the intention of the government of Belarus to further develop the constructive dialogue with the government of Bangladesh in the political sphere, as well as mutually beneficial cooperation in trade, economic, industrial, agricultural, scientific-technological, military-technical, educational, cultural and other spheres," Myasnikovich said.
Meanwhile, Marie Harf, deputy spokesperson for the US state department, during a regular press briefing Tuesday in Washington DC responded to a journalist's question whether the US recognised Hasina's government after the January 5 elections.
"Well, that's not exactly how it works. We obviously work with governments who are elected, but in regards to these elections themselves, we have already made clear our disappointment with the elections, which in our view did not credibly reflect the will of the Bangladeshi people since almost all of the seats of the new parliament weren't contested or had only token opposition. So we'll make clear our concerns when we have them," she said.
Asked whether the US will continue to work with the government of Sheikh Hasina, Harf said, "We continue to work -- of course we will, but while at the same time making clear our concerns with the election."