Belt and Road Initiative: Perspective from Bangladesh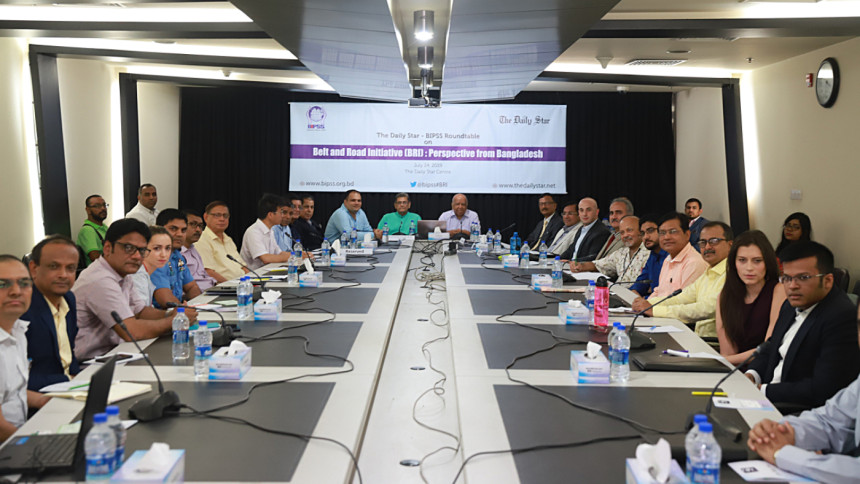 Major General A N M Muniruzzaman, ndc, psc (Retd), President, BIPSS and moderator of the session
The Belt and Road Initiative (BRI) is a major undertaking. In the words of President Xi Jinping "This is the project of the century". It encompasses all three continents in a network of roads and sea-routes. More than 120 countries have already signed and joined BRI. Bangladesh is also a signatory country of BRI and also is an important strategic member. During the visit of President Xi Jinping to Bangladesh in 2016, a number of MoUs and agreements were signed between Bangladesh and China. Under the BRI projects, Bangladesh will receive $26 billion USD for BRI projects and $14 billion USD for joint venture project, together totaling to a $40 billion USD package. Bangladesh is a strategic maritime nation and occupies a critical access position to the Bay of Bengal and Indian Ocean. Therefore, one of the six economic corridors of BRI will pass through Bangladesh; it happens to be one of the two maritime corridors of BRI. This corridor, which starts at Kunming passes through Myanmar, enters Indian north-east and through Bangladesh, ending up in Kolkata. There is, however, some doubt and confusion regarding this corridor as this was not mentioned in the post second BRI Summit declaration in April this year. BRI has entered a new phase, since the vision was first declared by President Xi Jinping in Astana, Kazakhstan in 2013 and it was explained during his visit to Jakarta, Indonesia. It has been over five years since the work of the mega project started. In the second BRI Summit held in Beijing this year President Xi Jinping gave a number of policy directives regarding implementation of BRI. Projects in the coming years, according to his vision, all BRI projects should also be clean and green, meaning there will be zero tolerance for any corrupt practice. Projects should be environmentally sensitive, not causing any environmental damage. A number of initiatives were also declared; notable amongst them are, Belt and Road Studies Network (BRSN), Belt and Road News Network (BRNN), Belt and Road Energy Partnership (BREP) and Digital Silk Road Initiative (DSRI) to name a few.
There is also a major emphasis now on digital BRI. In this age, connectivity through physical network is no longer sufficient. Countries under BRI must be digitally connected. Therefore, a BRI digital super highway will be built. All BRI partners should re-evaluate and nations must exercise responsible borrowing so that they do not fall in the so called debt trap. BRI is happening at a time when the global system is going through a flux and major changes are taking place in the international system. It is a complex world and as a member country of BRI, Bangladesh has to move carefully, critically judging the situation and all its consequences. We should try and get the best benefit of this major strategy which can be truly called a grand strategy. There are risk factors involved in these initiatives and decision should be based on our national interest.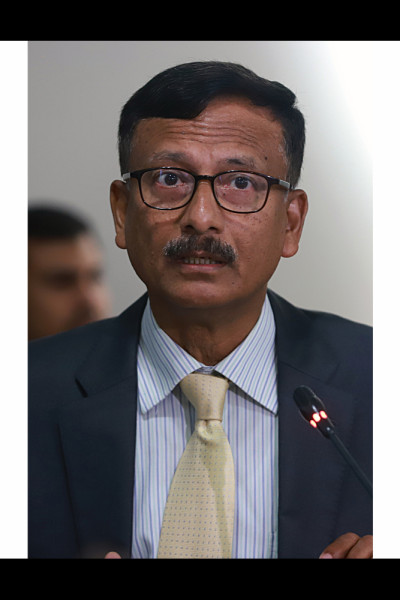 Md Touhid Hossain, Former Foreign Secretary, Ministry of Foreign Affairs, Government of the People's Republic of Bangladesh
 We should understand the significance of Belt and Road Initiative (BRI) as a geopolitical concept. China has played an influential role in Africa in recent times. This approach led to unstoppable rise of China. There were setbacks for China in Maldives and Sri Lanka. China's influence in South China Sea is growing. In this region, ASEAN also have a role to play when comes to regional cooperation. BRI is not going to immediately bring substantial change for Bangladesh as the effectiveness of this strategy depends on the combined effort of the partners in the region. India has not been a part of BRI in fear of being encircled by China. BRI has triggered a conflict of interests between India and USA. China is growing more powerful day by day both in terms of economy and military. Countries can find it hard to repay any loan under the conditions of BRI. There are limitations to pay back the grossly overpriced projects. We should look for partners such as China to resolve the Rohingya conflict while being more practical on the connectivity routes and their benefits.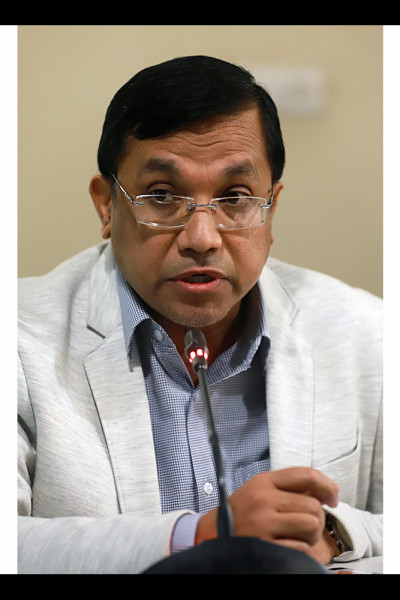 Dr S K Tawfique M. Haque, Director, South Asian Institute of Policy and Governance (SIPG), Department of Political Science and Sociology, North South University
There are changes that indicate the economic slowdown of China. The over capacity and huge foreign exchange reserve of China played a crucial role in the process of economic slowdown. USA is now putting emphasis on containment strategy to counter the rise of Chinese initiatives such as Belt and Road Initiative. Chinese strategy of Belt and Road Initiative is based on economic, cultural and geopolitical interests, irrespective of the divergent discussions. BRI is going to expand the horizons of connectivity, trade and infrastructure. There are also risks concerned with environmental degradation and debt trap. BCIM corridor was proposed by Rehman Sobhan in 1999. Bangladesh needs support from China for infrastructural development, trade and business. Bangladesh should be patient to wait for the outcome of BRI. There should be more discussion about Chinese investment in Bangladesh. There are differences between China and Pakistan on the issues regarding BRI. There are several researches coming out on BRI. Bangladesh should not be over dependent on any country for resolving the ongoing Rohingya crisis. 
Parvez Karim Abbasi, Assistant Professor, Department of Economics, East West University
The news of the demise of the USA as a superpower is greatly exaggerated. The recent Trump led trade war and the Huawei incident proves that its economic prowess is still formidable. The USA was the largest economy (in terms of Purchasing Power Parity) from 1871-2014. The Indo-Pacific Strategy is a reflection of its aspirations to retain its superpower status.
 However, it is an incontrovertible fact that China is closing the gap fast between itself and USA and the Belt and Road Initiative is a concrete manifestation of the Chinese economic clout. A few facts and figures will amply illustrate that phenomenon. In 1900, the Chinese economy was 6 percent of US economy. By the year 2011, the Chinese economy became 50 percent of US economy. The Chinese economy is expected to exceed US economy and account for 25 percent of global economy by 2050. China is the biggest export market for 43 countries. The country is also the largest exporter of manufactured products in the world.
The accusation of Debt Diplomacy is often associated with BRI. However, empirical research shows that the widely cited example of the acquisition of Hambantota port by the Chinese has little to do with BRI. In fact, China is not even the largest creditor of Sri Lanka. Rather, it is closely related to the servicing of the prior $39 billion Sovereign Bonds that were issued by the Sri Lankan Government, whose maturity period ends in 2019. Chinese investments often were misdirected to inefficient prestige projects. The acquisition of Hambantota however raises the specter of String of Pearls theory whereby Chinese dependence on Singapore as a maritime hub could drastically reduce in the coming decades.
 China has committed to roughly US$ 40 billion investment in Bangladesh. Though disbursement has been slow, it is widely expected to invest in power, infrastructure and manufacturing industries. Most of the loans provided by the Chinese are commercial in nature, with stiff interest rates.
The questions regarding the wisdom of debt financed investment is moot at this point as these investments are crucial for the Bangladeshi economy. However, some concerns remain such as the possibility of the Chinese economy slowing down and its impact on BRI; the possibility of sudden rise in global oil prices and slowing down of remittances and RMG exports and its effect on Bangladesh's ability to service its debts; the lack of adequate sensitisation of Chinese workers in Bangladesh to local culture and tradition as demonstrated by the regrettable Payra power plant incident; greater oversight and transparency etc.
However, BRI alone cannot be a panacea for all our economic woes.
Brig Gen Shahedul Anam Khan, ndc, psc (Retd), Associate Editor, The Daily Star
China has overcome the US economy in terms of Purchasing Power Parity in 2014. We must understand that Belt and Road Initiative is here to stay. China cannot be blamed for her aspirations as no other big country came up with concrete plans to reshape the current world order. BRI is of greater importance to China and the project goes with the ever increasing global demand for infrastructure. It is also flexible as it allows local and regional integration. The enlarging footprint of BRI in the region is also another aspect.
There are discussions about Mombasa-Nairobi railway and Jakarta-Bandung railway. Some of the projects of BRI are symbolic. Like any other infrastructural projects, there are pros and cons of BRI. There are concerns of compromising national sovereignty. China hopes to ensure that the ownership of a particular infrastructure is not hampered. The domestic challenges that China faces in terms of fund, high rate of unemployment and environment are also key concerns. Ghost cities have been a major cause of concern in China. Technological tsunami in the form of IOT, 3D printing, robotics, big data and human cloud will outsource the white collar work all across the globe which would cause serious unemployment. Unemployment will also impact developed countries; USA will experience 47 percent unemployment, Japan will experience 40 percent unemployment and UK will experience 37 percent unemployment. BRI as a project is subject to criticism. There are certain security concerns: debt, disaster, absence of local employment, trickle-down effect of uncertainty, consequences of disruption of projects within China and other countries as well as the Chinese compass approach. There is a risk of miscommunication and misperception about such a large approach. China recognises that debt trap diplomacy is something which should never be repeated. BRI is the first step to cover a thousand miles. BRI's success depends on the social, economic and political stability of China and all the participating countries. It is not judicious to pick the Rohingya issue in all matters of cooperation. BRI should be based on our package that represents our dreams and aspirations. We should be careful about vanity projects.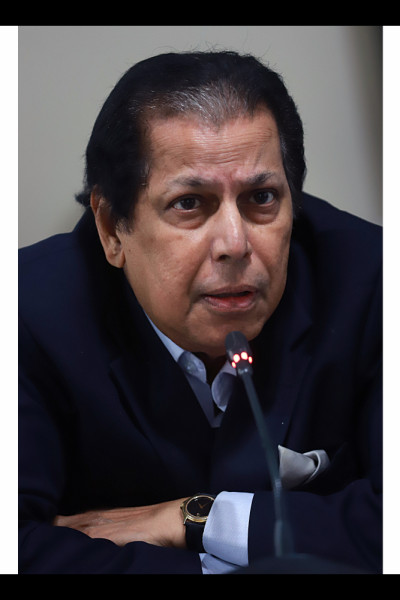 Serajul Islam, Former Ambassador
There is a concern on the situation of Rohingya crisis in Bangladesh. We should look at the balance of policies between Bangladesh and India to join the Belt and Road Initiative. We should realise that BRI is not the solution for all our problems. We should also realise that a large stake of our membership to BRI is based on BCIM which is dependent on our ally, India.
Rear Admiral A S M A Awal, NBP, OSP, ndc, psc, MDS, MBA (Retd), Former Ambassador & Assistant Chief of  Naval Staff
BCIM can act as a real transit point linking together all the countries. India and China are the biggest trade partners. The issue is whether India will sign up for BRI. The rivalry between India and China will determine the fate of BCIM corridor. China and India are our biggest trading partners as well. The sideline meeting between China, India and Russia at G20 Summit caught the attention of the press across the world. There is also a point of contention between India and China on account of the Doklam standoff. The national interests should be preserved while considering the selection of projects. BRI and Indo-Pacific strategy are two competing projects which require participation from Bangladesh.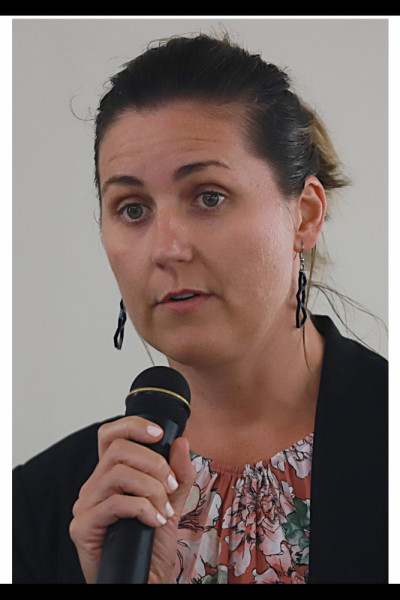 Penny Morton, Deputy High Commissioner, Australian High Commission in Bangladesh
Bangladesh should emphasise on the use of international rules for the BRI projects. It can also look for opportunities concerned with free trade, democracy and other values that it can associate with BRI. Bangladesh should hold a genuine interest in upholding the standards for BRI projects across the whole Indo-Pacific region.
Shahed Akhter, Former Ambassador
Bangladesh should concentrate on the BRI and BCIM corridor. Bangladesh has a genuine interest in this part of BRI project because it has a large volume of trade with China. There were plans to build Asian Highway 1 and 2. However, the current status of the Asian Highway is questionable. BRI will also connect Asia with Europe. United Nations ESCAP has also actively worked for the development of Asian Highway. India has already taken note that Bangladesh is going to be a part of BRI. We already have a MoU with Myanmar concerning the Rohingya crisis. The countries who signed up for BRI are taking keen interests on BRI.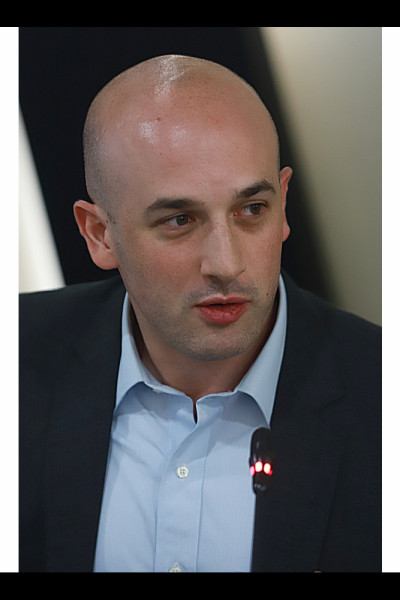 Jacob J Levin, Political Officer, US Embassy in Bangladesh
There are talks on competition and market share. In this kind of debate, the conspiracy theories always take precedence. We value relations with Bangladesh. USA has been a key partner to Bangladesh in terms of trade, counter terrorism and development. Currently there is a focus on state led investment but there should be more focus on private investment. The share of private investments went down last year and that is a major concern for Bangladesh. We have experience and the resources required to develop Bangladesh. We want to collaborate with the government of Bangladesh in order to unlock the potential of private sector in Bangladesh. We need incentives for US companies to invest in Bangladesh.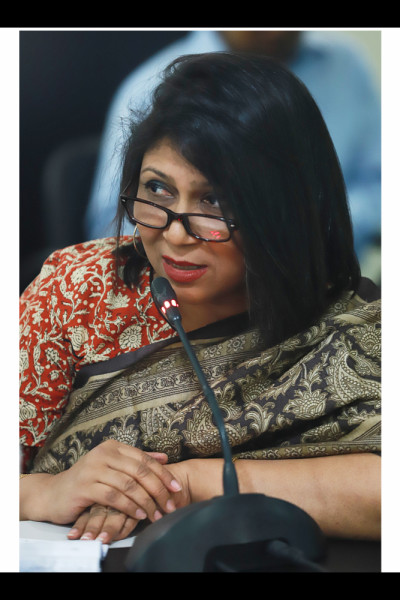 Dr Nadia Binte Amin, Managing Director and CEO, Research and Computing Services Private Limited
There are concerns about Bangladesh in terms of incorporating our self-interests with the BRI projects. We should emphasise on being more pragmatic to have a positive impact on the Chinese position for BRI.