Addressing Rohingya Crisis: Look beyond political agenda
Law minister tells UN Security Council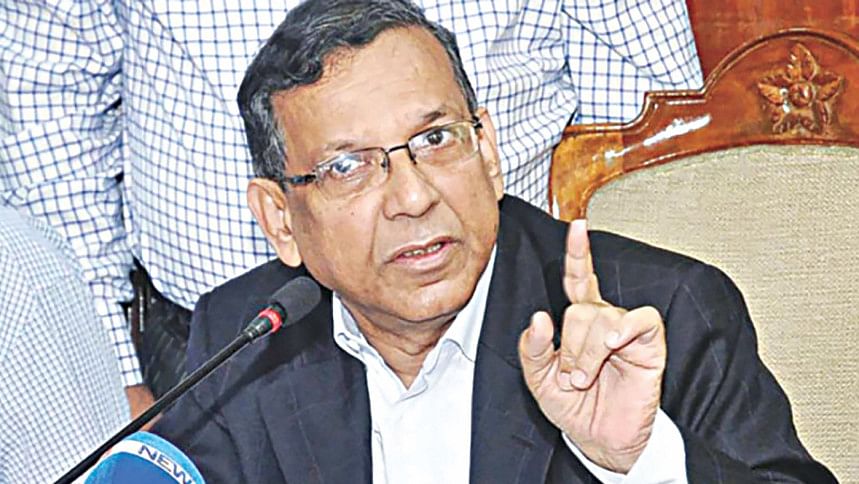 The UN Security Council should play constructive role, going beyond political agenda. We expect UN special envoy for Myanmar to play role in creating conducive conditions so Rohingyas can return.
Law Minister Anisul Huq has called for the UN Security Council to go beyond the political agenda to address the Rohingya crisis that otherwise is posing a serious security challenge for the region and the whole world.
Safe and sustainable Rohingya repatriation from Bangladesh to Myanmar is the only solution to the crisis, which requires the creation of conducive conditions in Myanmar. However, repeated efforts of repatriation have not worked since about a million Rohingyas fled to Bangladesh in 2016 and 2017 following a military crackdown, he said.
There have been some significant developments, including the International Court of Justice's verdict allowing the Rohingya genocide case of the Gambia to proceed, the US declaration of the atrocities as genocide and dozens of sanctions against the Myanmar military and businesses linked to it.
However, there is no progress towards a solution because of some regional and global powers' support towards Myanmar, said analysts.
Permanent members of the UN Security Council -- Russia and China, which have a major interest in Myanmar -- have not taken any concrete actions that could help solve the Rohingya crisis.
"The UN Security Council should play a constructive role, going beyond political agenda. We expect UN special envoy for Myanmar to play a role in creating conducive conditions so Rohingyas can return," Anisul Huq said while addressing as chief guest at a seminar yesterday.
Bangladesh Institute of International and Strategic Studies (BIISS) organised the event, titled "Rohingya Crisis and the Emerging Security Challenges: Response Strategy of Bangladesh", at its auditorium in the city.
The minister said the prolonged stay of some 1.2 million Rohingyas is a huge burden for Bangladesh. Moreover, it is posing risks of radicalisation, while many of them are getting involved in drug smuggling, human trafficking and other crimes.
The UN must take tangible actions for addressing the crisis, he added.
Dhaka University International Relations Professor Dr Delwar Hossain said there have been discriminatory policies against the ethnic communities in Myanmar. And, the Rohingya were not even recognised as an ethnic group. Such problems were there for many years.
"Rohingya crisis... is in no way a Bangladesh problem. It has regional and global consequences and so the world community must come forward to address it," he said.
While repatriation may take time, the funding for Rohingyas is declining, which is creating another challenge for Bangladesh and Rohingya. Lack of basic amenities in the Rohingya camps can lead to bigger problems, he added.
Former ambassador Munshi Faiz Ahmad said the ICJ case, the US determination of Rohingya persecution as genocide, and sanctions by the US, Canada and European countries are some of the important efforts and stronger initiatives should be built upon them for a sustainable solution to the Rohingya crisis.
BIISS Director General Maj Gen Sheikh Pasha Habib Uddin, Lt Gen (Retd) Mohammad Mahfuzur Rahman, Dr Niloy Ranjan Biswas of DU's International Relations, and BIISS research fellow ASM Tarek Hassan Semul also spoke.