5 Years of rohingya influx: A sense of unease growing among locals
Increasing involvement of the refugees in criminal activities, drug trade now a cause for concern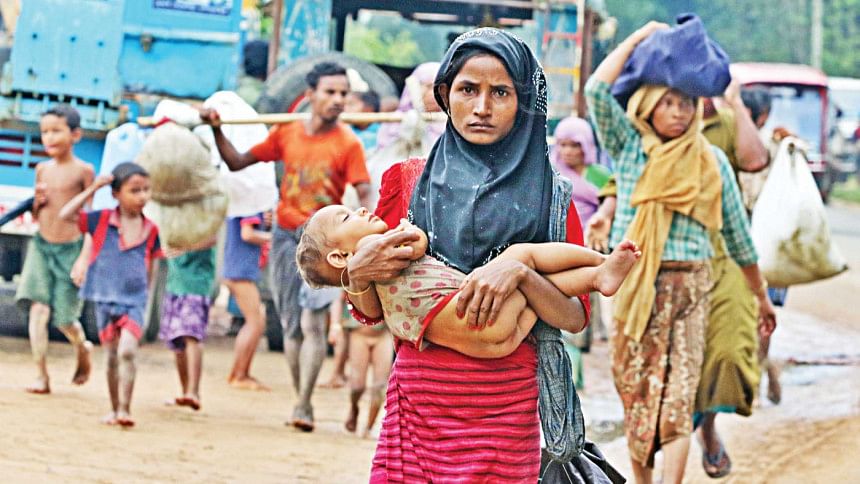 Five years ago, they were the first to welcome with open arms the thousands of Rohingyas fleeing persecution in Myanmar, setting an example of how compassionate our society is here in Bangladesh.
The locals of Ukhiya and Teknaf upazilas in Cox's Bazar gave the Rohingyas shelter and food. Those who could afford even gave small amounts of cash to help the refugees pay for emergency treatments and medicines as many Rohingyas were injured while making the treacherous journey to Bangladesh.
Now the compassion is all but faded and fatigue has set in in the host community. Many feel that the Rohingyas have overstayed their welcome. They think the Rohingyas have changed the environment of the two upazilas and have created socio-economic problems for the hosts.
The involvement of some Rohingyas in criminal activities, especially crimes related to narcotics, has become a cause for concern.
"It was beyond our imagination that they would stay for such a long time. Five years have already gone by, but there is no sign of repatriation. The more they [Rohingya] stay, the more harm they would do to the society," said Abdur Rahim of Palongkhali in Ukhiya.
Asked to explain, he said, "The environment of Ukhiya and Teknaf has changed. Most of the areas here used to be forests full of deer but you won't see any forest here anymore. The livelihoods of many depended on the forest that is now destroyed."
A number of locals said some Rohingyas get out of the camps, evading the eyes of the law enforcers, and work as labourers for low wages. They can afford to work for low wages as they get various assistance from aid agencies.
As a result, locals do not get work, they said.
Gafur Uddin Chowdhury, chairman of Palongkhali Union Parishad, said, "We gave shelter to the Rohingyas on humanitarian grounds. But it seems that we made a mistake because it has now become a multifaceted problem…  hills have been cut, forests have disappeared, a crisis of groundwater has emerged, and job opportunities have shrunk."
Some Rohingyas have also been involved in various criminal activities, he said.
Around 2,000 cases have been filed against Rohingyas in the last five years, including murder, abduction, arms, and narcotics cases.
At least 99 murders of Rohingyas were reported between August 2017 and July 2022, according to Cox's Bazar Police Station.
Rafiqul Islam, additional superintend of police in Cox's Bazar, said inside 34 camps, they found involvement of Rohingya people in 14 types of criminal activities, including drugs, human trafficking, abduction, theft, robbery, snatching, arms and rape.
Mohammad Abdullah, of Pankhali village in Hnila of Teknaf, said, "Out of resentment, locals have even formed various committees to either resist Rohingyas or to 'protect Cox's Bazar'."
One of the committees is "Amra Cox's Bazar Bashi". Its president Mohammad Ali said locals were sympathetic towards the Rohingyas when they arrived in 2017 but that sympathy started fading after the repatriation process basically halted.
"Now the Rohingyas have apparently become opponents of the locals and it is because of criminal activities of the Rohingyas," he claimed.
Bangladesh is currently hosting more than 1.2 million forcibly displaced Myanmar nationals.
Refugees in August 2017 joined around 3,00,000 of their compatriots, who had come during previous waves of displacement, causing significant economic and strategic challenges for the country.
The repatriation of the Rohingyas could not be started despite an agreement signed in November 2017.