As funds for the Rohingya dwindle, so do their life prospects
World leaders must step up financial contributions to help the Rohingya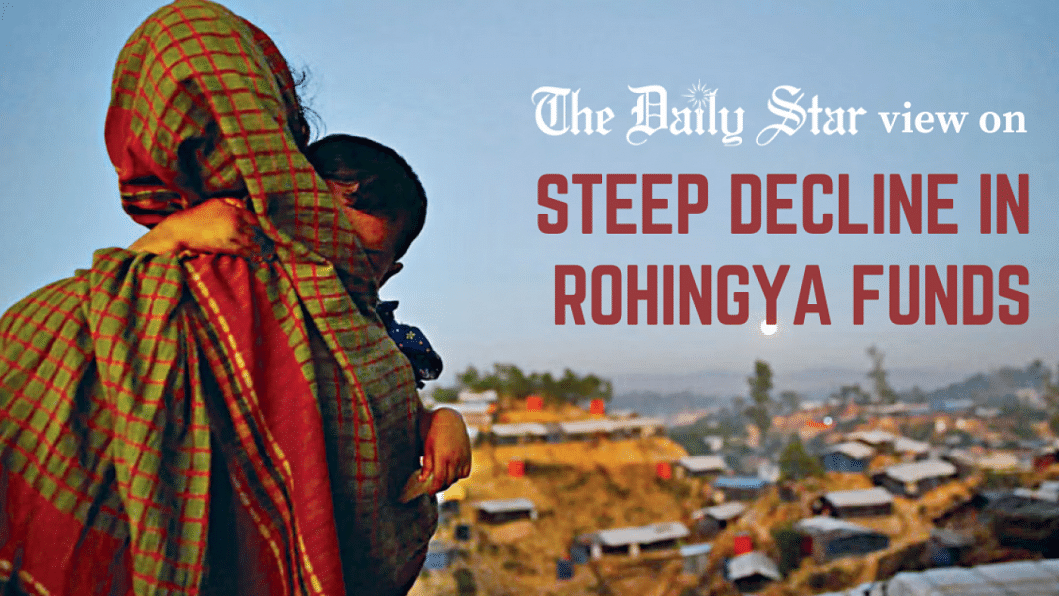 It is disheartening to see that even after six years since they fled a brutal campaign by the Myanmar military, the future of the Rohingya refugees remains as uncertain as the day they arrived on these shores. The crisis has only grown since, with none of the options considered so far – their repatriation to Myanmar, legal integration into Bangladesh, or resettlement in a third country – seeming any closer to fruition. Bangladesh stands firm on repatriation – the most just option – as do the refugees. But until that happens, the priority is to ensure steady provision of assistance and support for the refugees and host communities.
Unfortunately, that is proving to be increasingly challenging. As per an estimate by the International Organisation for Migration (IOM), this year, humanitarian organisations have appealed for $876 million in aid for both Rohingya refugees and local communities. However, only 29 percent of the target had been achieved as of mid-year. The steep decline in funds is forcing humanitarian actors to "focus on the most critical and life-saving needs", according to the UNHCR. It has, for the first time, resulted in the reduction of refugees' food assistance, raising concerns about cascading dramatic consequences: malnutrition, school dropout, child marriage, child labour, gender-based violence, etc.
The timing of this couldn't have been worse. It comes at a time when the refugees are facing a greater test of their resilience than ever before, with fires raging their shelters in March, a cyclone ripping through the camps in May, and monsoon rains and associated risks now endangering their lives. While some of the challenges are natural, they do add to the overall crisis. Unfortunately, the larger issues surrounding repatriation and prosecution of the Rohingya genocide have been politicised so much that it has also affected funding prospects, with regional powers like China, India and even Russia showing little interest in providing funds, let alone matching the contributions of their Western counterparts, which could ease some of the immediate pressures.
This is deeply troubling. While the larger issues are being resolved – which, we hope, will be sooner than later – the importance of consistent financial support cannot be overemphasised. This is not just a matter of humanitarian assistance; it's a matter of upholding human rights. We urge world leaders to step up their financial contributions as well as diplomatic efforts to find a sustainable resolution to this crisis.