Massive fire tears thru Rohingya camps
2,000 homes gutted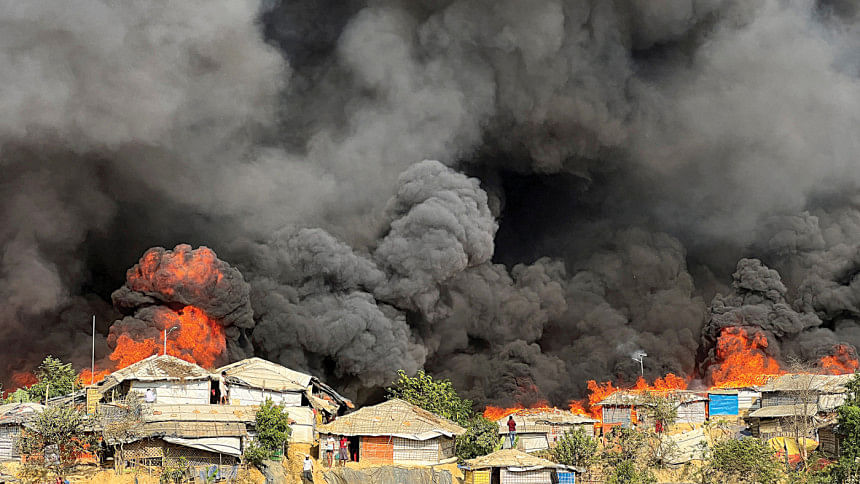 Nearly 2,000 Rohingya homes were gutted in a massive fire that razed through the crammed refugee camps in Ukhiya upazila of Cox's Bazar yesterday afternoon.
Around 15,000 people were rendered homeless and were forced to spend the night under the open sky, said Mohammad Shamsuddoza, additional refugee relief and repatriation commissioner.
Around 2:45pm, the fire originated in Block B of Balukhali Camp 11 under Palongkhali union and quickly spread to adjacent Camps 10 and 9.
Fire service sources said that the flames quickly spread from one hut to the next in the densely populated camps since they are mostly made of bamboo and tarpaulin.
On information, 10 firefighting units rushed to the spot and brought the blaze under control around 5:00pm.
"I couldn't save anything. Everything burnt to ashes. Many are without homes. I don't know what will happen to us," said 40-year-old refugee Selim Ullah, a father of six children, reports Reuters.
"When we were in Myanmar we faced lots of problems... our houses were burned down, he said. "Now it has happened again."
It was primarily believed that the fire was caused by a cooking cylinder explosion, reports Al Jazeera, however, this newspaper could not independently verify this fact till the writing of this report.
Ukhiya Police Station Officer-in-Charge Sheikh Mohammad Ali said police arrested a youth for his alleged involvement in the incident and that they were interrogating him.
Refugee Relief and Repatriation Commissioner Md Mizanur Rahman said journalists and other camp residents were being evacuated away from the affected area to a safer location.
"We currently don't have an estimate for damages and there were no reports of casualties till the evening," he said adding that, some injured Rohingyas were rushed to hospitals.
Fires are a continual hazard in Cox's Bazar, where more than one million people live in extremely crowded conditions, with bamboo and tarpaulin shelters packed closely together.
Similar fires occurred in January 2022 and March 2021. While the fire in 2022 only damaged some 1,200 homes, the massive blaze in 2021 killed at least 15 refugees, including 6 children, and destroyed over 9,000 homes.
The settlement hosts more than a million people and is the world's largest refugee camp. Most of those living in it were forced to flee Myanmar in 2017 when the military launched a brutal crackdown against the minority, which a UN report later said was carried out with "genocidal intent".
Conditions in Myanmar have worsened since a military takeover in 2021, and all attempts to send back the refugees have so far failed.