Rohingya man narrates 16 days' ordeal on route of trafficking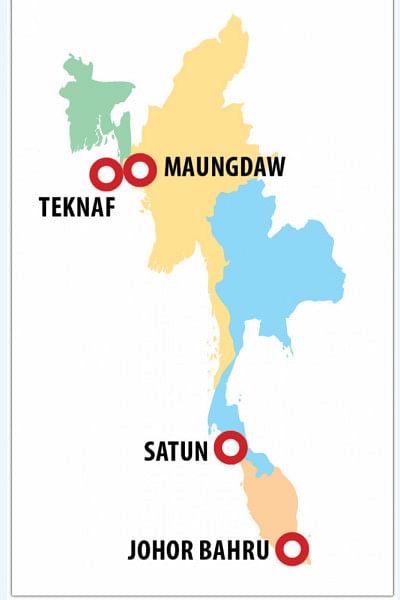 A transnational syndicate is using a new land route through Myanmar to traffic people, mostly Rohingyas from refugee camps in Bangladesh, to Thailand and Malaysia.
Previously, Rohingyas used to be trafficked to those countries by sea, but traffickers started using the new route as law enforcers increased vigilance in Cox's Bazar and in the Bay of Bengal.
The human trafficking syndicate comprises of Bangladeshis, Rohingyas, people of the Burmese Mog tribe, and Thai and Malaysian nationals and it has been using this land route for around eight months, said sources in law enforcement agencies, Rohingya leaders, and a trafficked youth.
Luring Rohingyas with promises of a better life in Malaysia or Thailand, members of the syndicate first take them from camps in Cox's Bazar, to a village in near Myanmar border, and then send them to the destinations via Rakhine State, they said.
Bangladesh Coast Guard officials said they learnt about the new route and were working to track the syndicate. They do not know the exact number of Rohingyas who have been trafficked through this route.
"We are preparing a list of traffickers and collecting details whenever we detain any of their members. We have got some names and phone numbers of Rohingyas on the Myanmar side who are aiding these traffickers," Lieutenant Kazi Al-Ameen of the Bangladesh Coast Guard in Cox's Bazar told The Daily Star.
Once prepared, he said, they would send the list to the relevant authorities in Myanmar through the foreign ministry, requesting them to take action against the traffickers.
"We have information that another group recently trafficked Rohingyas to Thailand through Myanmar. They first went to Rakhine by a fishing boat [across the Naf river] and then to Thailand," said a senior Coast Guard official, requesting anonymity.
Amin Whing, a leader of the Arakan Rohingya Society for Peace & Human Rights (ARSPH), also said they have learnt about the change in trafficking routes.
He said there was a tendency to blame Rohingyas for any kind of crime, but only a small number were involved in this racket.
Human traffickers based in Teknaf have long been using the sea route to traffic Rohingyas and Bangladeshi nationals, with the Coast Guard often stopping boats trying to leave through the Bay of Bengal.
NEW ROUTE
This correspondent talked to a Rohingya youth who was trafficked by the syndicate to Malaysia in June.
Nur Sadek, a 20-year-old resident of Camp-26 in Cox's Bazar, gave a detailed description of his 16-day strenuous journey to Malaysia via Myanmar and Thailand.
Talking over WhatsApp, he said he got the offer when he met some members of the syndicate in the camp. The members asked him to contact a Bangladeshi named Jahid Hossain, who, according to Sadek, was a resident of Moulvipara of Teknaf's Hnila union.
Jahid demanded Tk 5 lakh and said the payment could be made after Sadek reached Malaysia.
The Daily Star called the phone number that Sadek said belonged to Jahid, but the phone was found switched off.
Sadek started off from the camp on May 18 and reached Malaysia on June 3.
"I had a small bag as they [the traffickers] asked me to take only two items of clothing and my phone," he said.
Jahid took him to Teknaf port by a CNG-run auto-rickshaw. Two young Rohingya females had already been waiting there. Jahid asked the three to get on a small boat on the Naf river.
"A team from the BGB appeared there before we left. But Jahid told them something and they left without asking us anything," he claimed.
After a one-and-a-half-hour journey, the boat reached a village named Raimagona in Myanmar's Maungdaw, where a Rohingya man and a Burmese national received them. They were then taken to a house where he found 13 more Rohingyas waiting. The group of 16 included three children and seven women.
"From the village, I could talk to my relatives in the camp as my Bangladeshi phone number was still working. They [the traffickers] kept us in the house for two days and provided us with good food, including fish curry and rice," he said.
Two days later, the traffickers brought a big truck and asked all 19 of them to get on it. They were covered with a tarpaulin throughout the three-and-a-half-hour journey until they reached a village in northern Maungdaw.
"We were kept there for two days, but this time we had only some biscuits and water," Sadek said.
They were then taken on the truck to a house near a lake in Buthidaung town and stayed in the house for two more days. There they were given some biscuits and salty water.
From there, the traffickers divided them into small groups. There were three Rohingya women, one elderly and two young, in Sadek's group.
"We then crossed a small river by boat and were introduced to a Burmese Mog man, who is a broker. He took us on a two-hour journey on a car, which looked like a Myanmar police vehicle, to another village," he said.
"A Rohingya broker received us and handed us over to two Burmese persons, who asked us to board another car that took us into a forest."
The two men left them there to wait for someone to come and receive them, and soon another Burmese man came and asked them to follow him through the forest.
"We walked for two days to cross the forest. We had only water and no food. After taking a brief rest at night, he started walking again. It was extremely tiring, but we had no other option," Sadek said.
When they finally crossed the forest, the Burmese man gave them four tickets for a bus to Yangon. After reaching Myanmar's largest city, Sadek and the three women were again taken on a car to a forest near the Myanmar-Thailand border.
Three people -- a Bangladeshi, a Burmese and a Rohingya -- received them at the border.
They crossed the border into Thailand's Satun province through another jungle. They stayed one night in the forest.
"Around evening, they took the women away, leaving me alone. They returned in the early hours the following day, and I saw that the two young Rohingya women were crying."
Sadek said when he asked the two about it, they just replied that what was happening to them was not right.
"In Thailand, we were kept in a hotel in Satun for a night. The next morning, we were asked to get on a truck full of vegetables," said Sadek.
That journey continued for two days, and they survived by eating the vegetables on the truck. Two days later, they reached near the Thailand-Malaysia border, where a Thai national received them. They were taken to a house where they stayed for two days.
"On the third day, we crossed a small river by a fishing boat and reached Malaysia, where a local businessman received us and took us to his home in Johor Bahru," said Sadek.
The traffickers then demanded an additional Tk 50,000 from Sadek to release him.
"My family in Cox's Bazar paid the money and I was let go. But I do not know the fate of the three women travelling with me," he said.
"During the journey, no one stopped us anywhere," he said.
Sadek said he has been seeking help from rights groups so that he could stay in Malaysia legally.
'A CUT-OUT STRATEGY'
Md Mahfuzul Islam, superintendent of police of Cox's Bazar, said they got to know about the new route while investigating two trafficking cases filed with Ukhia and Ramu police stations recently.
"We are working to identify the bosses behind these trafficking rackets," he told The Daily Star recently.
He said while they remain alert, it is difficult to track the traffickers as they use a "cut-out strategy" under which one group does not have information of another group.
Amir Jafar, commanding officer of APBn-8, said a section of Rohingya Majhis (leaders), who are in charge of different camps, is involved in the syndicates.
"We have kept a surveillance so that they do not get the scope to traffic people," he added.
Asked about the claims of traffickers getting law enforcers' support in the border, Lt Col Foyezur Rahman, director (operation) of BGB Headquarters, said he did not have any such information.
"We are always alert at the border to prevent all kinds of illegal activities to ensure security," he added.