UNSC delegation visiting northern Rakhine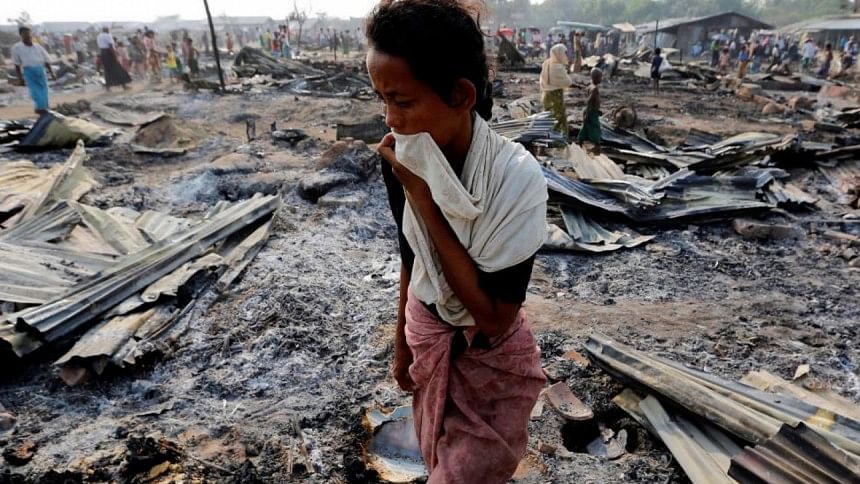 A UN Security Council delegation on Tuesday was visiting volatile areas of Myanmar's Rakhine state, from where hundreds of thousands of Rohingya Muslims have fled military-led violence, to see firsthand the aftermath of the army's crackdown as well as Myanmar's preparations for taking back the refugees.
The 15-member delegation co-led by Security Council President Gustavo Meza-Cuadra was joined by Rakhine state and central government officials and ministers heading to Maungdaw in northern Rakhine where the Myanmar government has built reception camps for the Rohingya refugees now living in camps and other temporary shelters in Bangladesh.
"The delegation will be visiting Taungpyo and Hla Phoe Khaung reception camps in Maungdaw region," said Myint Khine, a township administrator of Maungdaw.
Bangladesh and Myanmar agreed in December to begin repatriating the refugees in January, but there were concerns among rights groups and Rohingya that they would be forced to return and face unsafe conditions in Myanmar.
The Security Council delegates met Myanmar's civilian leader Aung San Suu Kyi and the military commander-in-chief Sr Gen Min Aung Hlaing on Monday.
The army launched counterinsurgency sweeps in Rakhine state after deadly attacks last August on security personnel. The military has been accused of massive human rights violations - including rape, killing, torture, and the burning of Rohingya homes - that the UN and US officials have called ethnic cleansing.
The UN last month put the Myanmar military on its blacklist for sexual violence but at Monday's meeting, the army chief insisted, "No sexual violence happened in the history of the country's military," according to the statement released by his office.
Myanmar's government agreed to allow the delegates' visit after previously rejecting U.N. requests for a visit by a specially appointed independent fact-finding committee. The team said in March that it found evidence of human rights violations against the Kachin, Shan and Rohingya minorities "in all likelihood amounting to crimes under international law."