UN fears deadly diseases outbreak in planned mega refugee camps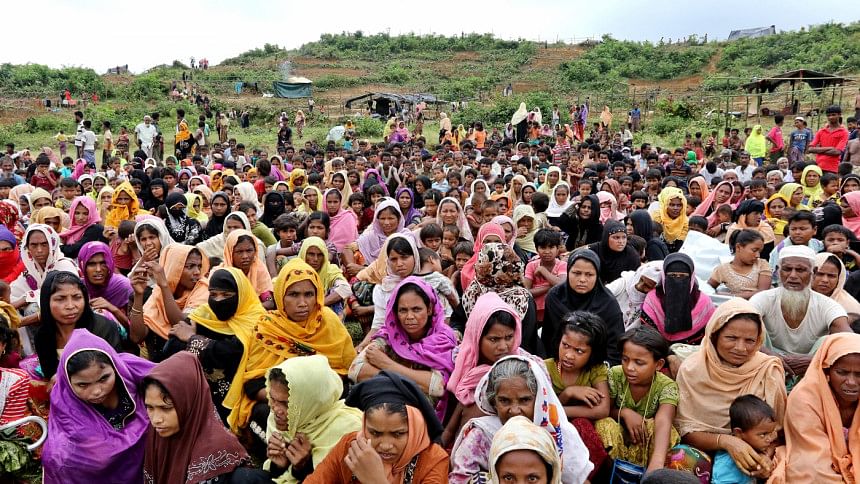 A top UN official today said Bangladesh's plan to build the world's biggest refugee camp for 800,000-plus Rohingya Muslims was dangerous because overcrowding could heighten the risks of deadly diseases spreading quickly.
The arrival of more than half a million Rohingya refugees who have fled an army crackdown in Myanmar's troubled Rakhine state since August 25 has put an immense strain on already packed camps in Bangladesh.
Hard-pressed Bangladesh authorities plan to expand a refugee camp at Kutupalong near the border town of Cox's Bazar to accommodate all the Rohingya.
But Robert Watkins, the UN resident coordinator in Dhaka, told AFP the country should instead look for new sites to build more camps.
"When you concentrate too many people into a very small area, particularly the people who are very vulnerable to diseases, it is dangerous," Watkins told AFP.
"There are stronger possibilities, if there are any infectious diseases that spread, that will spread very quickly," he said, also highlighting fire risks in the camps.
"It is much easier to manage people, manage the health situation and security situation if there are a number of different camps rather than one concentrated camp."
At the request of the Bangladesh government, the UN's International Organization for Migration (IOM) has agreed to coordinate the work of aid agencies and help build shelters at the new camp site.
According to the IOM, the proposed camp will be the world's largest, dwarfing Bidi Bidi in Uganda and Dadaab in Kenya -- both housing around 300,000 refugees.
Three thousand acres (1,200 hectares) of land next to the existing Kutupalong camp have been set aside for the new Rohingya arrivals.
"700,000 is a big camp... we and our partners will have our work cut out for us", Joel Millman, an IOM spokesman, told reporters in Geneva on Friday.
But he added that UN agencies "wouldn't be undertaking this if we didn't think it was feasible".
Bangladeshi officials say the new camp will help them better manage relief operations and ensure the safety of the Rohingya amid fears that dispersed camps could become recruiting grounds for militants.
This week Bangladesh reported 4,000-5,000 Rohingya were crossing the border daily, with 10,000 more waiting at the frontier.
Watkins said the continuing influx represented "a very big challenge" for aid agencies.
"Just when we start to think we are getting on top of the situation, the numbers go up. We are not where we need to be right now," he said.
"There is still a lot more needed to be done."