Rohingya women, children still at acute risk: Unicef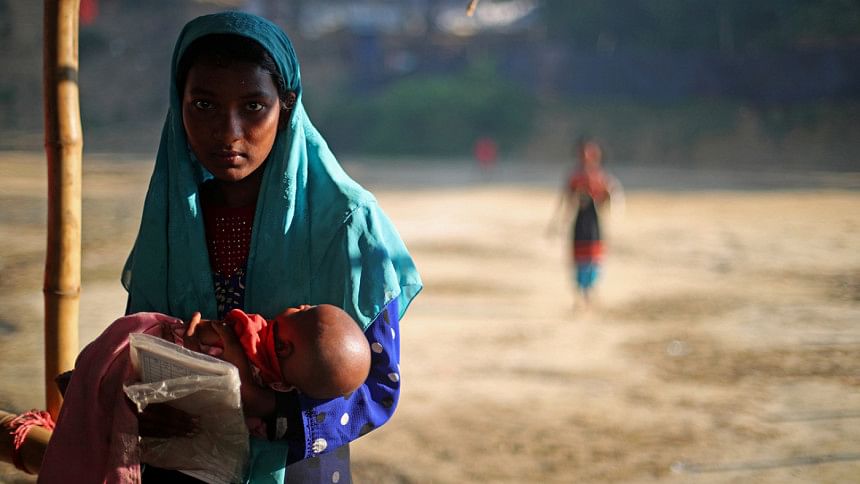 Nearly two months since Rohingya families began fleeing en masse to Bangladesh, thousands of children and women are still without basic life-saving services, Unicef said today.
The warning comes as representatives of donor governments and humanitarian organizations meet in Geneva for a pledging conference aimed at drumming up resources for what remains a severely under-funded emergency, says a press release of the Unicef.
"The Rohingya refugee crisis shows no sign of abating," said Edouard Beigbeder, UNICEF representative in Bangladesh. "The needs of refugees and those of the communities hosting them are increasing at a much faster pace than our capacity to respond. We need more resources and we need them now."
Around 1.2 million people -- including new arrivals, Rohingya refugees who fled Myanmar in previous escalations of violence, and vulnerable Bangladeshi communities -- need humanitarian assistance in Cox's Bazaar. Some 720,000 of them are children.
An estimated 450,000 Rohingya children aged 4-18 years old need education services, 270,000 of them from among the new arrivals.
Nearly 17,000 children with severe acute malnutrition need inpatient and outpatient treatment, and 120,000 pregnant and nursing women need nutritious supplementary food.
There is an acute shortage of water, sanitation and hygiene facilities in the refugee settlements, with an average of 100 people per latrine.
"Given the current population density and poor sanitation and hygiene conditions, any outbreak of cholera or acute watery diarrhoea, which are endemic in Bangladesh, could kill thousands of people residing in temporary settlements," Beigbeder said.
Measles has been reported among the settled population as well as new arrivals. Unicef is working towards accelerating the routine immunisation schedule, which will include the host community.
There are also reports of parents and caregivers who say they are unable to care for their children because of their vulnerable emotional and psychological state. Many adolescents have taken on additional roles as caregivers and providers, helping with distributions, collecting firewood and caring for their elderly relatives or siblings. At least 900 children are living in child-headed households.
The Unicef is working with partners to provide vulnerable children with life-saving support.
The needs are massive and growing, but funding remains extremely limited. Unicef has received only 11 per cent of the US$ 76 million it needs to provide life-saving humanitarian assistance to affected children and women.