Rohingya refugee youth celebrate storytelling success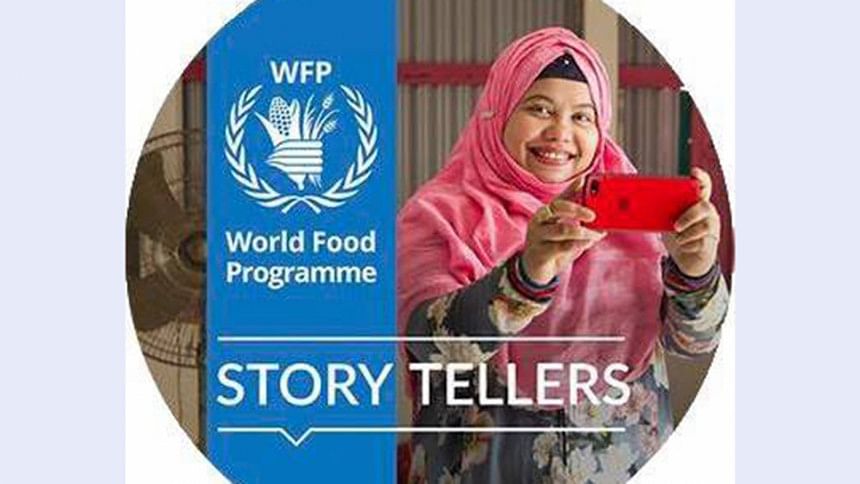 30 Rohingya refugees have graduated from the United Nations World Food Programme (WFP) Storytellers programme in a ceremony featuring special guest Raba Khan.
WFP provides food assistance to almost 900,000 Rohingya refugees in Cox's Bazar. For the first time, WFP, with support from BRAC, has trained some of these men and women in digital storytelling so that they can share their stories with the world, according to a press release from WFP.
In 2017, 745,000 Rohingya fled violence in Myanmar, joining almost 200,000 Rohingya who had fled previously. During the two-week training the WFP Storytellers have shared their stories of loss, tragedy, hope, and everyday life living in the world's largest refugee camp. 
The 30 young Rohingya men and women learned storytelling technics, how to take photos, and the basics of shooting video. The storytellers can now use these skills to act as communicators with and on behalf of their community and make their voices heard to the global audience.  
"There has been a huge media focus on the Rohingya crisis and the lives of those affected living in Cox's Bazar, who WFP supports," said Richard Ragan, WFP Country Director for Bangladesh. "However, it's very rare that these stories are told by the people who have lived them, in their own way. Through WFP Storytellers, young Rohingya men and women can capture the real stories they want to and share their stories with the world. We are delighted to unearth and celebrate some of the storytelling talent that lies right here in the Rohingya community."
WFP and its partner agencies on the ground will continue to support the storytellers by providing the tools, opportunities and platform to gather and share stories.
"The WFP Storytellers project has been instrumental in giving the Rohingya refugees their own voice, and I can think of no better way to empower them," said Khaled Morshed, Head of Operations, BRAC Humanitarian Crisis Management Programme.
Hafsa Akter, aged 22, is one of the participants who graduated on Saturday.
"We have seen so much and been through so much. Our situation as Rohingya people is so unique and I want this to be understood from my own words and photos. Through WFP Storytellers I can see photography is very important for us to capture who we are and express our feelings. I have so many things to share about me and my people," Hafsa said.
Raba Khan from The Jhakanaka Project was at the ceremony to present the graduates with their certificates. Ms Khan also did a session with the WFP Storytellers participants in the morning, inspiring them to pursue their storytelling passions and giving tips on engaging audiences. 
Since its launch, WFP Storytellers has trained Syrian refugees and vulnerable men and women from host communities in Jordan, Sudanese refugees in Chad, youths from remote areas affected by climate change in Guatemala and South Sudanese refugees in Uganda, says the WFP release.