Rohingya influx: Locals not getting benefits of development in Cox's Bazar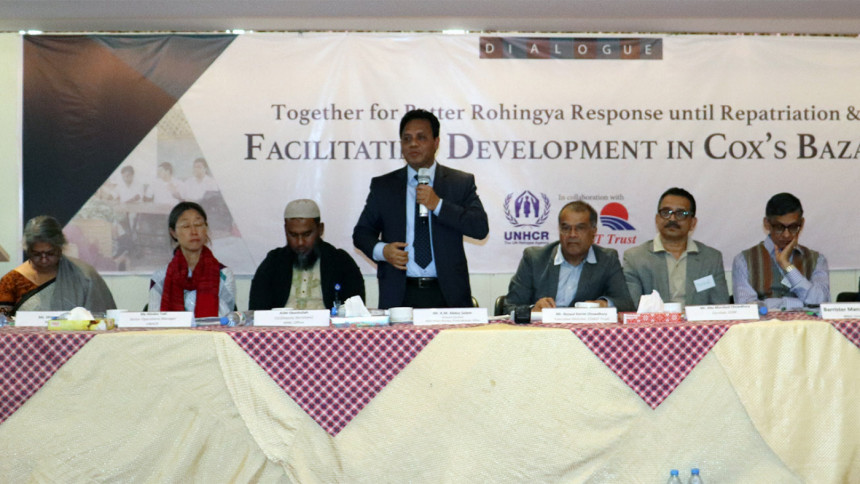 Local people affected by the massive influx of the Rohingyas are not getting equitable benefits of the development projects undertaken in Cox's Bazar, said development experts, government officials and aid agencies.
They said the locals had welcomed and provided shelters to the Rohingyas when they fled to Bangladesh in 2017, but eventually they have been greatly affected in socio-economic and environmental terms.
Income of local workers has gone down due to supply of Rohingya workers for cheap wages, while prices of essentials have gone up, leaving the local poor people in Cox's Bazar under pressure, they added.
Also, many of the school and college-going students got engaged in jobs and some schools are being used for the Rohingya cause, they said at a discussion titled 'Together for Better Rohingya Response Until the Repatriation and Facilitating Development in Cox's Bazar'.
COAST Trust, an NGO and UN Refugee Agency (UNHCR) organised the programme at a hotel in Cox's Bazar today.
In a presentation, Mujibul Haque Munir of COAST Trust said COAST Trust formed four social cohesion committees in four unions in Ukhiya and Teknaf with the participation of local union parishad members, teachers, civil society.
The committee members visited the camps and local areas to identify the sufferings and problems of the Rohingya and the local people, he said.
Munir said the committees recommended that 25 percent of the fund allocated for the Rohingya crisis should be used for the local people.
The committees also suggested special initiatives for education of local youths, reducing the use of cars in the Rohingya camps and engaging the Rohingya youth in education, creating awareness among the Rohingya women and girls on trafficking.
Samira Akhter, a student at Ukhia College, said that many students leave college for jobs as the educational institutions are not running well, while it became costly for them to manage high cost of travel to college.
Abu Murshed Chowdhury of Cox's Bazar Civil Society Organization-NGO Forum, said high school and college students are now getting involved in jobs, while teachers are leaving school and colleges for joining NGOs for higher salaries.
Rezaul Karim Chowdhury, executive director of COAST Trust said the government has taken nine mega projects in Cox's Bazar including airport, state-of-the-art railway, large power plant and shelter project.
There should not be any elements in Cox's Bazar that can hamper the mega projects that are imperative for the development of Cox's Bazar as well as the country.
KM Abdus Salam, director general of the NGO Affairs Bureau, said the NGO Bureau is trying to ensure coordination of all aid agencies in implementing programs for Rohingya and local people.
"We should consider that a portion of the funds are earmarked for the local area and it is also important to ensure transparency in the activities of the NGOs," he said.
Manuel Moniz Pereira, chief of IOM in Cox's Bazar, said sustainable development in Ukhia-Teknaf requires a lot of investment.
Speakers also suggested a joint risk assessment with the participation of all stakeholders in Cox's Bazar and take an effective plan and implement it effectively for social cohesion among the Rohingyas and local communities until the repatriation of the Rohingyas takes place.