Tension flares in Rakhine state
Myanmar forces conduct clearance ops after Buddhists killed; bipartisan senators call for US 'genocide' label of Myanmar killings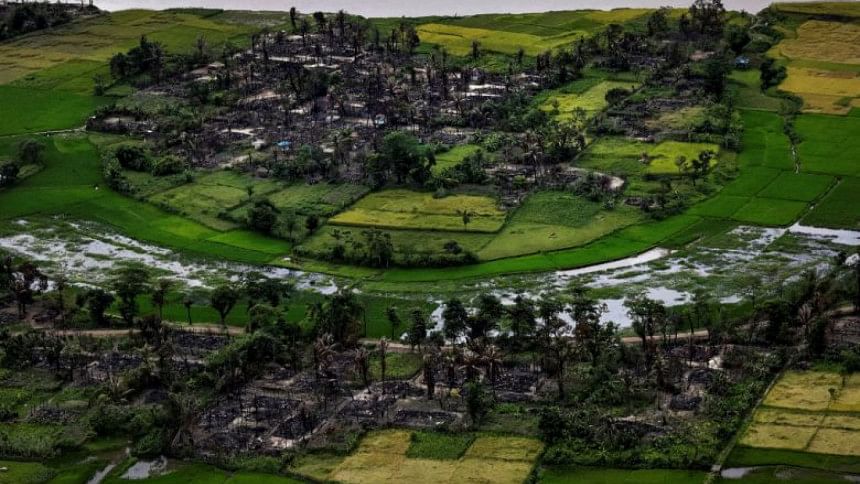 Myanmar forces are conducting new rounds of "clearance operations" in conflict-hit Rakhine state after four local Buddhists were attacked and two killed, the commander-in-chief's office said yesterday, with one of the incidents blamed on Rohingya Muslims.
The violence occurred around the evening of December 17 along Pyu Ma creek in northern Rakhine state's Maungdaw township, the same area where forces waged a bloody crackdown against the Rohingya last year.
More than 720,000 Rohingya fled to Bangladesh after Myanmar launched clearance operations in August 2017, and UN investigators want the country's top brass prosecuted for genocide for alleged abuses carried out during the expulsion.
Myanmar said it was defending itself against Rohingya militants who attacked police posts and has denied almost all claims of atrocities.
But the commander-in-chief Min Aung Hlaing's office said in the statement posted to his official website yesterday that security forces were active again and had been carrying out "area clearance operations along Pyu Ma Creek."
The post said the activity was sparked after two ethnic Rakhine Buddhist men did not return from fishing and were later found on the creek bank with their throats slit.
On the same day two members of another ethnic Buddhist minority were attacked while fishing along the creek by six men "speaking Bengali language," but they escaped and were treated at a local hospital.
The post said authorities did not know the identities of the attackers.
Myanmar does not recognise the Rohingya as one of its national races and refers to them as Bengali to falsely imply they are newly arrived immigrants from Bangladesh, reported AFP.
Tensions are high in northern Rakhine as the government seeks to kickstart a repatriation process but Rohingya in Bangladesh have refused to take part without being guaranteed rights, citizenship and safety.
'GENOCIDE'
A bipartisan group of US senators on Wednesday called on Secretary of State Mike Pompeo to designate the Myanmar military's campaign against the Rohingya Muslim minority a genocide.
"We are deeply concerned that despite clear evidence of genocide amassed by the Department's own report ... that the Department has not made a formal determination that the crime of genocide has been committed," said a letter to Pompeo from the senators, a copy of which was seen by Reuters.
In September, leaders of the US House of Representatives Foreign Affairs Committee called on the Trump administration to declare the military campaign a genocide, days after a State Department report stopped short of that description.
A declaration of genocide by the US government could have legal implications of committing Washington to stronger punitive measures against Myanmar's government, which is led by Nobel laureate Aung San Suu Kyi. This has made some in the Trump administration wary of issuing such an assessment.
The areas where the Rohingya lived in Myanmar's western Rakhine State before the army ousted them were being dramatically transformed, making their return increasingly unlikely, Reuters reported on Tuesday.
The senators asked Pompeo to provide a formal determination about the actions of Myanmar's military.
"There is no question that the violence in northern Rakhine State – intended to terrorize, drive out, and exterminate Rakhine's Rohingya population – meets the definition of genocide," the letter said.
Led by Senator Bob Menendez, the top Democrat on the Senate Foreign Relations Committee, the letter was also signed by Republican Senators Marco Rubio and Susan Collins and Democratic Senators Ed Markey, Tim Kaine, Ben Cardin and Jeff Merkley.