'Launch coronavirus awareness campaign in Rohingya camps, lift curbs on mobile internet'
NGOs, civil society groups and journos urge govt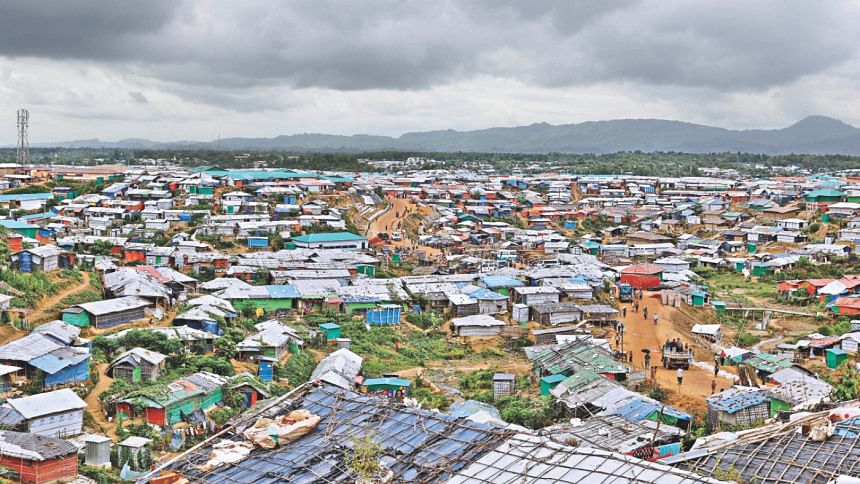 Local and national NGOs, civil society groups and journalists have called upon the government to launch a wide-range of awareness campaigns on coronavirus in the Rohingya camps in Cox's Bazar.
They also called for lifting the restrictions on using mobile phones and internet and resume 4G facilities at the camps in Ukhiya and Teknaf. 
Speakers at a virtual press conference organised by the Cox's Bazar CSO NGO Forum (CCNF) today said this, adding that the Rohingyas are more vulnerable to Covid-19 infection because about 1.1 million refugees are living in a congested environment in Ukhiya and Teknaf.
Also, the host community that has been affected socially and financially by the Rohingya influx too require greater attention amid the health crisis that is again causing losses of income for day labourers, rickshaw-pullers and fishermen, they said.
Journalists who attended the video press conference from Ukhiya urged the government to resume mobile and internet connectivity with 4G facilities in Ukhiya and Teknaf, at least for the time being.
Allowing mobile internet will ensure flow of information that can create greater awareness among the people on coronavirus. It can also help check rumours and misinformation, and Rohingyas will be able to communicate with health facilities easily during any emergency, they said.
Jahsim Uddin, director at the Association of Development Agencies in Bangladesh (ADAB), said Covid-19 screening facilities should be available in the Rohingya camps immediately because the refugee camps are living in cramped quarters and if one is infected, they should be isolated before they spreading it to others.
The NGOs Affairs Bureau should act promptly to release funds meant for fighting coronavirus, he also said.
The host community, especially the poor people, should also be brought under coronavirus screening. The government has planned safety net for the day labourers and other low income people as their livelihoods are being hit hard in the present scenario, and the NGOs should help identify the needy people, he added.
Rafiqul Islam, director of the Federation of NGOs in Bangladesh, said UN and international NGOs need to engage local and national NGOs for wide range of activities required to fight coronavirus.
"We need to interact and devise the most effective activities through something like videoconference," he said.
Speakers said the decisions on social distancing taken by the government needs to be strictly enforced in the Rohingya camps and the host community.
International aid agencies should consider the whole district as a host community area and act accordingly because it is one of the districts having a high number of poor people, they also said.
CCNF co-chairs Abu Morshed Chowdhury, Bimol Dey Sarker and Rezaul Karim Chowdhury jointly moderated the videoconference.