Funding on decline, challenges up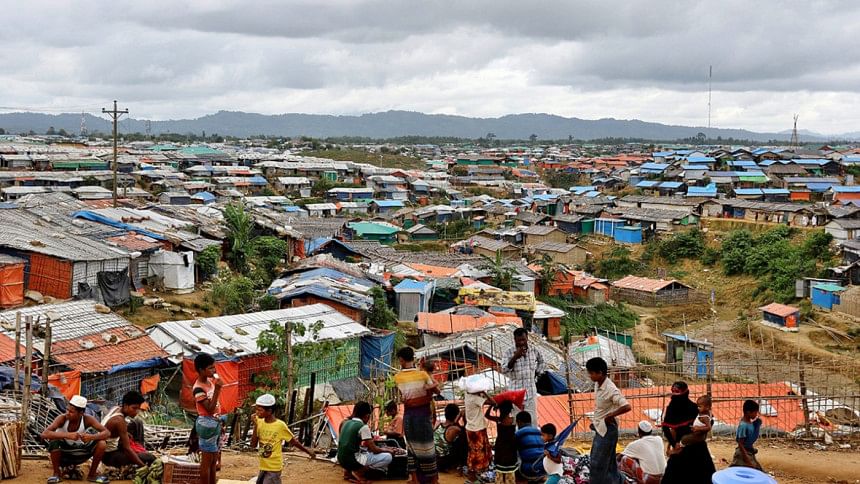 As international funding for the Rohingyas declines, Bangladesh faces increasing challenges to manage the displaced people amid little prospect of repatriation anytime soon.
The fund for humanitarian assistance that ranged between 72 and 75 percent of the total requirement in the first three years since 2017 came down to 65 percent in 2020. Until July this year, $366 million has been committed or disbursed, which is only 34 percent of the required amount of around $1 billion for this year.
Now, along with the global pandemic comes another humanitarian crisis following the takeover of Afghanistan by the Taliban, which has already displaced millions of Afghans both in and outside the country.
"Funding for the Rohingyas will definitely drop because of Afghanistan and other crises in the coming days," said Md Shahidul Haque, former foreign secretary and currently IOM Bangladesh's senior adviser on migration and humanitarian policy.
Concerned over funding shortage, the Bangladesh government has been calling for the UN to start their operations in Bhashanchar, where the government sheltered 18,000 Rohingyas since last December as part of its plan to relocate one lakh of them from the camps in Cox's Bazar.
Mostly the local NGOs are now providing humanitarian assistance to the Rohingyas in Bhashanchar with their own funds. But that is not going to last long if major international donors do not fund them, NGO officials said.
"We have almost finalised the protection policy of Rohingyas in Bhashanchar and the UN is likely to start operations there by September," Disaster Management and Relief Secretary Md Mohsin told this correspondent.
Humanitarian aid officials operating in Cox's Bazar said food rationing, housing, roads, water and sanitation facilities in Rohingya camps in Teknaf and Ukhia, home to nearly one million refugees, are now much better than before when they had fled the brutal military crackdown in Myanmar's Rakhine state in 2017.
However, newer challenges have emerged. Those include crimes like extortion by Rohingya gangs in the camps, conflicts over power between different Rohingya groups, lack of education and jobs.
Rohingyas coming out of the camps and taking risky sea journeys for Malaysia or Indonesia have also increased in recent times.
In the last two years, more than 1,300 Rohingyas were rescued in 11 districts while being trafficked, said police in Cox's Bazar.
According to the UNHCR, at least 2,413 Rohingyas took sea journeys to reach the two Southeast Asian countries last year. Of them, 218 died or were missing, making it the deadliest year on record for refugee journeys in the Bay of Bengal and Andaman Sea since 2015.
"Rohingya crisis appears to be a protracted one. This has created huge frustration among the Rohingyas. Many of them are getting involved in criminal activities and leaving the camps," said Rezaul Karim Chowdhury, executive director of COAST Trust, which has been working in the refugee camps for years.
The humanitarian services have been slashed significantly in the camps since the pandemic. Majority of the Rohingya youths have nothing to do at the camps and the children who used to go to the primary schools also cannot do it now due to the pandemic, he said.
Many children go to religious schools and there is no monitoring as to who funds them and what they are actually taught, Rezaul Karim said.
"There are reports of increasing level of crimes like extortion, domestic violence, prostitution, illegal drug trade and conflicts between various groups," he told this correspondent.
The development expert said it is no wonder that extremist groups can take advantage of the Rohingyas' vulnerability and exploit them. "We really don't know what happens in the dark of the night in the camps."
Policymakers need to seriously think of ways to address these risks until they are repatriated. Ignoring the concerns may boomerang for Bangladesh, which showed so much humanity to the displaced people, he added.
Noor Khan Liton, chief adviser of Human Rights Support Society, shares the same view.
They both said it is extremely important that the Rohingyas are provided education and engaged in income-generating activities and that authorities strictly monitor the camps day and night to prevent extremist groups.
"Presently, a small portion of the Rohingya men and women are employed by NGOs or UN projects, but the majority are jobless," Noor Khan said.
He suggested that the government take initiatives to engage them in income-generating activities within the camps so that they are prevented from getting into crimes and militant groups and their dependence on foreign aid comes down.
Rezaul Karim suggested the government ensure electricity in all the camps, allow NGO employees to stay in the campsites at night to prevent unwanted incidents by any vested quarters.
He said while the fund for the Rohingyas is dwindling, it is also important that the UN and other international agencies pay attention to its effective use by cutting overhead costs. Slashing foreign staff and involving more national NGOs in operations could help in this case in a big way.
Development activists say a certain amount of funds will be required, and it is very difficult for the government to bear huge sums every year for the Rohingyas from its own budget.
According to the Centre for Policy Dialogue, Bangladesh's economy is burdened with an estimated $1.21 billion a year for supporting the Rohingyas.
Shahidul Haqaue, also senior fellow at the South Asian Institute of Policy and Governance, North South University, said Bangladesh is counting enormous economic, social and environmental losses by sheltering the Rohingyas.
"The world must not pass the burden onto Bangladesh. Bangladesh needs to conduct joint campaigns for funding, apart from creating pressure for repatriation," he said.
In response to queries by email, UNHCR said the coronavirus pandemic compounded vulnerabilities for the refugees and host communities alike.
"As one of the world's most populous nations, and having generously hosted Rohingya refugees for decades, Bangladesh needs robust and sustained international support," it said.