Myanmar not working as per commitment on Rohingya repatriation: PM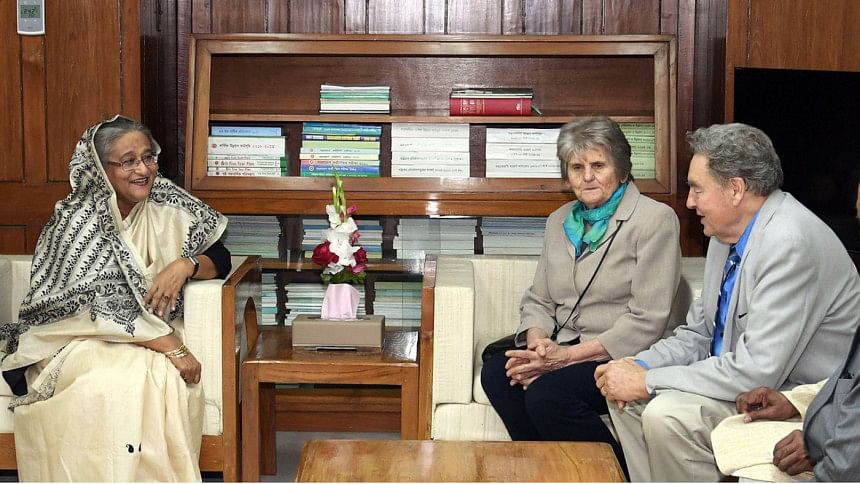 Prime Minister Sheikh Hasina has said Myanmar is not working as per its commitment with Bangladesh on the repatriation of their Rohingya nationals to their homeland.
"We held talks and signed agreements with Myanmar on the repatriation of Rohingyas. But the Myanmar government is not acting in this regard," she said.
The prime minister made the remarks when Dr Paul Connet and Ellen Connet, the recipients of "Friends of Bangladesh's Liberation War Honour", paid a courtesy call on her at her Jatiya Sangsad Office here this evening.
After the meeting, PM's Press Secretary Ihsanul Karim briefed reporters.
Referring to the influx of over 11 lakh Rohingyas into Cox's Bazar, the prime minister said they outnumbered the local people.
In this connection, Sheikh Hasina said her government is developing an island named Bhashanchar in Noakhali to give temporary shelter to the forcibly displaced Rohingyas.
"We're developing the island with all facilities so that the Rohingyas can live in the island in a better condition and at this moment, 25,000 Rohingya families could be shifted there," she said.
The prime minister recalled that over one crore Bangladeshi refugees took shelter in neighbouring India during the Liberation War in 1971.
Sheikh Hasina also remembered her and her younger sister Sheikh Rehana's refugee life after the assassination of Father of the Nation Bangabandhu Sheikh Mujibur Rahman in 1975.