Int'l community must come forward to end Rohingya crisis
Law minister Anisul Huq says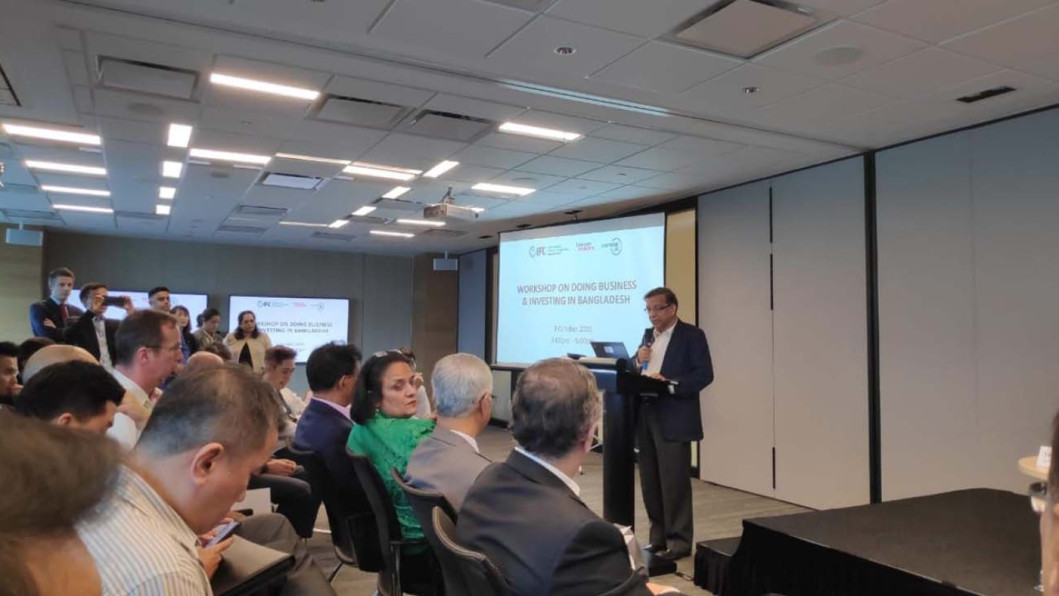 Terming climate change and Rohingya crisis are major threats for Bangladesh, Law Minister Anisul Huq today said both the challenges pose colossal multidimensional consequences and would potentially impact its whole security architecture.
"While climate change is a global issue that needs global ownership and cooperation, the Rohingya crisis and the other hand is an artificial one that has been imposed on us unfairly – as it is a problem between Myanmar and its people.
In order to resolve the Rohingya crisis, the international community, particularly the regional countries must come forward and use their political and economic clouts in persuading Myanmar for taking back their own population and invest more in social cohesion, peacebuilding and other lasting peace in Rakhine," he said.
He came up with the remarks while speaking at a workshop on "Doing Business and Investing in Bangladesh" in Singapore.
International Finance Corporation (IFC), Enterprise Singapore (ES)and Infrastructure Asia (IA) collectively organized the workshop at Singapore City, capital of Singapore, a law ministry press release said.
Minister Anisul, however, described Bangladesh's progress in economic development saying that "in terms of investment, Bangladesh surprised everyone".
"Over the years, Bangladesh has evolved into an investment destination from an aid recipient country. Investment has gone 26 per cent of GDP to 31 per cent since 2005-06. Private investment has gone up to 70.08 billion US dollar – which is five times higher than the previous decade," he said.
He said Bangladesh is now the 30th largest economy in the world and has a growing global recognition as a role model of development.
"Asian Development Bank Outlook 2019 mentioned that Bangladesh is the fastest growing economy in the Asia Pacific region. The Hongkong and Shanghai Banking Corporation (HSBC) in its report of 2018 predicts that Bangladesh will be the 26th largest economy, becoming one of the three fastest economies of the World by 2030," the law minister said.
He said during the last 10 years, Bangladesh's GDP growth averaged 7 per cent reaching 8.13 per cent in the last fiscal year and expecting to be 8.2 per cent in the current fiscal year.
"Inflation has been reduced to 5.4 per cent per capita income increased to US$ 1909; foreign currency reserve raised to US$ 32 billion: export earnings more than doubled to US $41 billion; Human Development Index increases at 1.6 per cent annually; to mention a few economic indicators," he said.
Minister Anisul also said according to the Spectator Index 2019, Bangladesh made the highest growth in the last 10 years with a GDP growth rate of 188 per cent.
The size of the GDP has gone up to 302 billion USD in 2018 from 102 billion USD in 2009. 
"Our export has grown three times higher in the same period which now stands at 37 billion US dollar," the minister said.