Govt has all arrangements for Rohingyas: Hasina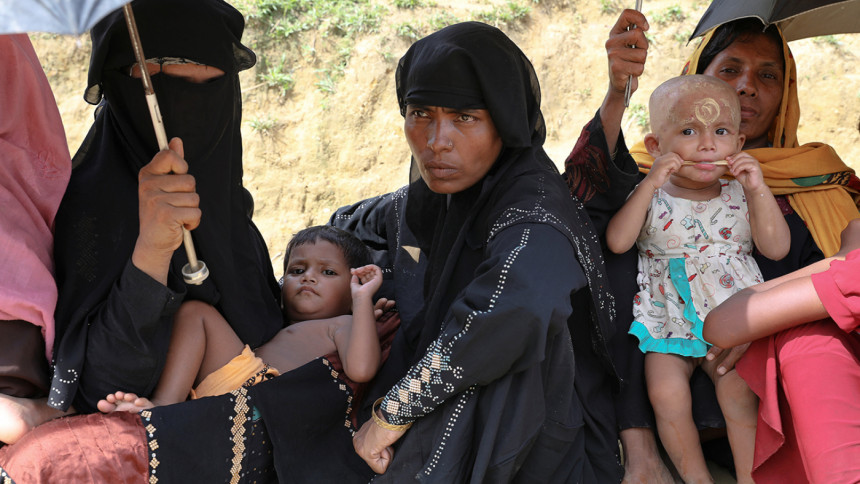 Prime Minister Sheikh Hasina today said her administration has taken all necessary measures to provide shelter, food and healthcare for distressed Myanmar nationals on humanitarian grounds.
"Though we're not that rich but we've the heart. After all, they are human beings, and we can't throw out them into the Bay of Bengal," the premier said.
She was exchanging views with her party leaders from different states of the US at Ritz Carlton Hotel in Washington DC yesterday, according to a press release issued by the Bangladesh Embassy.
Sheikh Hasina who visited the Rohingya refugee camps in Cox's Bazar before flying to New York narrated horrifying stories she heard from the women and children feeling from the Rakhine State of Myanmar.
The prime minister said the Rohingya people who fled to Bangladesh will be shifted to an island called "Bhashan Char" from Cox's Bazar, according to the press release.
The civil administration, army, navy and air force, Border Guard Bangladesh, Police and her party volunteers are working hard to mitigate the sufferings of these people, she said.
"Without waiting for any external assistance, we've made arrangement for accommodation, food and medicine," she said, adding that she had already given Tk 5 crore as initial funding in this regard.
The international community was amazed to see the generosity of accepting such huge number of people by the Bangladesh government, the press release read.
 "If we could feed 16 crore people, we can also feed additional five to seven lakh people at their time of distress. If necessary, we'll eat one meal a day and share another meal with these distressed people. After all we are human being and we stand for mankind," she said.
Sheikh Hasina left Dhaka for New York on September 16 to attend the 72nd session of the UN General Assembly.