Home minister to visit Myanmar this month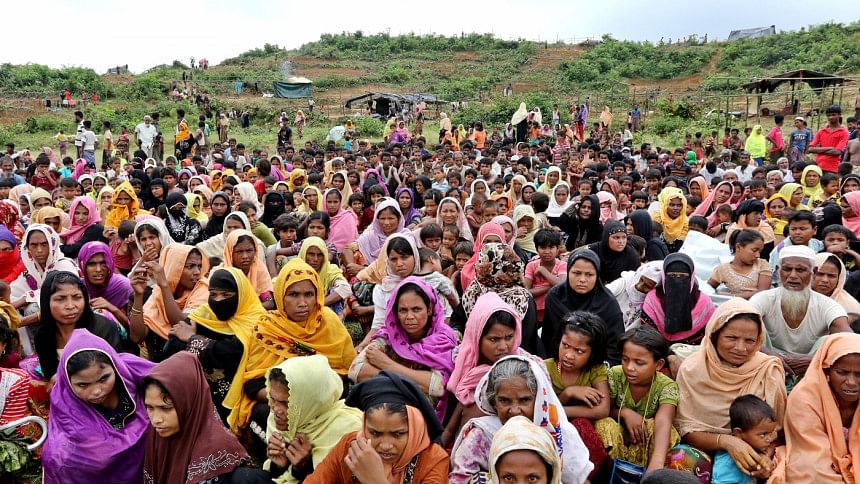 Home Minister Asadzzaman Khan Kamal today said that he would visit Myanmar this month to discuss the smooth and immediate repatriation of the Rohingyas, who have fled to Bangladesh for persecution in Rakhine state.
"We will set agenda of our talking points and possibly Myanmar visit will take place within this month," Kamal said while talking to reporters at the secretariat in Dhaka this noon.
About biometric registration of Rohingyas, the minister said biometrically unregistered Rohingyas will be deprived of aids from local and international communities.
He said around 91,423 Rohingyas have already been brought under the biometric registration process while around 9,000 Rohingyas are being registered every day.
Alongside the Rohingya issue, talks will also be held with the Myanmar authorities over the smuggling of narcotic items including Yaba tablets to Bangladesh, Kamal said.
The home minister also said the government will install scanning machines at all 16 land ports across the country to curb smuggling of all illegal items into Bangladesh.
"We have already ensured all-time intelligence surveillance on border areas to stop the flow of Yaba tablets," Kamal said.
Meanwhile, Awami League General Secretary Obaidul Quader said that his government will keep the bordering area open for Rohingya people on the humanitarian ground.  
"We will not close our door forcibly without consents of the United Nations and other international communities," Quader told reporters while visiting activities of the mobile court in Banani area this noon.
Quader, also road transport and bridges minister, expressed his government's hope that India and China would interfere over the Rohingya crisis to ensure its immediate and peaceful end.
Since August 25, an estimated 515,000 Rohingya people entered Bangladesh to flee "ethnic cleansing" in Rakhine state in Myanmar.