Rohingya repatriation: Bangladesh, China, Myanmar to evaluate progress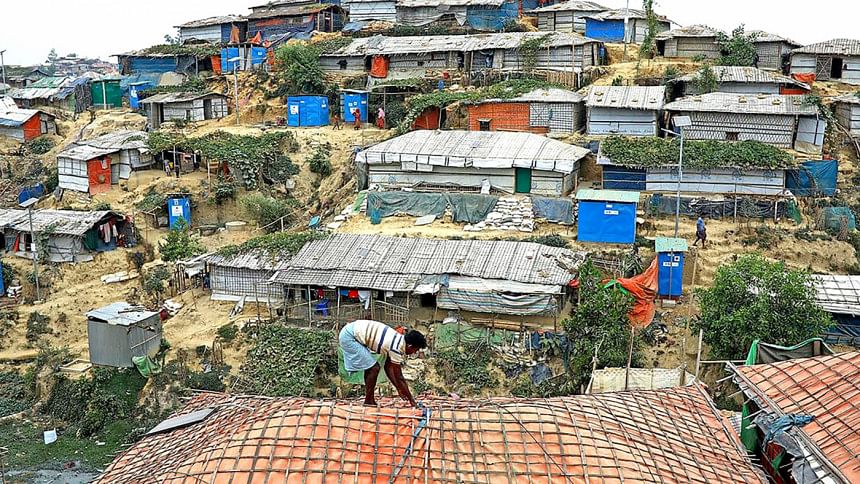 Bangladesh, China and Myanmar have agreed to form a "tripartite joint working mechanism" to evaluate the situation on the ground for Rohingya repatriation. 

Foreign Minister Dr AK Abdul Momen came up with the development after a joint meeting with his Chinese and Myanmar counterparts on the sidelines of the UN General Assembly in New York on Monday. 

"On the ground, Bangladesh, China and Myanmar will evaluate the progress jointly," Dr Momen told reporters after the meeting adding that Myanmar agreed with the Chinese proposal though Myanmar had some objections initially at the meeting. 

The first meeting of the tripartite working body is likely to be held in October. 

Though Myanmar claimed that they have taken all the necessary steps to take back their nationals, Bangladesh said Myanmar could not build confidence among the Rohingyas yet. "They'll return, only when they'll feel that they've a safety, security and free mobility after their return." 

Dr Momen said the good news is that Myanmar has agreed to take their nationals back as soon as possible. 

Two attempts of Rohingya repatriation have failed as the Rohingyas are unwilling to go back to their place of origin amid lack of required conditions in Rakhine State for their return. 

Bangladesh is now hosting over 1.1 million Rohingyas and most of them entered Cox's Bazar since August 25, 2017. 

Welcoming Chinese involvement in repatriation process, British High Commissioner to Bangladesh Robert Chatterton Dickson has recently said Chinese involvement has a "great deal of potential" to help bring the Rohingya crisis to an end noting that involvement of wide range of countries can resolve the crisis. 

"We've seen there has been greater Chinese engagement. That's good thing," he said adding that the Rohingya crisis needs to be resolved by a wide range of countries. 

The envoy said the international community is working hard to ensure safe, voluntary and dignified return of Rohingyas to their place of origin in Myanmar's Rakhine State. 

Chinese Ambassador to Bangladesh Li Jiming recently said China stands ready to "mediate and promote" Rohingya repatriation in an "active manner" to help find a solution as soon as possible. 

"As a Chinese saying goes, neighbours are just like family members who stand by each other. If the two neighbours and friends are in need of help, China won't shy away from it," he said. 

Ambassador Jiming has recently visited Rohingya camps in Cox's Bazar what the Chinese Embassy in Dhaka says demonstrates the "strong determination" of China to uphold peace and stability and promote development and prosperity in the region. 

Asked whether he believes that Rohingyas will go back to Myanmar, the British High Commissioner said he believes so and Rohingyas will eventually feel to go back to their home if there is favourable environment in Rakhine State. 

The British diplomat laid emphasis on creating conditions in Rakhine State to help Rohingyas return safely. 

Meanwhile, the European Parliament (EP) reiterated its call on the UN Security Council (UNSC) to impose a "global comprehensive arms embargo" on Myanmar. 

It also called for suspending all direct and indirect supplies, sales or transfers of all weapons, munitions and other military and security equipment, as well as provision of training or other military or security assistance. 

In its latest resolution, the EP urged the UNSC to adopt targeted individual sanctions, including travel bans and asset freezes, against those who appear responsible for serious crimes under international law.