Role of governance in mitigating the effects of climate change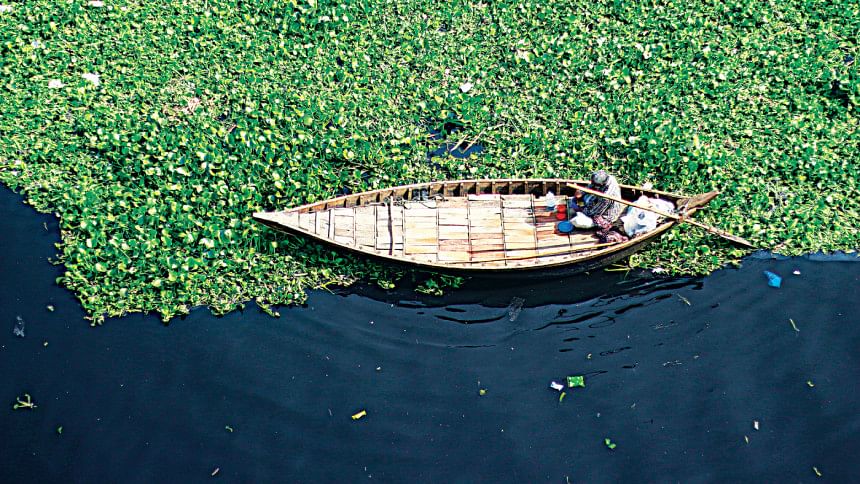 Bangladesh is regarded globally as one of the most vulnerable countries to climate change impacts. There are a number of global assessments on vulnerability, and in each of them, Bangladesh figures within the 10 most vulnerable countries. On average we lose from 0.5 percent to 1 percent of our GDP each year from climate disasters. Obviously, strengthening adaptive capacity of all institutions and individuals in Bangladesh is an urgent need for our sustainable development.
However, vulnerability is a construct of two factors: location of a country or region and their socio-economic parameters. The former is given, which cannot be changed, but the latter is what we can shape. It is recognised that from the climate point of view, Bangladesh is located at a disadvantaged position—we are kind of sandwitched between the Himalayas in the North and the Bay of Bengal in the South. So, all the flood or rain waters from the North must flow across our chest. Moreover, we face the challenge of sea level rise, storms, tidal surges and floods from the southern coastal belt. This is the reason why Bangladesh has historically been a disaster-prone country. This predicament has also taught us how live with such climate disasters.
Therefore, the most important factor for us to mitigate such increasing impacts of climate change is to strengthen our adaptive capacity (of the whole system)—all individuals, organisations and the country as a whole, with a "whole of society" approach. And the basic elements of adaptive capacity are early warning systems, income and education levels of citizens, their awareness, access to resources by communities, disaster risk reduction, equitable development, empowerment of women and communities, etc. All these elements come as part under the broader rubric of governance. Obviously, governance is extremely important for countries like Bangladesh, which is extremely disaster-prone, populous and natural resource-poor. So, in the context of adaptation, the most important element is whether all the stakeholders including the communities have adequate role in addressing the impacts of climate change that wreak havoc to their lives and whether the process is done with accountability and transparency.
Adaptation is inherently local and regional, because impacts have landfall in specific localities. But in Bangladesh, the experience so far shows that the adaptation process is totally centralised. If we look at almost 800 projects already implemented or ongoing with funds from the Bangladesh Climate Change Trust Fund (BCCTF) since the last decade, about 61 percent of the money went for infrastructure building, led mostly by the Local Government Engineering Department, followed by the Ministry of Water Resources. For designing and implementing these projects, the local, impacted communities had no role. It is the government ministries and departments which have submitted the projects and the selection was also done by the committee overwhelmingly staffed by senior government officials. The highly centralised administrative culture is evident from the organisational structure of the BCCTF. There are perhaps two civil society representatives, but can they impact enough to change the project designing or project selection process? Perhaps not!
But the lives and livelihoods of the people should be at the centre of development, as envisioned by the Father of the Nation Bangabandhu Sheikh Mujibur Rahman. It is true that development of infrastructure is needed, but each and every such project should be linked with both direct and indirect welfare and benefits of the citizens of any region. The problem here in Bangladesh is that there is a culture of elite capture of the decision-making process, particularly where big investments are involved, and where the poor, rural impacted communities have no voice. There is no culture of public hearing in finalising local or regional adaptation projects, which happens even in many developing countries, nor is there information posted in the ministry/agency websites on project portfolio in detailed forms. But this is mandatory under our Information Act enacted more than a decade ago. This is where our governance has serious deficits.
On the other hand, climate change adaptation has been mainstreamed as a central strategy of development, and Bangladesh is recognised as a leader globally in adaptation and resilience. As Chair of the Climate Vulnerable Forum (CVF), Bangladesh has the privilege to represent the 55 vulnerable countries. This was done very ably by our prime minister at COP26 in Glasgow, which was greatly acclaimed globally. Our disaster management is also highly appreciated because of established mechanisms of massive community mobilisation prior to and in times of disaster.
So, for adaptation to be more effective, we need similar kind of "whole of society" mobilisation, because centralised, top-down initiatives are not delivering, as evaluation of adaptation projects by different quarters show, not just in Bangladesh, but also globally. Against this, rich evidence has already been established for the efficacy of both locally-led and community-based adaptation. For the right reasons, the now defunct Global Commission on Adaptation has suggested for the tracking of locally-led adaptation (LLA), which has been taken up by Bangladesh to lead its way.
However, available evidence shows that the overwhelming practices globally in adaptation are still not driven by local actors (only 3 percent), who experience firs-thand the climate change impacts, but by those living far away from those locale/space/places.
So, LLA, which subsumes the CBA, can be regarded as a shift in adaptation paradigm, i.e., a shift in fundamental approaches and assumptions in existing practices. If we really mean a paradigm shift, we must ask upfront—"Who", "What", "How" and "When". All these questions are related to the power structure in society. Obviously, we need to conceptualise LLA, where the first "L" should define what is local, what is its relationship with space or place; the second "L" is central—locally "led" —this inquiry can better inform the challenges in applying the LLA principles. By now, about 50 governments and 100 organisations globally have endorsed the eight principles of LLA, which include, among others, devolving decision making to the lowest appropriate level, addressing structural inequalities faced by weaker sections of society, providing patient and predictable funding, investing in local capabilities to leave an institutional legacy, ensuring transparency and accountability, etc.
The above principles clearly indicate the process of implementation of LLA, while ensuring a people-centred governance approach. So, it is evident that there is a need to reconnect local/space with power—a revaluation of space, with focus given both to physical—through situating human artifacts in the natural world, and institutional, situating human relations within the hierarchies of political-administrative power. The South Asian Regional Adaptation Centre in Dhaka can be a hub of excellence, as an effective platform in this regard. The Centre will have a focus on LLA, which has proven its efficacy even in many developing countries.
Nepal is an example of devolution of administration and finance down to the local level. It has instituted the provision of delivering 80 percent of climate finance to the local government and community level. This is in line with the LDC Vision 2050, which stipulates delivering at least 70 percent of climate finance to the local level.
Here is another example of devolution from Kenya. The Kenya County (district) Climate Change Fund (CCCF) facilitates the flow of climate finance to five county governments and capacitate local and marginalised communities, through strengthening public participation in the management and use of those funds. This fund is a living example of how climate finance can support climate-resilient development and effective adaptation measures at the local level. The Kenyan government has already initiated the process of devolution of adaptation finance in all districts, after successful piloting of such practices in a few districts.
A shining example of such devolution in industrial countries can be seen in Switzerland. The climate adaptation measures in Switzerland are mostly led by the local governments, where the responsibility has been given to the cantonal (small territorial division like a district) government. The constitutional amendment of Switzerland has instructions for Cantons to actively engage in limiting climate change in their respective areas to reduce its negative consequences and become climate neutral by 2050. The Canton governments were further instructed to align with public finances for climate neutrality.
Internationally, too, Switzerland has taken a lead role in promoting LLA, by channelling climate finance to LDCs through the Local Climate Adaptive Living Facility (LoCAL) of the UN Capital Development Fund (UNCDF). Till 2021, the LoCAL initiative has mobilised around USD 100 million to 27 countries for local adaptation projects. The LoCAL facility is assisting the local governments and communities of these countries in implementing effective adaptation actions.
In conclusion, I can only say that in line with our acclaimed success in disaster management globally, based on massive community mobilisation, the government should initiate such a mobilisation through a "whole of society" approach in addressing climate change impacts and the follow-up adaptation actions. This is all the more needed, as Bangladesh is leading the LLA track. This will also warrant that Bangladesh endorses the eight LLA principles, which are attracting increasing number of supporters.
Mizan R Khan is Deputy Director, ICCCAD and Program Director, LUCCC.