Raping 5th grader: 2 accused arrested after a month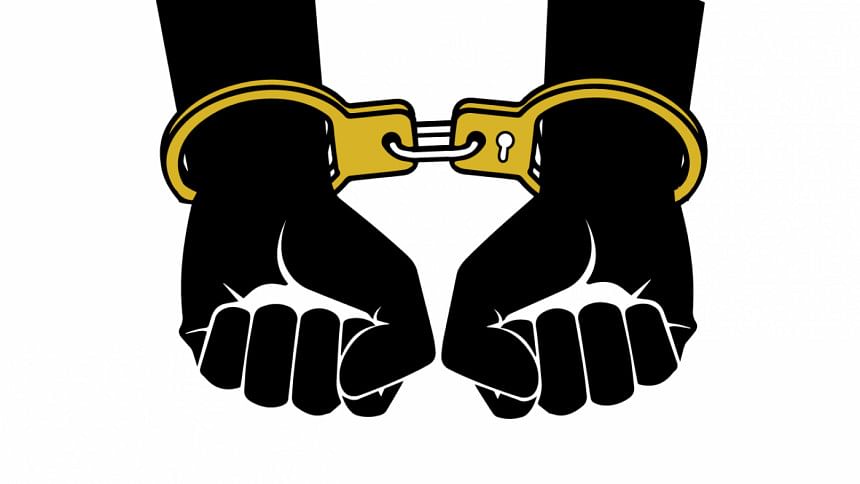 Police have arrested two accused of a case filed for the rape of a twelve-year-old girl at Sardarergaon village in Sylhet Sadar upazila.
The accused are -- Jashim (22) of Rayergaon village and Ekhlas (20) of Sardarergaon village in the upazila, reports our correspondent quoting Md Shah Alam, inspector (investigation) of Jalalabad Police Station.
They were arrested from Sunamganj and Sylhet Sadar earlier today, he informed.
Another four people were brought to the police station for interrogation on allegations of hiding the rape incident by intimidating the victim's family, he added.
On the night of September 6, the victim, a class five student of a primary school, went out of the house to go to the toilet, said the case statement. She was then kidnaped and raped by one of the accused with the assistance of another person.
Influential locals then told the victim's family not to lodge any cases, and assured of arranging a village arbitration to settle the matter till September 13.
The victim's father later filed a case with Jalalabad Police Station on September 14 accusing the duo.
But since the case was filed, influential locals started putting more pressure to the victim's father -- a fisherman and a low caste Hindu -- the plaintiff alleged.
Meanwhile, protesting the incident, Bangladesh Hindu Buddha Christian Oikya Parishad and Bangladesh Puja Udjapan Parishad formed a human chain in front of Sylhet Central Saheed Minar this afternoon demanding justice.
Sylhet City Mayor Ariful Haque Choudhury, former AL Organising Secretary Misbah Uddin Siraj, and former president of Sylhet District Bar Association EU Shahidul Islam were present at the human chain, among others.