Private investment the key
Private investment the key
CPD says Tk 75,000cr additional investment needed a year to achieve high growth target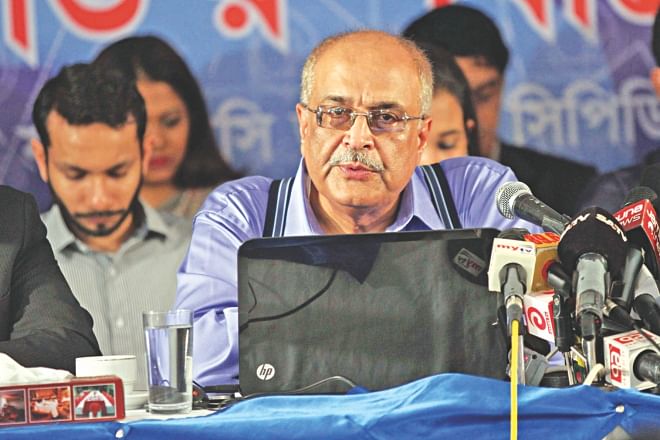 The economy faces an impossible task of raising private investment by Tk 75,000 crore in fiscal 2014-15 to achieve the desired 7.3 percent GDP growth, the Centre for Policy Dialogue said yesterday.
To that end, private investment needs to rise to 25 percent of gross domestic product from the present 21 percent, an increase not seen before.

"A 4 to 5 percentage point increase in private investment has never happened in Bangladesh's history. This is a massive growth," Debapriya Bhattacharya, distinguished fellow of CPD, said during a media briefing at the Brac Centre Inn on the think-tank's analysis of the proposed budget for the upcoming fiscal year.
Furthermore, projections show that private investment would continue to decline for the third consecutive year in fiscal 2014-15, according to CPD.
"We expected enthusiasm in reforms to give vigour to the private sector. But we do not see such efforts. Many measures are stalling," Debapriya said.
While the 7.3 percent increase in GDP is "desirable" after achieving an average of 6 percent growth in the past one decade, it "regrettably does not have any substantive basis".
The finance minister is banking heavily on "favourable weather" and "political stability", which might not materialise.
The think-tank, however, supported some of the fiscal measures taken by the government to finance the Tk 250,506-crore budget, which is an increase of 16 percent over the current year's revised outlay.
A new tax bracket for high-income individuals, higher surcharge on wealth of richer people, health surcharge on tobacco products, green tax to curb environmental pollution by industries, imposition of VAT in new areas, increased source tax for land registration, were all welcomed by CPD.
About the revenue growth target of 16.8 percent, the think-tank said it is not attainable considering the dismal growth in the outgoing year: the overall revenue collection may fall short by Tk 12,000 crore from the target.
CPD said the budget was not properly designed, as financing it would require $4.1 billion, which is quite high and seems unachievable in a single year.
Its alternative is to borrow from domestic sources, which comes at an average cost of 8.75 percent as opposed to 0.97 percent for foreign funds, meaning increased interest payment burden, which already got the third biggest allocation in the proposed budget.
"The fiscal framework may once again be found to be vulnerable in the face of reality," the analysis said, adding that the quality of planning in the area of fiscal framework in Bangladesh remain wanting.
The report went on to question the significant increase in block allocation, an aspect of expenditure that lacks transparency. Some Tk 1,428 crore has been set aside for block allocation in the proposed budget.
CPD came down heavily on the continued provision to legalise black money via investment in residential buildings.
"This provision is an unjust scheme that creates a culture of tax evasion. This is also discrimination against honest taxpayers and contradicts other measures of taxation," Debapriya said.

The think-tank also criticised the extension of phase-out period of quick rental power plants, while calling out on the government's failure to implement large power sector projects.
"Is it for keeping dependence on the quick rental power plant forever?" questioned Debapriya.
About the 67.35 percent slash in fuel subsidy, he said the petroleum prices would increase, which might trigger inflation.
The CPD distinguished fellow slammed the government move to extend the highest cut tax at source -- from 0.8 percent to 0.3 percent -- to the garment sector.
"It is surprising why other sectors face discrimination. The jute industry is suffering the most now. It should receive no less support than garment."
CPD, however, lauded the tax holiday and tax rebate facilities extended to encourage industrialisation in the less-developed regions of the country and the exemption of duty on pre-fabricated building and fire safety equipment.
To conclude, it said budget implementation will critically hinge on non-economic dimensions of institutional and policy environment, such as implementation capacity of the state, oversight capacity and capacity for reforms.
There must also be political stability and a participatory electoral process to create a conducive environment for businesses, who, ultimately, want to take the country to a higher growth path, it said.
Fahmida Khatun, research director of CPD, and Khondaker Golam Moazzem, additional research director of CPD, also spoke on the occasion.