United fans should urge Ibra to sign new deal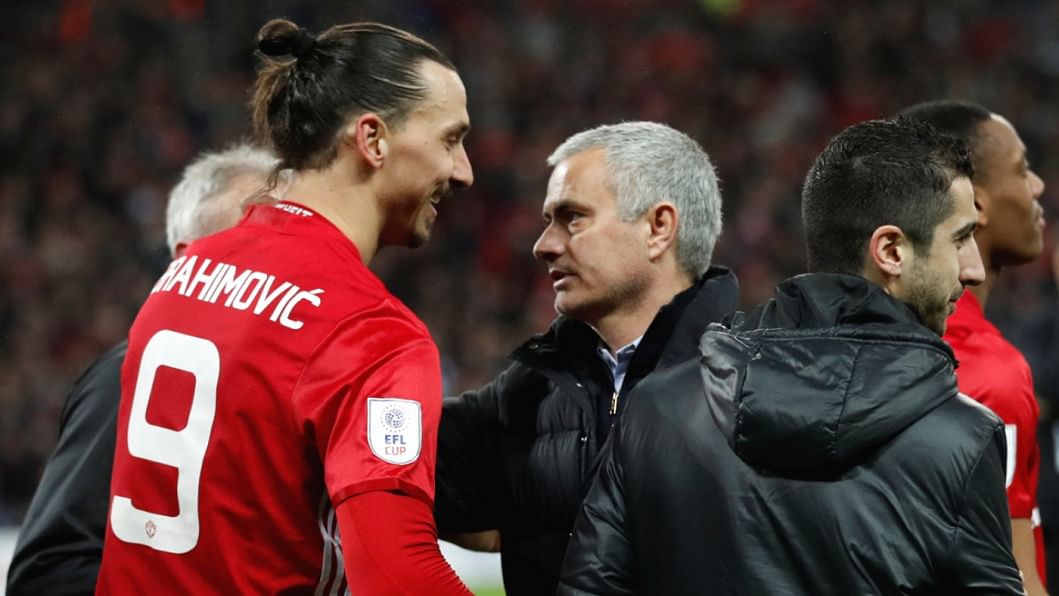 Manchester United supporters should camp outside Zlatan Ibrahimovic's house to make sure he signs a contract extension at the club, manager Jose Mourinho said after the Swede's deadly double decided the League Cup final on Sunday.
The 35-year-old Swede struck a sublime free kick in the first half at Wembley and then powered in a late headed winner to secure United's 3-2 victory over Southampton, taking his tally for the season to 26 goals in all competitions.
Mourinho's decision to take Ibrahimovic, who he managed at Inter Milan, to Old Trafford has proved a masterstroke and the Portuguese hopes to have him for at least another season, although Ibrahimovic is said to be weighing up his options.
"I never beg a player to play for me," Mourinho, who now has a joint record four English League Cup triumphs to his name, told reporters. "One day he decided to go to Barcelona, and I was very sad but did nothing to try to stop him to go.
"I don't beg. But if needed maybe the United fans can go to the door of his house and stay there all night. We will all believe he is going to stay here for us one more season."
Mourinho said he never doubted that Ibrahimovic, who has now gathered silverware in five countries, would cope with the demands of the English game at an advanced stage of his career.
"I was his manager (at Inter), I knew the potential," Mourinho, said. "Only a silly player comes to England at 35 years of age and with the successful career he has had.
"Only a silly one comes here if he doesn't feel that he can do it. When he took that decision it's because he felt ready."
Mourinho began his trophy gathering in England when he won the League Cup with Chelsea in 2004-05 and has repeated that feat by claiming the trophy in his first season at United.
"I'm secondary to the club and the fans but the reality is I put a lot of pressure on myself," he said. "I wanted very much to win a major trophy with every club and by doing that with United is quite a sense of relief, but we want more."
Mourinho has now won eight major trophies in England and his side are in the FA Cup quarter-finals and last 16 of the Europa League. He has a soft spot for the League Cup though.
"I'm very happy as now I have the same as the biggest one (Alex Ferguson) and the same as Mr (Brian) Clough (won at Nottingham Forest) and the chance to win it for a fifth time," he said.