Klopp at a low ebb as Chelsea come to town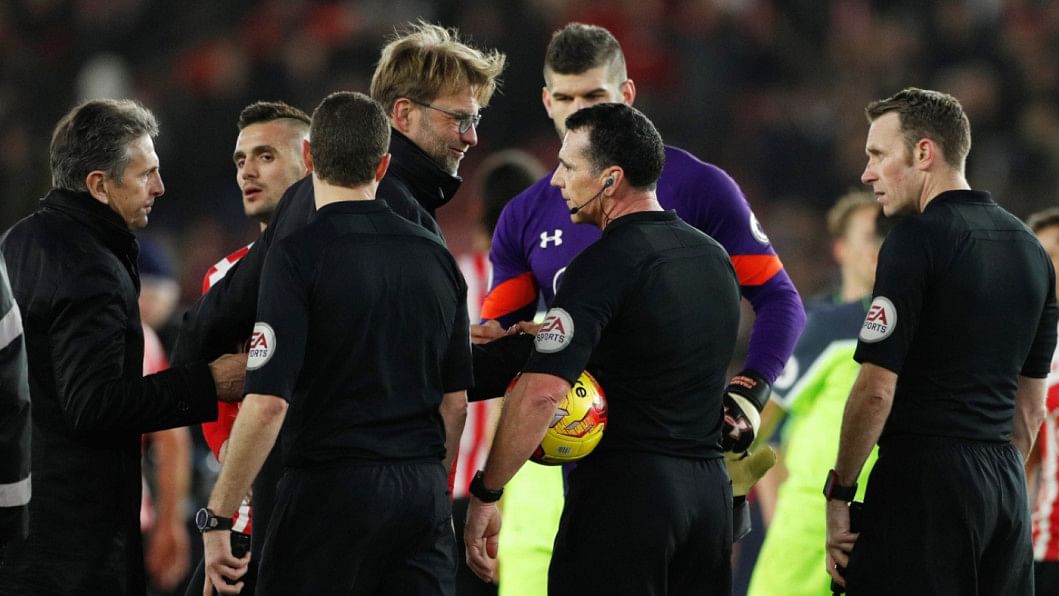 Viewed as Premier League leaders Chelsea's closest rivals a month ago, Liverpool confront Antonio Conte's side at Anfield on Tuesday with their season on the brink of total collapse.
Brimming with energy as 2016 drew to a close, Liverpool have looked a spent force in 2017, their only win in eight games arriving in an FA Cup replay at fourth-tier minnows Plymouth Argyle.
Last week brought two cup exits in four days, a League Cup semi-final loss to Southampton followed by embarrassment at the hands of second-tier Wolverhampton Wanderers in the FA Cup fourth round.
"We spoke about confidence a few months ago and I said it's a little flower. If something bounces on it, then it's away," said Liverpool manager Jurgen Klopp.
"Obviously that happened, kind of, but it's not that we play without confidence. I can see a lot of moments when we really still believe in our skills and all that stuff.
"So we don't have to make it too big, but it's not that difficult. It's not that I say there's no chance until Tuesday to make a real turn.
"Somebody asked me a second ago if this is the lowest point of my Liverpool time until now. I don't know. But if it is, it's the perfect point to turn because it's not possible to go lower."
After Liverpool's 1-0 win over Manchester City on New Year's Eve, Klopp suggested it must have been "annoying" for Chelsea to still see his side in their rear-view mirror despite a run of 13 straight wins.
But a month on, the gap between the clubs has grown from six points to 10 and Liverpool have slipped from second place to fourth, title dreams replaced by fears about slipping out of the top four.
If there was any consolation for Klopp after Saturday's 2-1 home defeat by Wolves, it was that he had selected a weakened side featuring three teenagers.
But Chelsea manager Conte made nine changes for his team's home game against Brentford -- currently three places above Wolves in the Championship -- and still saw them run out 4-0 winners.
Mane return
Chelsea are a different side to the one beaten 2-1 by Liverpool in September, when Branislav Ivanovic and the now departed Oscar started in the 4-2-3-1 system Conte inherited from Jose Mourinho.
The west London club have won 15 from 16 league games since Conte's switch to a back three, but for all Liverpool's January blues, the Italian believes they remain a dangerous foe.
"To win away against Liverpool is never easy," he said.
"We have only two days to prepare. When we played against Liverpool at Stamford Bridge, we lost the game, the only game we have lost here.
"It's important to understand the real value of this team. It's a really tough game, an important game. After this game there will be 15 games to finish the season.
"Liverpool are a team who can fight until the end to win the title. Only through work can dreams happen.
"For us to stay on top of the league is a dream. If you remember our start, now we are doing very well."
Cesar Azpilicueta and Pedro Rodriguez are the only players likely to retain their places from the win over Brentford, with Eden Hazard and Diego Costa among those in line to return.
Liverpool have doubts over right-back Nathaniel Clyne, who has missed two games with an abdominal injury, and his England team-mate Adam Lallana.
Lallana missed the Wolves game after requiring stitches in a leg wound he sustained during the 1-0 League Cup semi-final second-leg defeat by Southampton last Wednesday.
Sadio Mane, badly missed of late, is available after squandering the decisive penalty as Senegal lost to Cameroon in the Africa Cup of Nations quarter-finals, but he may not return in time to feature.