Zia Orphanage graft case: HC to hear Khaleda's appeal Jul 3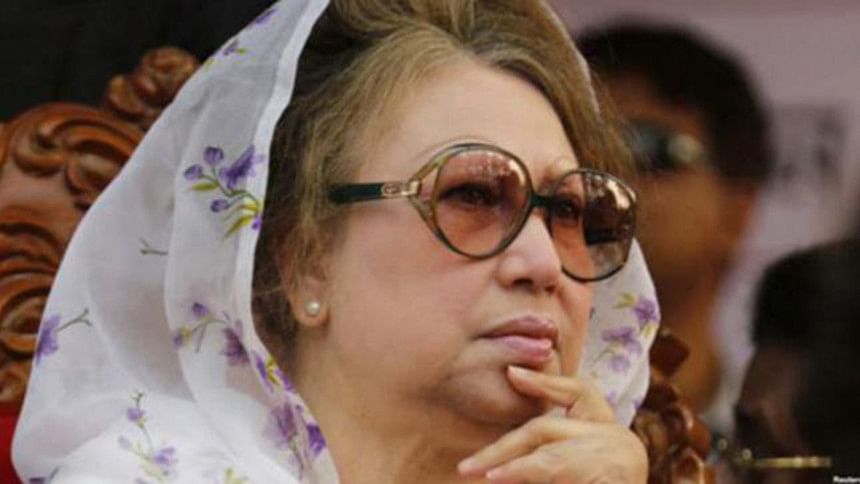 The High Court today fixed July 3 for starting hearing on the appeal filed by BNP Chairperson Khaleda Zia challenging a lower court verdict that sentenced her to five-year imprisonment in Zia Orphanage Trust corruption case.
The HC bench of Justice M Enayetur Rahim and Justice Md Mostafizur Rahman fixed the date as the Anti-Corruption Commission prayed for the hearing.
The Appellate Division of the Supreme Court on May 16 directed the HC bench led by Justice Enayetur Rahim to hear and dispose of the appeal of the BNP chief by July 31.
The same day, (May 16), the apex court upheld the HC order that on March 12 granted four months' bail to Khaleda in Zia Orphanage Trust corruption case.
On February 8, the Special Judge's Court-5 of Dhaka convicted and sentenced Khaleda to five years' imprisonment guilty in the corruption case.
The court also sentenced Khaleda's eldest son and BNP Senior Vice Chairman Tarique Rahman and four others to 10 years' rigorous imprisonment, and fined Tk 2.10 crores each.
Khaleda Zia on February 20 filed an appeal with the HC challenging the trial court verdict on her.
In the appeal, Khaleda prayed to the HC to acquit her of the corruption charge and to scrap the lower court verdict, stay her conviction and suspend the five-year prison sentence.   
Claiming herself innocent, Khaleda mentioned 44 grounds in the 1222-page appeal on which the HC may consider her prayers.
In its verdict, the trial court said Khaleda in her defence statement confessed that she had abused her power. "So, there is no bar to punishing her under section 409 of Penal Code and 5(2) of Corruption Prevention Act-1947."
Referring to the matter, the BNP chief in the appeal said, "The conviction and sentencing of the appellant [Khaleda] based on grotesque distortion of her statement and such the same is liable to be set aside."
"… protesters are being killed by mindless shooting if they protest the unjust. Students and teachers are being killed. Are not these abuse of powers? Did I abuse powers?"
She said "under the facts and circumstances of the case the impugned judgement and order of conviction and sentence against her being untenable and unsustainable in law is required to be set aside".
On February 22, the HC accepted the appeal for its hearing and stayed the part of the lower court order that fined Khaleda for corruption mentioned in the case.