Graft case: Court bins 2 pleas of Khaleda
April 25 set for next hearing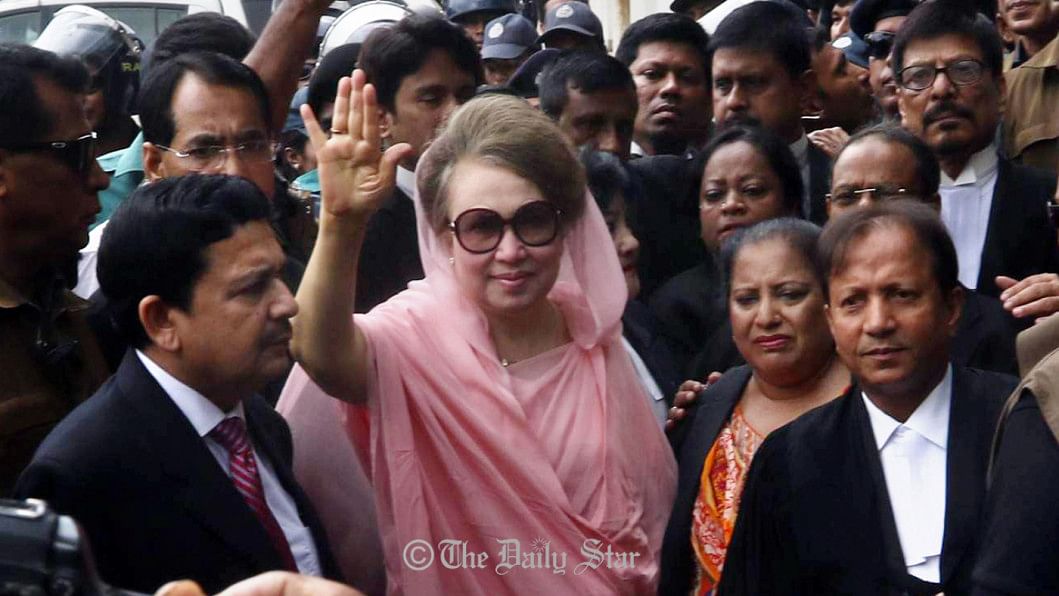 A Dhaka court today rejected two petitions of BNP Chairperson Khaleda Zia -- one for re-cross examination of the investigation officer of Zia Charitable Trust graft case while another for scrutinising the case dairy.
Judge Abu Ahmed Jamadar of the Special Judge Court-3 set April 25 as the next date of hearing in the case.
The court rejected the petition on re-examining the IO as it found "no ground".
Lawyers of Khaleda submitted both the petitions before the court today in presence of Khaleda.
After the day's proceedings, Khaleda's lawyers said they would move pleas to the High Court against the rejections of their petitions.  
Earlier around 10:45am, Khaleda appeared before the court set up at Bakshibazar.
On April 7, the High Court cleared the way for a lower court to continue the trial proceedings after rejecting Khaleda's petition.
On March 9, Khaleda challenged the legality of the appointment of Harunur Rashid, investigating officer of the case, saying that the Anti-Corruption Commission (ACC) had not published any gazette notice.
The ACC on August 8, 2011, filed the case accusing Khaleda and three others of abusing power in setting up the charity.
The other accused are Harris Chowdhury, Khaleda's former political secretary, Ziaul Islam Munna, assistant private secretary (APS) of Harris, and Monirul Islam Khan, APS of former mayor Sadeque Hossain Khoka. Of them, Harris is on the run.