Rahul Gandhi likely to head Congress party
Files nomination papers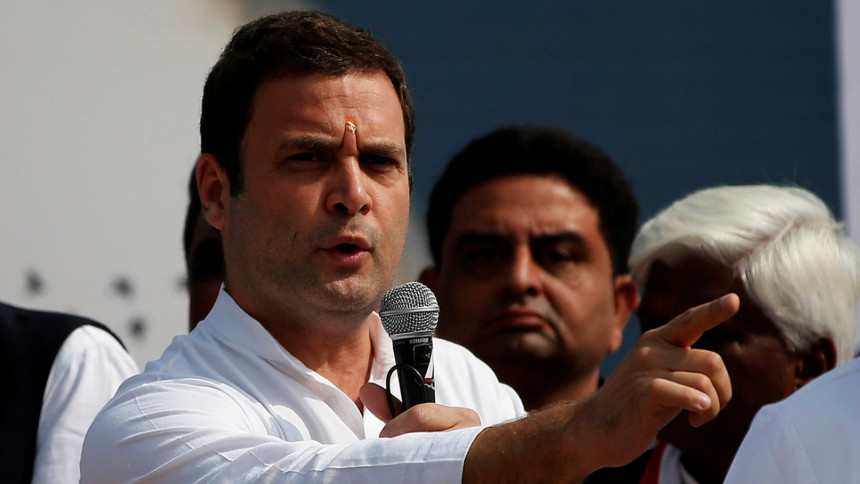 Rahul Gandhi, the scion of Nehru-Gandhi dynasty, is expected to be elected unopposed as the President of India's main opposition Congress party marking a generational change of the grand old party with a contest appearing extremely unlikely.
No one else is likely to challenge him by the deadline of filing nominations this afternoon, reports our New Delhi correspondent.
Rahul today filed nomination papers to head the 132-year-old Congress party, India's main opposition, replacing his mother who has held the top organisational post for a record number of 19 years in a row. 
The Nehru-Gandhi dynasty has seldom been challenged for the top party post.  
Rahul, 47, filed his nomination to the party's central election committee at the Congress'national headquarters at Akbar Road in central Delhi this morning on the last day of filing of nominations, reports our New Delhi correspondent.
Rahul, who has been the party vice president for five years, was accompanied by senior party leaders like Manmohan Singh, former prime minister, Sushilkumar Shinde and others when he filed his nomination papers, reports the correspondent.
Sonia Gandhi, 70, and Manmohan Singh are among the proposers for the candidature of Rahul Gandhi for the party President's post.
No one else filed papers till Sunday, according to Mullapally Ramachandran, the chairman of the party's Central Election Authority.
The last date of withdrawal of nominations is December 11 and polling, if necessary, will be held on December 16 while counting of votes in the event of a contest is scheduled for December 19.
Though the results will be declared on December 11 after the deadline for nomination withdrawal, the outcome will be known on the day of scrutiny of nomination papers on December 5 if any nomination other than that of Rahul is filed.
The election of the new Congress President will bring down the curtains on the organizational polls in the party which has to complete the process by December this year, a deadline set by India's Election Commission. India faces fresh parliamentary elections in early 2019. Congress was voted out of power in May 2014 by Prime Minister Narendra Modi-led Bharatiya Janata Party.
The last time a contest was held for the post of Congress President was in November, 2000 when Sonia, who became party chief for the first time in March 1998 taking over from Sitaram Kesri, was challenged by senior leader Jitendra Prasada. Sonia had emerged as the runaway winner then.