Think about AL in newer away, PM tells party leaders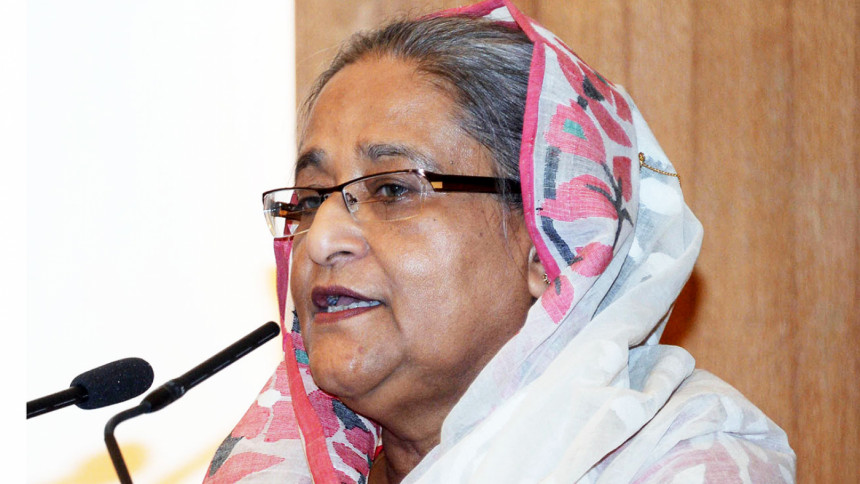 Prime Minister Sheikh Hasina today said time has come to think about the ruling Awami League in a newer way to keep it dynamic and vibrant.
The prime minister said this when the newly elected presidents and secretaries of the Awami League units of Dhaka City North and South met the ruling party chief at her official residence Ganobhaban.
AKM Rahmatullah and Abul Hasnat, newly made presidents of the Dhaka north and south units of AL, and Sadek Khan new general secretary of the north and Shahe Alam Murad of the south, met the Awami League chief.
Hasina said the world is moving ahead and the socioeconomic status of Bangladesh is also progressing fast in line with that pace. "People now want peace and an improved lifestyle…their demands have also changed."
She mentioned that Awami League's base is very strong as it was built by Father of the Nation Bangabandhu Sheikh Mujibur Rahman.
The Awami League president mentioned that the number of activists and leaders of this party is the highest when it comes to making sacrifice for establishing a democratic process in the country.
She hoped that the new leadership would be able to make the party even stronger.
Hasina said Awami League leaders and activists will have to gain the greater trust and confidence of people as elections are coming one after another, and people an impression that the country sees development when Awami League remains in power.
More importantly, she said, local government elections are now being held along party lines.
Hasina asked the new leaders not to engage in just gaining name and fame, but to build the party as stronger organisation. "You must go forward taking all on your side," she told the new leaders of the Dhaka city units.
About the country's overall progress, the prime minister said it is needed to maintain a peaceful atmosphere for the continuation of the development.
She mentioned that Bangladesh attained seven percent GDP growth and this could have been achieved in 2015 had BNP-Jamaat not engaged in prolonged destructive activities.
About militancy and terrorism, Hasina called upon the party leaders and activists to involve all in campaign against militancy and terrorism. "We'll have to ensure the rule of law and this is our political responsibility."
Earlier, presidents and secretaries of both AL units presented bouquets to the party chief.