A last journey soaked in love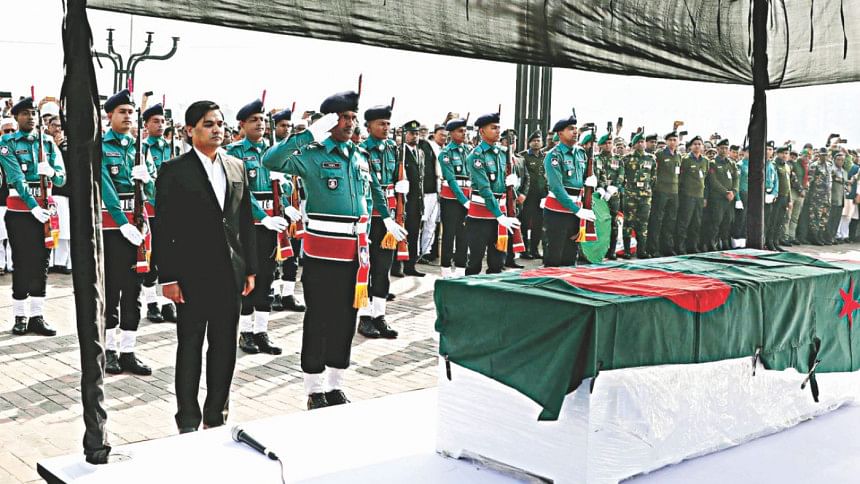 All men must die. But even death must have grimaced when it called upon Syed Ashraful Islam, a politician who gracefully stood apart from the politics that is all too often a byword for muscle power, corruption and abuse of power.
A valiant freedom fighter, he thrust himself into a battle to answer a calling incomprehensible to those who never had to fight for a home.
And he died, like he had lived: fighting the good fight.
As an ocean of people, from every walk of life, descended on grounds, rooftops and any space available in Dhaka, Kishoreganj and Mymensingh, to pay their last respects, the gravity of this nation's loss became clearer. 
With tears and broken hearts, admirers, followers, colleagues and the common citizens paid tributes yesterday to one of the most beloved politicians of the country.
Loved for his honesty, softness and simplicity -- rare qualities in our political culture -- the iconic figure left behind a legacy fit to inspire future generations.
Starting from the head of state to the common people, all have lauded him for the unique leadership he demonstrated since he was a student.
The body of Syed Ashraf, former general secretary of the Awami League and public administration minister of the AL-led government, was laid to eternal rest beside his father Syed Nazrul Islam at the Banani graveyard in the capital yesterday afternoon.
The prime minister's Energy Adviser Tawfiq-E-Elahi Chowdhury, AL Joint General Secretary Mahbubul Alam Hanif, Organising Secretary Mohidul Hasan Chowdhury Nowfel, other leaders and family members of Syed Ashraf were present at the graveyard.
Ashraf, son of Syed Nazrul Islam who was the acting president of Mujibnagar government, died at Bumrungrad International Hospital in Bangkok around 9:45pm on January 3 after suffering from lung cancer for long.
His body was brought back home from Bangkok Saturday evening.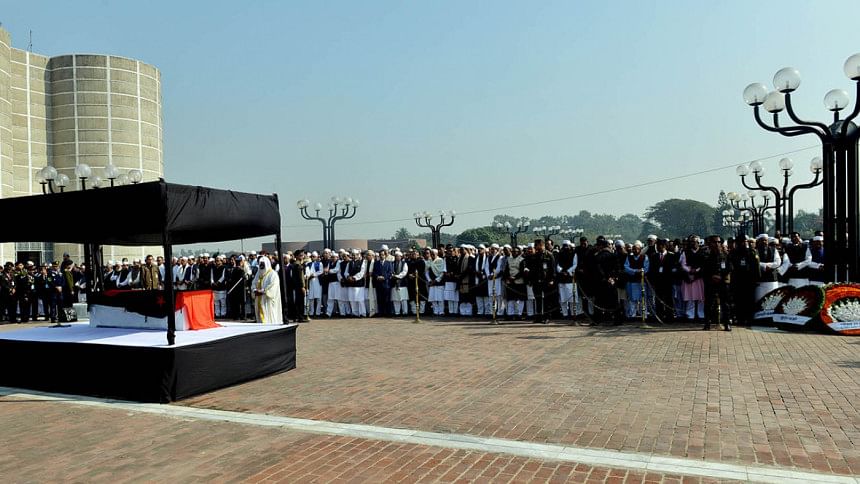 At the namaz-e-janaza yesterday, his colleagues, senior political leaders, ministers, advisers, deputy ministers, whips, lawmakers, senior civil and military officials, thousands of party supporters and well-wishers all gathered to pray for Syed Ashraf.
President M Abdul Hamid attended the janaza at about 10:30am. Prime Minister Sheikh Hasina and Speaker Shirin Sharmin Chaudhury also bade farewell to Ashraf by placing flower wreaths on his coffin. They also took part in the prayers for his departed soul.
The body of Ashraf, adorned with the national flag and flowers, was given the "Guard of Honour" after the namaz-e-janaza, reports BSS.
"Syed Ashraf is a life without death. Syed Ashraf is the name of emotion and feelings of millions of people," said Mahbubul Alam Hanif, AL joint secretary general, while reading out a memorandum.
At the namaz-e-janaza held at the South Plaza of the Jatiya Sangsad Bhaban yesterday morning, Hanif further said that he had no apt words to bid farewell to Syed Ashraf.
"All around us are only sorrow, speechlessness and void."
Ashraf's younger brother Syed Manzurul Islam requested all to forgive Ashraf if he made any mistakes in his lifetime and pledged repaying any loan, if he was indebted to anybody.
Ashraf's body was then taken to the historic Sholakia Eidgah Maidan of Kishoreganj by helicopter, from where he was elected an MP. There, his second namaz-e-janaza was held as the field was thronged with people numbering in lakhs.
Abdul Halim, 65, said he attended many funerals, but has never seen a crowd this big -- something that proves the peoples' love for the leader. Many were seen praying for the departed soul by the roadside, some were on rooftops and even on the bridges -- a rare scene observed by locals.
"He was a very powerful man. He could make a lot of money, but he did not. People highly respected him because of his honesty. We all should take lessons from him," said Maulana Anwar Shah, khatib of Shaheedi Mosque at Sholakia Eidgah Maidan.
"I could not get close to his coffin, but I am glad to have attended the janaza of this so powerful yet honest person," said Naimul Islam, a well-wisher who traveled from Sunamganj to Sholakia maidan in Kishoreganj.
Ashraf's body was then taken to Mymensingh Anjuman Eidgah Maidan which also saw thousands of people for his third janaza. He was given a Guard of Honour there as well.
Born and educated in Mymensingh, Ashraf was the general secretary of Bangladesh Chhatra League's greater Mymensingh unit from 1968 to 1972. He also served as the assistant publicity secretary of the BCL central committee.
On November 3, 1975, his father Syed Nazrul Islam and three other national leaders were brutally killed inside Dhaka Central Jail. After the incident, Syed Ashraf went to London and organised the Bangladesh Awami League in the UK.
He came back home in 1996 and was elected a member of parliament. He served as the state minister for civil aviation and tourism from 1996-2001. He was also elected a parliament member in 2001 and became a member of the parliamentary standing committee on foreign affairs.
In 2008, Syed Ashraf was again elected a lawmaker and appointed the minister for local government, rural development and cooperatives. He took over the charge as minister for public administration on July 16, 2015.
In the 11th parliamentary election on December 30 last, he was again elected but this time in absentia on account of his illness.
Ashraf was also engaged in various social welfare activities.
Prof Shafiqul Islam, president of the BNP's Mymensingh unit, said, "As a senior, I knew Ashraf since his boyhood. He was a boy of good manners and was a great soul."
"His amicable and soft behaviour charmed us. We never found any dishonest thoughts in him," said Fazlur Rahman, former president of Mymensingh BCL after the third namaz-e-janaza.
Here lies a man not scared to die; may his soul rest in peace.      
Correspondents from Mymensingh, Kishoreganj contributed to this report.