Stay alert to drug abuse, terrorism
PM to Ansar-VDP members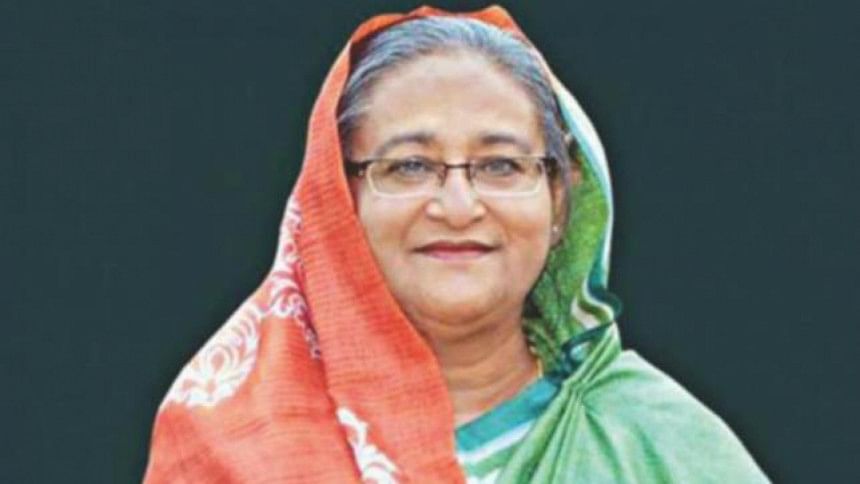 Prime Minister Sheikh Hasina yesterday urged members of Ansar and VDP to remain vigilant against drug abuse, militancy and terrorism.
"We must remain alert for resisting drug abuse, militancy and terrorism," she said while addressing the 39th National Rally of Bangladesh Ansar and Village Defence Party (VDP) at Ansar-VDP Academy in Gazipur's Shafipur.
The prime minister said members of Bangladesh Ansar and VDP have been working to maintain law and order and ensure public security during different national, social and religious festivals over the years.
She praised the sincere works of the paramilitary forces and thanked them for discharging their duties during the December 30 polls.
"Some five lakh Ansar and VDP members performed their duties risking their lives to ensure security for voters in 40,183 polling stations," she said.
The prime minister mentioned the five Ansar members who sacrificed their lives during the polls duties and prayed for the salvation of their departed souls. They were later given Moronuttar Shahoshikata Padak (Posthumous Gallantry Medals) at a rally.
Sheikh Hasina said that the Ansar members have been demonstrating their competence and successes in all sorts of national crisis and emergencies.
The authorities have already been directed to engage the members of Ansar and VDP with One House One Farm project through a cooperative system as they received training in this regard, the prime minister said.
The government has been implementing various projects for the development of Ansar and VDP since it came to power in 2009, she said, adding, "Our Awami League government is always sincere and sympathised in solving your problem."
The prime minister said Bangladesh is now recognised as a developing country and asked all to work sincerely for keeping up the achievement and developing the country further.
Later, the prime minister enjoyed a cultural soiree displayed by Bangladesh Ansar and VDP members and termed the programme as an "excellent" event.
Home Minister Asaduzzaman Khan, Public Security Division Secretary Mostafa Kamal Uddin and Director General of Bangladesh Ansar and VDP Major General Kazi Sharif Kaikobad welcomed the prime minister on her arrival at the rally venue.
She observed a parade of Ansar and VDP members riding an open jeep and received salute from them.
In the programme, the prime minister handed over special medals to 153 Ansar and VDP members for their bravery and praiseworthy services. She also gave Bangladesh Ansar Medals to 10, President's Ansar Medals to 20, Bangladesh VDP Medals to nine, President VDP Medals to six, Bangladesh Ansar Services Medals to 20, President's Ansar Services Medals to 40, Bangladesh VDP Services Medals to 16, and President's VDP Services Medals to 32 members.
Liberation War Affairs Minister AKM Mozammel Huq and Deputy Speaker Fazle Rabbi Miah were also present at the programme.