Govt hands Pakistan envoy protest letter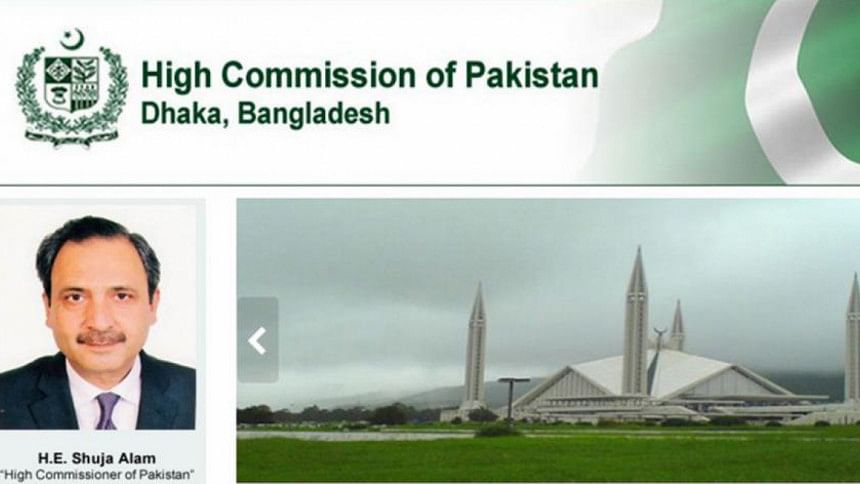 The government today handed a 'strongly-worded' protest letter to Pakistan envoy in protest against the country's statement on Supreme Court verdict dismissing the review plea of condemned war criminal and Jamaat-e-Islami leader Motiur Rahman Nizami.
Foreign ministry summoned Pakistan High Commissioner in Bangladesh Shuja Alam this afternoon to lodge a formal protest over the statement issued by Pakistan Foreign Office on May 6.
Responding to the summons, the Pakistan envoy met Bangladesh Foreign Secretary (bilateral) Mizanur Rahman at the ministry at 3:00pm.
During the 15-minute meeting, Bangladesh conveyed its dissatisfaction over the Pakistan Foreign Office statement.
"The statement issued by Pakistan Foreign Office is totally unacceptable," Mizanur Rahman told reporters after the meeting today.
On receiving the note verbale, the Pakistan envoy said he would convey the message to his government.
In the May 6 statement, Pakistan Foreign Office said: "We have noted with deep concern and anguish the dismissal of the review application on the death sentence by the Supreme Court of Bangladesh for Mr Motiur Rahman Nizami, the leader of Jamaat-e-Islami." 
Referring to Tripartite Agreement of April 1974, the Pakistan government said in the statement: "There is a need for reconciliation in Bangladesh in accordance with the spirit of the tripartite agreement of April 1974 which calls for a forward looking approach in matters relating to the events of 1971."
Expressing disappointment over the statement, State Minister for Foreign Affairs Shahriar Alam yesterday asked Islamabad to stop interfering in Bangladesh's internal affairs.
"We never welcome anyone's concern in our domestic affairs but Pakistan is interfering in our domestic issues despite our repeated reminders," he said while talking to reporters yesterday.
He pointed out that those being tried for their crimes against humanity are Bangladeshi citizens but Pakistan is "sad" for them.