Don't meddle in internal affairs
Dhaka tells Islamabad on war crimes trial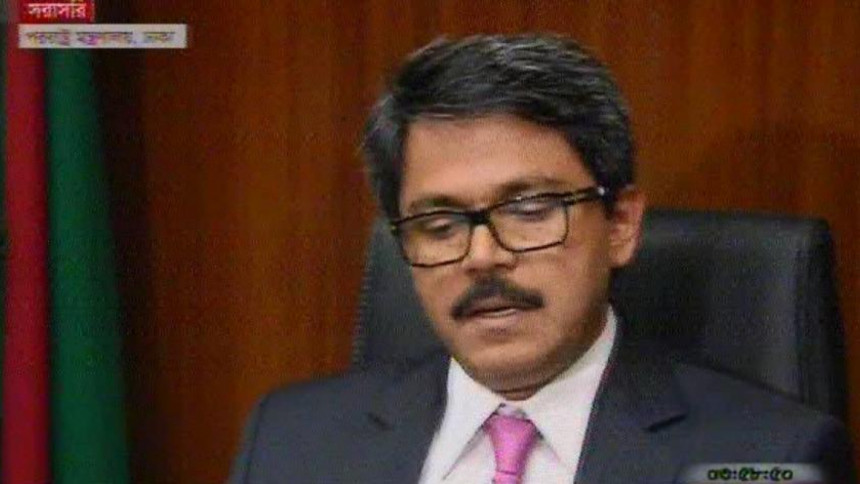 Expressing frustration over a statement made by Pakistan about the apex court verdict on condemned war criminal Motiur Rahman Nizami, Dhaka yesterday asked Islamabad to stop interfering in Bangladesh's internal affairs.
"We never welcome anyone's concern in our domestic affairs but Pakistan is interfering in our domestic issues despite our repeated reminders," State Minister for Foreign Affairs Shahriar Alam said while talking to reporters yesterday.
Responding to the statement of Islamabad made on Friday, he said those being tried for their crimes against humanity are Bangladeshi citizens but Pakistan is "sad" for them.
"We are disappointed with Pakistan's reaction."
The foreign ministry of Pakistan in the statement expressed "deep concern and anguish" over the Bangladesh Supreme Court's dismissal of the review petition of Jamaat-e-Islami Ameer Nizami.
Even though the foreign ministry was yet to call the Pakistani envoy in Dhaka, but a diplomatic source said he might be summoned today for lodging a formal protest.
Shahriar also asked Pakistan to stop misleading people with reference to the Pakistan, India, Bangladesh Agreement of April 9, 1974, in which the countries agreed not to proceed with the trial of 195 prisoners of war repatriated to Pakistan.
The agreement never implied that the masterminds and perpetrators of war crimes, genocide and crimes against humanity would continue to enjoy impunity and eschew the course of justice, he added.
The state minister said the people who committed crimes against humanity are working on behalf of Pakistan. "From that position, Pakistan is saddened for them [war criminals]."
He said, "I consider this a dangerous issue as these war criminals are trying to assure their future generation with the notion that Pakistan as a state will stay beside them."