Bangladesh allows India to withdraw Feni river water
Dhaka, Delhi inaugurate 3 projects, sign 7 bilateral documents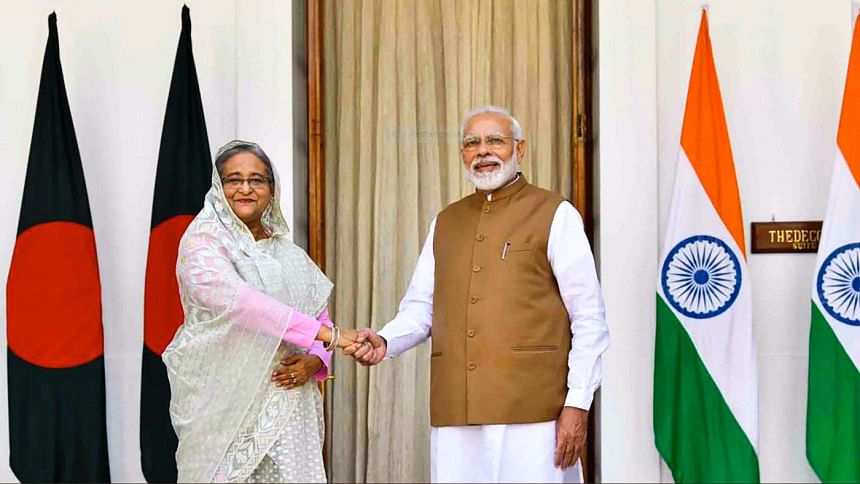 Bangladesh has agreed to allow India to withdraw 1.82 cusec of water from trans-border Feni river to meet the demand of drinking water for the people of Tripura's Sabroom town.
The two countries made an agreement in this regard in New Delhi, reports our New Delhi correspondent.
A total of seven MoUs and agreements were signed after Prime Ministers Sheikh Hasina and Narendra Modi held extensive talks -- both one-to-one and delegation-level -- at the Hyderabad House. Both the formats of talks together lasted for about an hour after beginning around 11:30am (Indian time).
In a joint media appearance after the talks, Hasina and Modi projected the development partnership between Bangladesh and India as a model for neighbouring countries in other parts of the world to follow, the correspondent reports.
The two PMs also remotely inaugurated three projects -- a students' hostel in Ramakrishna Mission in Dhaka, a vocational training centre in Khulna and supply of bulk liquified petroleum gas from Bangladesh to north eastern India.
Modi termed the LPG supply a "win-win situation" for both the countries as it will generate jobs in Bangladesh while Hasina said it would help energy security of India's north eastern states.
The two countries signed the Standard Operating Procedure (SOP) for the use of Chattogram and Mongla ports by India.
India will supply Bangladesh a Coastal Surveillance System under another MoU signed by Mostafa Kamal Uddin, Senior Secretary in Bangladesh Home Ministry and Riva Ganguly Das, Indian High Commissioner of India to Bangladesh.
The MoU on withdrawal of 1.82 cusec of water from Feni river by India for drinking water supply scheme for Sabroom town was signed by Kabir Bin Anwar, Secretary, Ministry of Water Resources of Bangladesh and his Indian counterpart Upendra Prasad Singh.
The two signed an agreement concerning implementation of Indian government's Line of Credits (LOC) extended to Bangladesh.
An MoU between University of Hyderabad and University of Dhaka, a Cultural Exchange Programme Renewal and an MoU on Co-operation in Youth Affairs between the two countries were also inked.