CEC rejects call to extend nomination filing time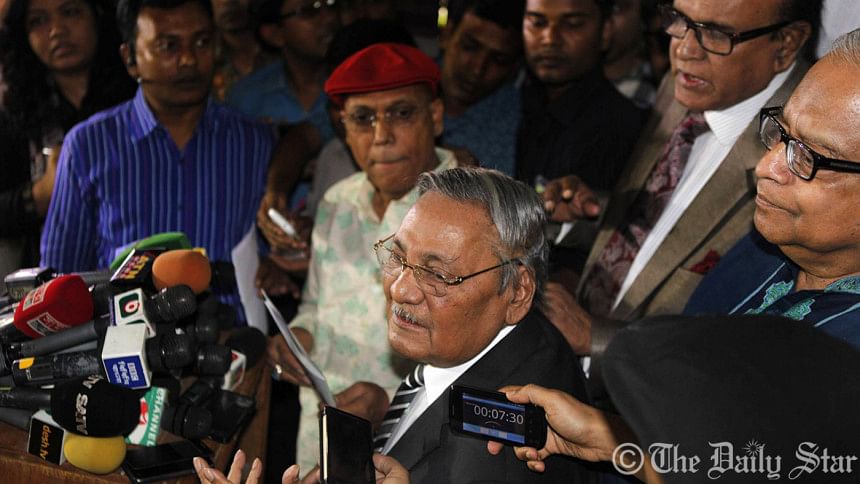 The chief election commissioner has rejected a suggestion of pro-BNP professionals to extend nomination submission deadline for the Dhaka and Chittagong city corporation elections.
Citing several issues including Pakistan cricket team's tour to Bangladesh in April, CEC Kazi Rakibuddin Ahmad said it is not possible to extend the March 29 deadline.
He came up with the remarks following a meeting with Shoto Nagorik, a pro-BNP platform.
The six-member delegation of the professionals headed by Prof Emajuddin Ahmed, former vice-chancellor of Dhaka University, placed a 6-point recommendation to the CEC for holding the city polls in a peaceful and fair manner.
The recommendations include extending the deadline for submission of nomination papers by two to three days, preventing "ruling party's attempts" to harass candidates supported by other parties and their polling agents by filing false cases.
The delegation of the pro-BNP platform also called upon the EC to ensure secure electoral campaigns for candidates backed by different parties other than the ruling party-blessed ones.
The team also sought steps so that the leaders and activists of different political parties who are now in hiding can come out and carry out electoral campaigns.
Other members of the team are: Prof Mahbub Ullah, a former DU teacher, Abdul Hai Sikdar, president of a faction of Dhaka Union of Journalists, Dr Zafrullah Chowdhury, founder of Gonoshasthaya Kendra, Fahima Nasrin Munni, a Supreme Court lawyer, and Khandaker Mahbub Hossain, president of Supreme Court Bar Association and also an adviser to the BNP Chairperson Khaleda Zia.