Fighting Climate Change: PM calls for will of the rich nations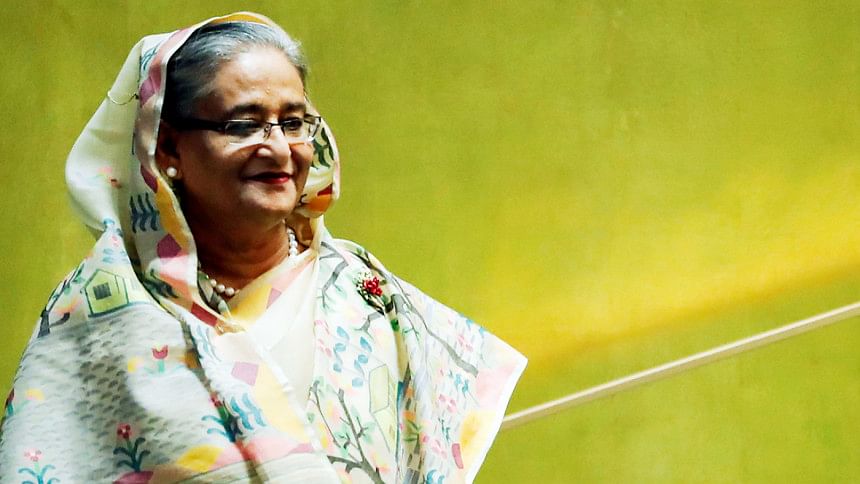 Prime Minister Sheikh Hasina has underscored the "will" of the richer segments of societies across the world to act against climate change as there are science, technology, innovation and finance to address the problem.
"Let me also say we've enormous amount of science, technology, innovation, finance to address climate change. We only need the 'will' of the richer segments of societies - everywhere - to act ambitiously against climate change. We need to 'transform' our lifestyles, attitudes, systems, economies," she said on Saturday.
The PM was delivering her speech at a panel discussion on "Climate Change as a Security Threat" at the Conference Hall of the Bayerischer Hof.
Climate change has become a real threat to human being with an unabated rise in global temperature, she said
About Bangladesh, Hasina said increasing cyclone, storm, and monsoon flooding challenge livelihood of its people.
"Our Bay of Bengal is increasingly getting acidic. Twenty percent of our people are living along the coast and one-third of Bangladesh's population eventually risks displacement with rising sea level although we have little contribution to global warming."
Hasina said flooding erodes river banks during every monsoon while numerous families overnight become homeless and helpless. "We lose thousands of acres of precious farmland. And, let's note that our mighty rivers carry nearly one fourth of entire load of sediment carried by all the major river systems in the world every year."
She mentioned that the erratic pattern and intensity of rainfall and rising heat made farming difficult for Bangladesh's people. There were also reports of growing water stress during dry season.
The PM said changing climate was taking its toll.
"Diseases like malaria, which we successfully eradicated risks a comeback," she said, adding that temperature variation was challenging breeding of Bangladesh's national fish -- Hilsa.
The PM said despite the fact and also findings of the Intergovernmental Panel on Climate Change, a lot of people, including those who are conscious of climate change, were yet to understand the climate displacement issue.
She said South Asia, East Asia and the pacific experienced the most displacement in such contexts. All together, these regions at present have 8.6 million displaced people due to sudden disasters.
Hasina mentioned that an estimated 46 million people were displaced in South Asia alone by sudden disasters during 2008 to 2013, though the actual number of people moving internally and across borders in South Asia was not known.
"It's anticipated that population movements in the context of disasters and climate change in South Asia, South East Asia and in the Indian Ocean rim are likely to increase over the next decades," she apprehended.
Hasina said the challenges ahead are likely to be enormous, as a recent World Bank report titled "groundswell-preparing for internal climate migration" projects that without concrete climate and development actions, in South Asia alone, more than 40 million people could be forced to move within their countries to escape the slow-onset impacts of climate change.
"Bangladesh has been in the forefront in addressing coping mechanisms, particularly in the agricultural sector. We've invented flood-resistant, salt-tolerant and drought-tolerant rice varieties."
In reply to a query, the PM said Bangladesh military has been engaging with a lot of development activities in the country. It is leading the disaster response in Bangladesh. They can also be engaged in early warning mechanisms.
Hasina said most of the UN members are discussing the climate change issue in the multilateral forums. "We need to keep the discussions and engagements up."
Bangladesh is one of the most vulnerable front-line countries, she said, adding that the government in Bangladesh has included climate actions and disaster risks reduction in its national plan.
"We've invested over 1 percent of our GDP to address climate change impacts. Moreover, $450 million has been allocated from our own sources for adoption and mitigation purposes."
In 2012, Hasina recalled that she pledged in New York that Bangladesh would pursue a low-carbon development pathway as its commitment to "collective good" of tackling climate change.
She said Bangladesh has installed around six million solar home systems, provided two million Improved Cook Stoves among the poorest. In spite of limitations, the country allocated $385 million to the Bangladesh Climate Change Trust Fund for adaptation and mitigation.
Director of Potsdam Institute for Climate Impact Hans Joachim chaired the discussion.