4th UP polls: Vote counting begins
3 candidates boycott elections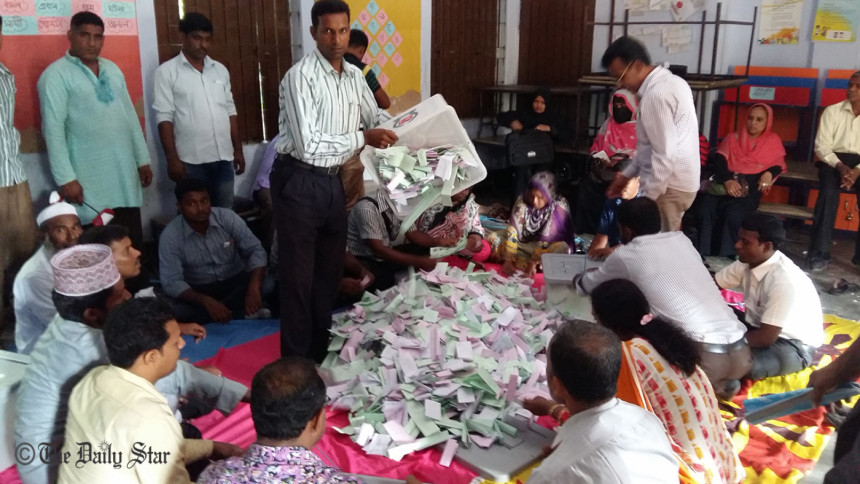 Vote counting has begun in the fourth phase of union parishad elections in 703 unions of 47 districts today.
The voting started at 8:00am and continued till 4:00pm without any break.
Earlier, voting at five centres in Comilla, Kishoreganj, and Munshiganj was suspended on allegation of stamping and snatching ballot papers forcibly while three chairman candidates boycotted the elections. 
COMILLA
According to private news agency UNB, voting at a centre in Munshirhat union in Chauddagram upazila was suspended over the vote rigging allegation hours before the start of the election.
Rashedul Islam, district senior election officer, said four people, including the presiding officer, entered Jugirthat Primary School polling centre in the early morning and started stamping the ballot papers.
On information, police rushed in and arrested presiding officer Mobarak Hossain and three other outsiders from the centre. The authorities later suspended voting there.
Besides, voting in Joag polling centre in Joag union of Chandina upazila was also suspended on allegation of stamping 1,000 ballot papers.
KISHOREGANJ
Miscreants snatched away ballot papers from a polling centre in Ramdi union of Kuliarchar upazila prompting suspension of the voting.
Presiding officer of the Khalkhara Konapara Government Primary School polling centre, Bari Siddique, said some miscreants broke into the centre around 8:10am and snatched away the ballot papers, UNB added.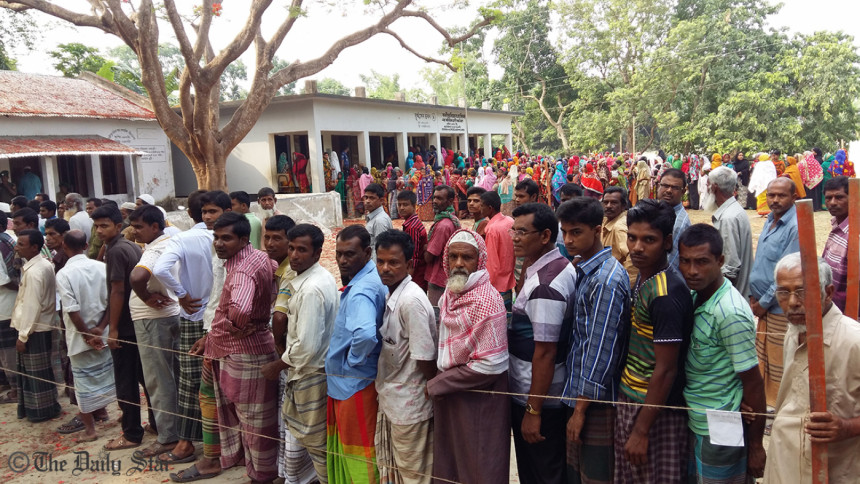 NATORE
Zohirul Islam Bhutto, a chairman candidate of BNP of Khajura union of Naldanga upazila, boycotted the elections over the vote rigging allegation by the supporters of the ruling party candidate.
PABNA
The chairman aspirant, Abdur Rouf, organising secretary of Sujanagar upazila unit of BNP, pulled out of the race in Tatibandha union of Sujanagar upazila over various irregularities, UNB reports.
MANIKGANJ
Md Abdul Ali, a BNP chairman candidate of Holla union in Singair upazila, boycotted the elections in allegation of vote rigging, ousting his agents from polling centres by the ruling party men.
The candidate boycotted the polls bringing allegation that the men of the ruling party of capturing polling centres, obstructing his supporters in casting votes, forcing his agents out of the centre and also casting fake votes.
The previous phases of the elections were marred by deadly clashes and irregularities. Over 65 people were killed, including 19 on three polling days, and several thousand injured in violence over union parishad polls across the country, according to media reports.
Over 1 crore voters will be eligible to exercise their franchise under nearly 7,050 polling stations.
A total of 3,200 candidates for chairman posts are in the election race and there are over 31,300 contenders for member posts in the fourth phase.
Elections to 725 UPs were held on March 22 in the first phase, 639 UPs on March 31 in the second phase, and 615 UPs in the third phase.
Besides, a total of 733 unions will go to polls on May 28 in the fifth phase and 724 unions on June 4 in the sixth and final phase.
MUNSHIGANJ
Voting at two polling centres in Joshlong and Rampal union parishads was suspended after miscreants snatched away ballot papers.
Voting was suspended at Serajabad Govt Primary School polling centre in Tongibari upazila after miscreants snatched away ballot papers, said Tongibari Upazila Nirbahi Officer Tazina Sarwar.
Meanwhile, voting was also suspended at Kazi Kosba Govt Primary School polling centre in Rampal union of Sadar upazila after ballot papers were snatched away by miscreants, reports our Munshiganj correspondent. 
MYMENSINGH
Authorities cancelled some 100 ballot papers, allegedly sealed before voting began, in Enayetpur union of Phulbaria upazila in Mymensingh.
The ballot papers, allegedly sealed for Awami League's electoral symbol 'boat', were found before voting began at Enayetpur Govt Primary School polling centre in the union, said Saniazzaman Talukder, election officer of Phulbaria.
However, when and how the ballot papers were sealed could not be known, he added.
Meanwhile, police detained 17 people, including five election officials, for allegedly casting false votes at Bhabanipur Govt Primary School polling centre in Bhabanipur union of Phulbaria upazila this noon, said Rifat Khan Razib, officer-in-charge of Phulbaria Police Station.
The detainees included a presiding officer, an assistant presiding officer, three polling officers and 12 agents, the OC said.
The names of the detainees could not be known immediately.