Family meets Kamaruzzaman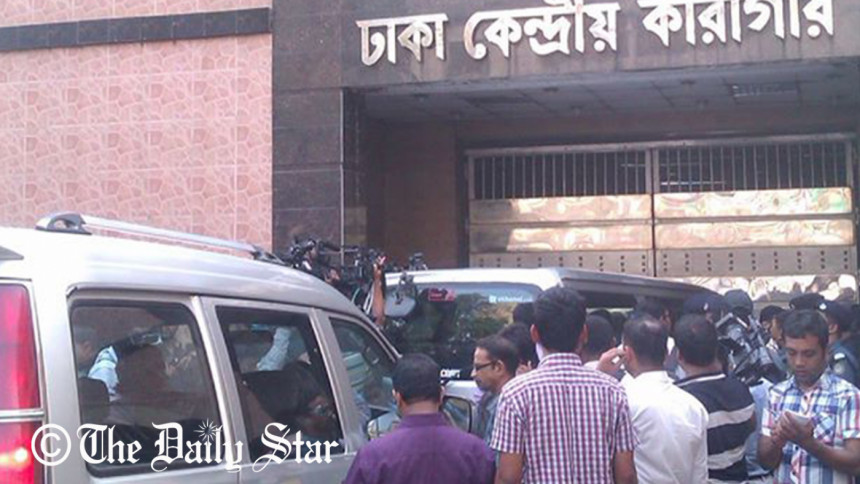 Family members of death row war criminal Muhammad Kamaruzzaman met him at the Dhaka Central Jail amid speculation that he might be executed today.
After meeting his father, Kamaruzzaman's son Hasan Iqbal said "There is no necessity to seek clemency from the president as he is no one to take or give life of my father."
Twenty-one members of his family including his son came out the jail over an hour after they went to the jail by two microbuses around 4:12pm.
The government is wasting time without executing his father's death sentence, he told reporters at the jail gate after the meeting.
"My father called upon his party men to refrain from any unruly decision centering the death sentence," Iqbal said adding, "He [Kamaruzzaman] said goodbye to us with a smile."
Iqbal further told The Daily Star that his father wished to be buried at his Bajitkhila Mudipara village home in Sherpur Sadar.
Meanwhile, Inspector General of Prisons Brig Gen Syed Iftekhar Uddin entered the jail an hour after Deputy Inspector General (prison) Gulam Haider and Additional Inspector General (prison) Fazlul Kabir went there at 5:50pm. However, the inspector general of prisons came out of the jail around 7:35pm.
Earlier in the day, the jail authorities asked the family members to meet the Jamaat's assistant secretary general at the jail, where he has been kept, between 4:00pm and 5:00pm, Shishir Manir, one of the his counsels, told The Daily Star.
The authorities informed the family about the meeting over phone at 1:25pm, around an hour after State Minister for Home Asaduzzaman Khan Kamal said that the assistant secretary general of Jamaat-e-Islami may be executed today for his 1971 war crimes.
Earlier on April 6, Kamaruzzaman met his family at the jail after the Supreme Court scrapped Kamaruzzaman's plea to review his death penalty.
Kamaruzzaman, a key organiser of infamous Al-Badr force in greater Mymensingh, was sentenced to death by the International Crimes Tribunal-2 in May 2013, for war crimes, including mass killings in Sohagpur of Sherpur.
The Supreme Court upheld the death sentence awarded to him for mass killing in Sohagpur. The convict sought review of the judgment but was rejected on April 6 by a four-member SC bench headed by Chief Justice Surendra Kumar Sinha.