No doubt about Khaleda's link with grenade attack: PM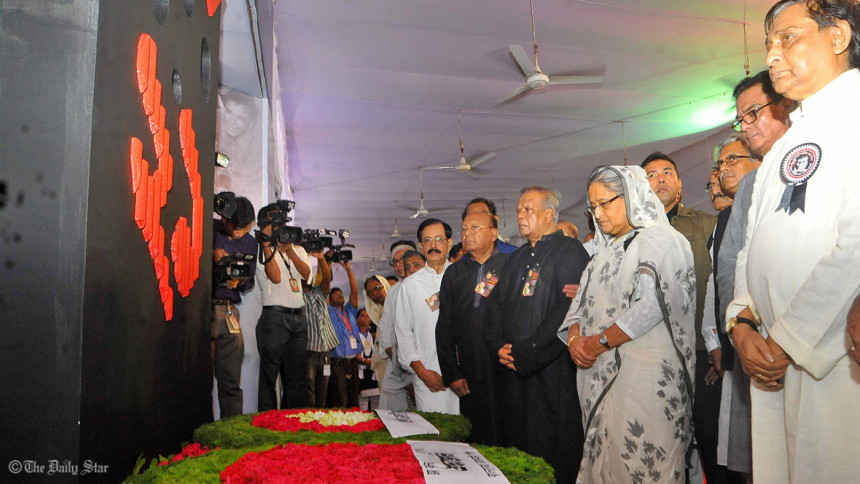 Prime Minister Sheikh Hasina today said there is no doubt about the involvement of BNP Chairperson Khaleda Zia and her son in the August-21 grenade attack that left 21 killed and several hundred injured.
"As Ziaur Rahman was involved in the August-15 killing, Khaleda Zia and her son were involved in the August- 21 grenade attack. There's no doubt about it," she said.
The premier was speaking at a rally after placing wreaths at the memorial of martyrs of the August 21 grenade attack at Bangabandhu Avenue, marking 11th anniversary of the gruesome attack.
The makeshift memorial was set up in front of the Awami League office where militants lobbed 13 grenades on the Awami League's peace rally on this day in 2004.
Hasina said with each and every activity of the then BNP-Jamaat government it has been clear that BNP was in a move to kill her and annihilate Awami League.
"Today, it's clear that being in the government their (BNP) every activity proved that they were in an evil move to kill me, the then opposition leader, and vanish the Awami League," she added.
Hasina first placed a wreath at the memorial as prime minister and then another as the Awami League president.
Cabinet members, PM's advisers, senior leaders of Awami League and 14-party combine and family members of the martyrs and those injured in the incident were present.
A one-minute silence was observed and a special munajat was offered seeking the eternal peace of the departed souls.