UN for inclusive polls
Hasina, Guteress meet in NY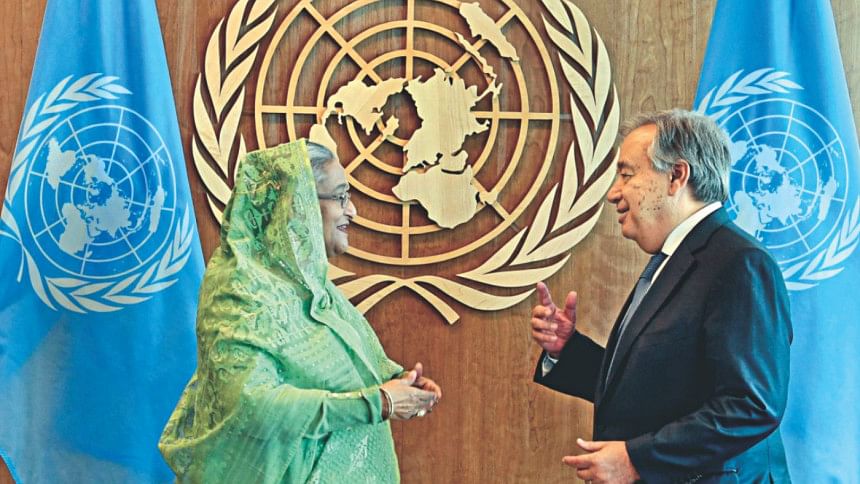 UN Secretary-General Antonio Guterres has expressed hope that the next general election in Bangladesh would be a participatory one.
He expressed the optimism during a meeting with Prime Minister Sheikh Hasina at the UN headquarters on Thursday.
Briefing reporters after the meeting, Foreign Secretary Md Shahidul Haque said the UN expressed full solidarity with the Bangladesh government and its people.
Highly appreciating the country's development under the leadership of Hasina, the UN chief said many countries could learn from it.
He lauded the PM for her stance on the Rohingyas issue.
"You can become a role model for many heads of state and government," Shahidul quoted the UN secretary-general telling the PM.
Guterres said the Myanmar government should start the repatriation and proper rehabilitation of the Rohingyas as soon as possible.
The PM briefed the UN chief on different aspects of Bangladesh's development.
The UN secretary-general stressed the need for facing the climate change unitedly and requested Hasina to continue with her leadership on the issue.
Later, President of International Committee of the Red Cross (ICRC) Peter Maurer called on the Bangladesh PM at the bilateral    meeting room at the UN headquarters.
Mentioning that the ICRC was working in Myanmar's Rakhaine state, the PM urged the organisation to play a strong role in the repatriation and rehabilitation of the forcibly displaced Rohingyas.