Bangladesh need not worry about NRC
Modi tells Hasina as they meet on sidelines of UN General Assembly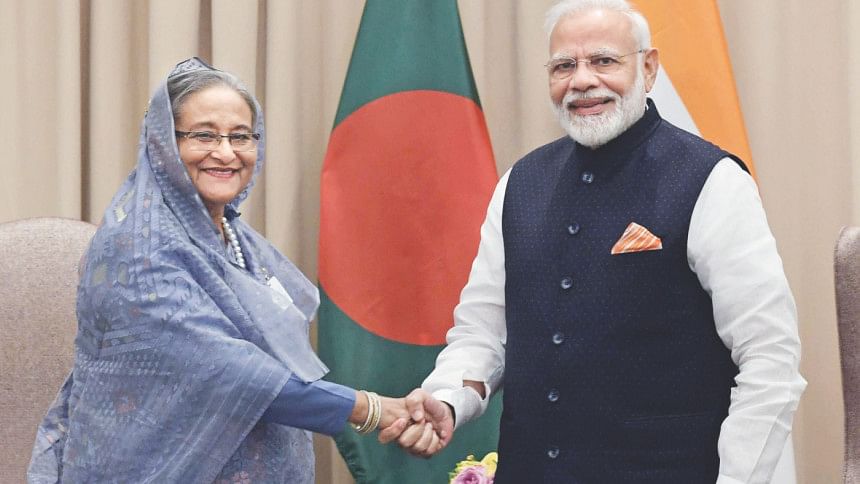 Indian Prime Minister Narendra Modi yesterday assured his Bangladesh counterpart Sheikh Hasina that the National Register of Citizens (NRC) in India would have no impact on Bangladesh and there was no need to be worried about it.
He gave the assurance at a meeting with Hasina at Lotte New York Palace hotel on the sidelines of the 74th UN General Assembly.
Briefing reporters after the meeting, Foreign Minister AK Abdul Momen said the talks were held in a very cordial and friendly environment.
He said bilateral concerns like the issues of NRC and water-sharing of the common rivers, including the Teesta, came up for discussion at the meeting.
Raising the NRC issue, Hasina said it has become a matter of great concern for Bangladesh.
In reply, the Indian PM said issues like the NRC and water-sharing could be taken care of very easily as the relations between Bangladesh and India are very good.
In this regard, Modi assured Hasina that Indian officials will work to resolve the issues and said Bangladesh need not worry about it.
Foreign Minister Momen said there had been no detailed discussion at the meeting as the two leaders are going to have a bilateral meeting in New Delhi on October 5.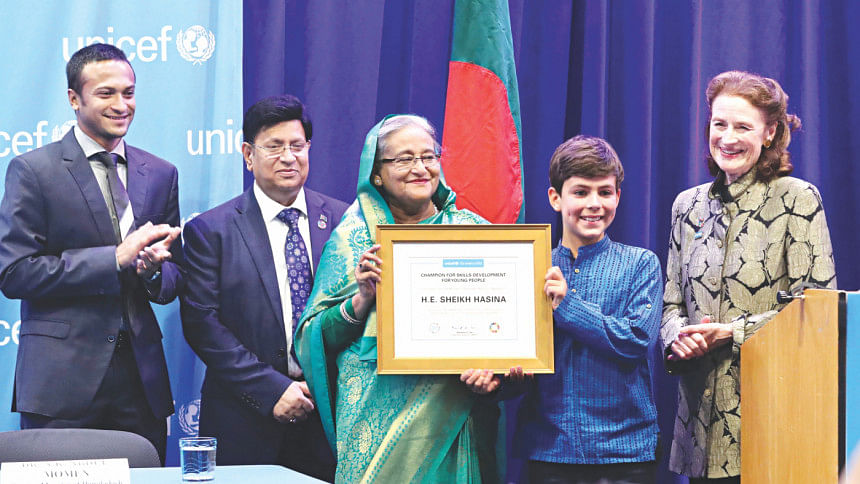 'STAY WITH US FOR PROSPERITY'
Speaking at a luncheon roundtable on Thursday, Prime Minister Hasina urged US entrepreneurs to stay with Bangladesh in its journey for shared benefits and prosperity as the fourth industrial revolution is knocking at the door.
The meeting, organised by the US Chamber of Commerce, was held at Lotte New York Palace hotel.
"I am happy to see that the USA is our second largest trading and the largest investment partner. For further development, your investment and engagement are imperative. This is a win-win option for both of us," she said.
Hasina said the strategic location of Bangladesh provides tremendous potential for being the economic hub of the region. "With India on the west, China on the north and South East Asia on the east, and with a population of 165 million of its own, Bangladesh is in the middle of a combined market of 4 billion people."
She said since regional connectivity is vital for trade, initiatives under Saarc, Bimstec, BBIN and BCIM-EC have been undertaken to connect with the neighbours and the region physically.
The PM said Bangladesh has the most liberal investment policy in South Asia. "It includes protection of foreign investment by law, generous tax holiday, concessionary duty on import of machinery, unrestricted exit policy, and full repatriation of dividend and capital on exit, to name a few."
Foreign investment is protected by relevant acts and bilateral investment treaties, she said, adding that Bangladesh and the USA have signed a "Bilateral Investment Treaty" and the "Convention on Avoidance of Double Taxation".
Hasina also mentioned that Bangladesh is in the process of establishing 100 special economic zones with one-stop service in different parts of the country.
About a dozen of them are ready, with four allotted to three countries. A number of high-tech parks are also ready for technology and innovation enterprises, she said.
The PM said the persistent growth of global FDI in Bangladesh since her government took over in 2009 reflects the increasing confidence of the foreign investors in Bangladesh. "Even, US investment in Bangladesh crossed $1 billion during the last five years, though this is far below the potential the US has in term of its economic and technological ability."
Hasina said Bangladesh over the years has evolved into an investment destination from an aid recipient country. Bangladesh is now the 30th largest economy in the world based on purchasing power parity (PPP), and has a growing global recognition as a role model of development.
She said Asian Development Bank Outlook 2019 mentioned that Bangladesh is the fastest growing economy in the Asia Pacific region.
The HSBC in its report of 2018 predicted that Bangladesh would be the 26th largest economy of the world by 2030, the PM added.
PM's ICT Adviser Sajeeb Wazed Joy, Foreign Minister AK Abdul Momen, Commerce Minister Tipu Munshi, and PM's Private Investment Adviser Salman F Rahman were present, among others.
Officials of the US Chambers of Commerce and business leaders of the USA and Bangladesh joined the meeting.
PM RECEIVES UNICEF AWARD
Hasina on Thursday received the prestigious Champion for Skills Development for Young People award in recognition of her outstanding contributions to skill development of the youth.
Unicef Executive Director Henrietta Fore handed over the award to her at a ceremony titled "An Evening with Prime Minister Sheikh Hasina" at the Unicief House in New York.
Receiving the award, the PM dedicated it to the people and children of Bangladesh and the entire world.
"This honour is not for me alone...it belongs to Bangladesh because the people of Bangladesh have elected me through votes. That's why I have got an opportunity to serve them," Hasina said.
She said education is the backbone of a nation and no nation can hold their heads high without education.
The PM said millions of young people with their skills are constantly making a difference in our lives and livelihoods. "This recognition also manifests our steady strides in transforming Bangladesh into a responsible and knowledge-based society and economy."
The premier said after the emergence of Bangladesh, Father of the Nation Bangabandhu Sheikh Mujibur Rahman had realised that it was not possible to make progress without using the potentials of the youth.
She said her government is committed to building a knowledgeable young generation which can face challenges and help build "Golden Bengal" as envisioned by the father of the nation.
Hasina mentioned that the government has focused on skill development and taken several initiatives to equip youths with proper knowledge and skills. She thanked Unicef for its continued support to Bangladesh in this regard.
Referring to her government's steps for providing stipends, distributing free textbooks and introduction of school feeding activities, the PM said such initiatives played a vital role in ensuring cent percent enrolment of children.
She said the recognition of Unicef would help a lot in advancing the activities of her government in this regard.
Addressing the programme, Unicef Executive Director Henrietta Fore praised Bangladesh's development in different sectors under the PM's dynamic leadership.
She lauded the Bangladesh government for framing a time-befitting National Skill Development Policy and implementing it.
She also commended the government for sheltering 1.1 million Rohingyas.
Speaking at the event, Unicef Bangladesh Goodwill Ambassador and cricket icon Shakib Al Hasan said since its independence in 1971, Bangladesh has placed children at the centre of its policies. The country made great strides in reducing child mortality rate, increasing access to education and ensuring gender parity in schools.
"It's truly wonderful that Bangladesh as represented by her excellency Prime Minister Sheikh Hasina was recognised by Unicef for its [country] very conscious pursuance in skill development for young people," he added.
Foreign Minister AK Abdul Momen also spoke on the occasion.