Trial court of Khaleda's 17 cases shifted to Keraniganj Central Jail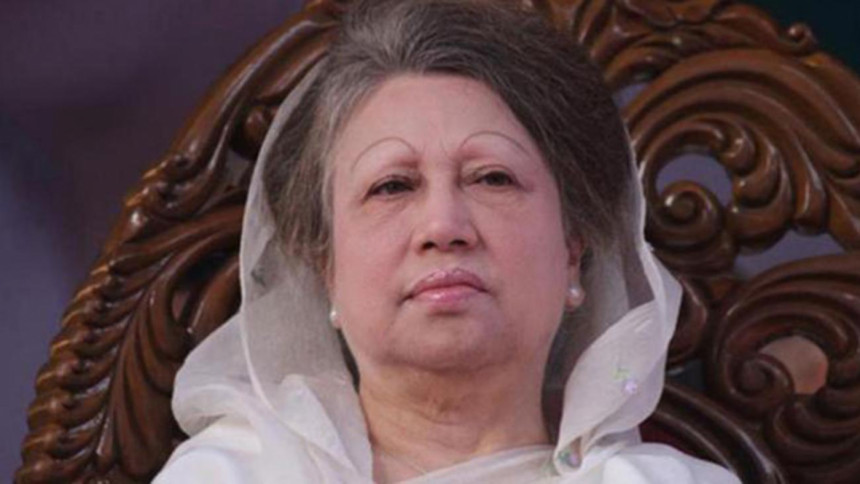 From now on, the trial proceedings of 17 cases against BNP Chairperson Khaleda Zia will be held at a special court set up in Keraniganj Central Jail in Dhaka.
The law ministry issued a gazette notification in this regard today.
A special court, set up at building-2 in Keraniganj Central Jail, will continue the trial proceedings of the cases including Niko, Gatco and Barapukuria coal mine graft cases due to security reasons, said the notification.
The trial of Niko case has been continuing inside Old Dhaka Central Jail while the trial of Gatco and Barapukuria coal mine cases have been held at a makeshift court at Government Alia Madrasa in the capital's Bakshibazar area.
Of the cases, hearing of the Gatco case scheduled to be held tomorrow will be held now at Keraniganj Central Jail.
READ MORE: 34 CASES AGAINST KHALEDA
Khaleda, a former prime minister, is now in the Keraniganj jail after she was convicted and landed in prison for five years in February last year in the Zia Orphanage Trust corruption case.
Later, she was also convicted in the Zia Charitable Trust graft case.
NIKO CASE
On December 9, 2007, the Anti-Corruption Commission had filed the Niko graft case with Tejgaon police, accusing Khaleda and 10 others of abusing power to award a gas exploration and extraction deal to Canadian company Niko.
GATCO CASE
The ACC filed the case with Tejgaon Police Station on September 2, 2007 against Khaleda, Galib Tanveer and several others on charges of misappropriating Tk 1,000 crore while dealing with Global Agro Trade (Pvt) Company Ltd (Gatco).
On May 13 of 2008, the ACC pressed charges against Khaleda and 23 others.
BARAPUKURIA CASE
On February 26, 2008, the ACC filed the case with Shahbagh police accusing 16 people including Khaleda and 10 of her former cabinet colleagues of taking Tk 159 crore in kickbacks on the Barapukuria coalmine deal awarded to the highest bidder.