No change in post of AL president in next council: Quader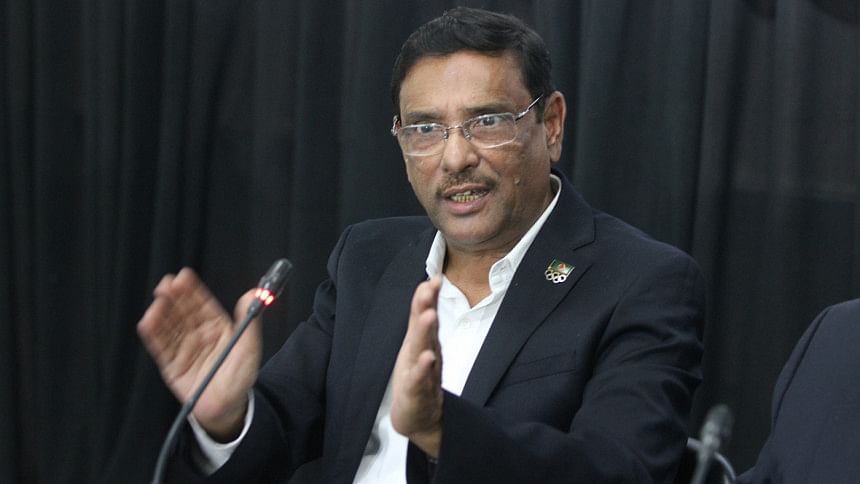 Awami League General Secretary Obaidul Quader today said there will be no change in the post of party president in the AL's 21st national council slated for December 20-21.
"There will be no change in one post and that is the post of president. Our party President Sheikh Hasina is still essential and relevant for the party as all leaders and workers from centre to the grassroots are united under her leadership. Apart from she, none of us is essential," he said.
He said this while replying to a question from journalists after a meeting of AL sub-committee on office, which was formed marking the 21st national council, at the party president's Dhanmondi political office in Dhaka.
Quader, also Road Transport and Bridges Minister, said AL President Sheikh Hasina will decide whether any change would be brought in general secretary post.
About the chaos created by pro-BNP lawyers inside courtroom, the AL general secretary said their activities were an unforgivable offense, adding it is not a political case against BNP Chairperson Begum Khaleda Zia, rather it is a graft case.
The government cannot release Khaleda Zia politically as it has nothing to do in graft cases, he said.
Quader said BNP is spreading falsehood over the graft case against Khaleda Zia. "BNP leaders are saying Khaleda Zia has been kept in jail politically. But they are falsifying. They are doing so deliberately," he added.
The AL general secretary said pro-BNP lawyers turned the court premises into a battle-field.
He said even the chief justice had to comment on the incident that he did never see such a situation in the courtroom before. The chief justice further commented that everything has a limit, he added.
Quader said after failing in election and movement, now BNP has nothing to do but to fish in troubled water by creating instability.
"BNP is now creating chaos inside the courtroom and on court premises… this is their politics. They will now create disorder and instigate (people)," he said.
AL Presidium Member and convener of office affairs sub-committee Pijush Kanti Bhattacharya, Joint General Secretary Mahbubul Alam Hanif, Office Secretary Dr Abdus Sobhan Golap, Deputy Office Secretary Barrister Biplab Barua, Central Working Committee member Anwar Hossain and sub-committee member Khandker Tareq Raihan attended the meeting, among others.