Khaleda deserves to get released on bail: Fakhrul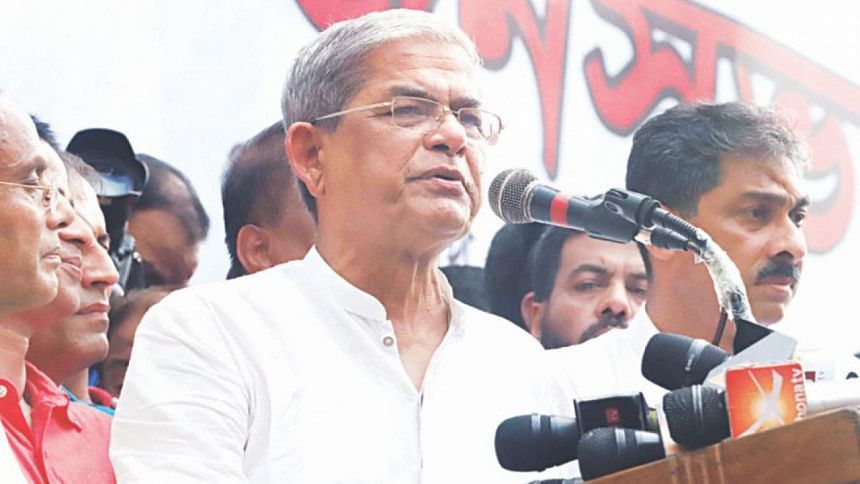 BNP Secretary General Mirza Fakhrul Islam Alamgir today categorically said all the cases lodged against party's Chairperson Khaleda Zia are bailable and she would get bail normally if the law takes its own course.
"We want Khaleda Zia's release on bail instead of parole. Khaleda Zia deserves the bail," Fakhrul said while talking to reporters in Cumilla this afternoon.
About Khaleda Zia's release on parole, Fakhrul reiterated that BNP never told anything about parole rather a section of media spread out false reports in this regard.
Claiming that BNP took part in the December 30 national election as part of its movement for Khaleda Zia's release, Fakhrul said the ruling quarter has experienced a moral defeat in the election as it grabbed the state power through rigging, ballot stuffing, and violence.
"Awami League wants to establish one-party rule once again in the country by confining Khaleda Zia in jail deliberately," the BNP leader said.
Fakhrul also criticised Prime Minister Sheikh Hasina as she has recently praised the one-party Bakshal rule of 1975.
"Awami League has been isolated from the mass people and thus it is now praising its previous Bakshal rule," he said.
Fakhrul along with some top leaders of the party went to Cumilla and met many of the party men who were injured in violence during the December 30 national election.
He also extended financial assistance to at least 95 people of the Cumilla-10 parliamentary constituency, who reportedly came under attack and got injured during the polls violence.
Earlier in the day, Awami League Acting General Secretary Mahbub-Ul- Alam Hanif MP told reporters at the party President Sheikh Hasina's Dhanmondi office in Dhaka that Khaleda would be freed as per the law.
"Apart from this, she (Khaleda) has no scope to go abroad. Only the Presidential mercy can help her get released in this connection," he said this responding to a query from reporters over the parole.