Greater Unity Process: Parties plan to hold rallies in divisional cities
Announcement of unity likely in a day or two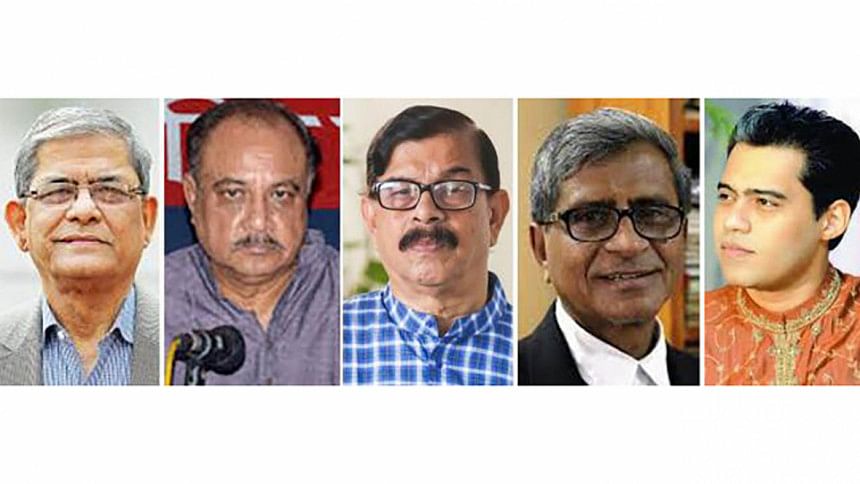 Political parties involved in the "greater national unity" process are likely to stage public rallies in the divisional headquarters from next week to mobilise public opinion in favour of their demand for holding the next general election under a nonpartisan interim government.
The issue was discussed yesterday at a meeting of the parties at JSD (Rob) President ASM Abdur Rob's home in the capital, said meeting sources.
Read more: Balance of Power: BNP, Juktofront in disagreement
Most of the top leaders of the parties favoured holding public meetings in divisional headquarters.
A senior leader of Jatiya Oikya Prokriya said they might come up with an announcement in a day or two about forging the "greater national unity".
He said the declaration would be made at a press conference at a city hotel. The leader, however, declined to give any further details.
Leaders of the political parties have already agreed on a seven-point demand and an 11-point goal to forge the "greater national unity". The demands and goals will be finalised today at a meeting at the house of Dr Kamal Hossain, convener of Jatiya Oikya Prokriya.
"We will sit again tomorrow [today] to finalise the demands and goals and then we will finalise our movement programmes," Mahmudur Rahman Manna, convener of Nagorik Oikya, told The Daily Star after the meeting yesterday.
Meanwhile, Bikalpadhara Bangladesh Joint Secretary General Mahi B Chowdhury told the meeting that they should not forge any unity with the anti-liberation forces, meeting sources said.
Manna in reply said they were not forging any unity with anti-liberation forces, but with the BNP.
The meeting also discussed the strategy on ensuring checks and balance of power if the political parties were voted to power.
Speaking on the issue, BNP Secretary General Mirza Fakhrul Islam Alamgir proposed forming a small committee to finalise the strategy.
Leaders said the committee would be formed in a day or two as it was the only issue pending a decision over forging the "greater national unity".
Talking to this correspondent yesterday, Fakhrul said discussions on checks and balance of power were still at a preliminary stage. "We hope the issue will be settled soon. Apart from this, all the processes of forging the greater national unity have reached close to an end."
On September 22, several top BNP leaders shared a rally stage with Dr Kamal and Badruddoza and extended their support to Jatiya Oikya Prokriya's three-point demand, including formation of a polls-time neutral government.
Senior BNP leaders at another rally in the capital on September 30 called for a "greater national unity" and put forth demands similar to those of the Oikya Prokriya.
BNP standing committee members Khandakar Mosharraf Hossain and Moudud Ahmed, Gono Forum leaders Subrata Chowdhury and Mostafa Mohsin Montu, among others, were present at yesterday's meeting.
Leaders of the political parties had earlier met on October 7 and 8 at Rob and Mosharraf's houses respectively.