Govt unable to bargain with India over long-standing issues: Fakhrul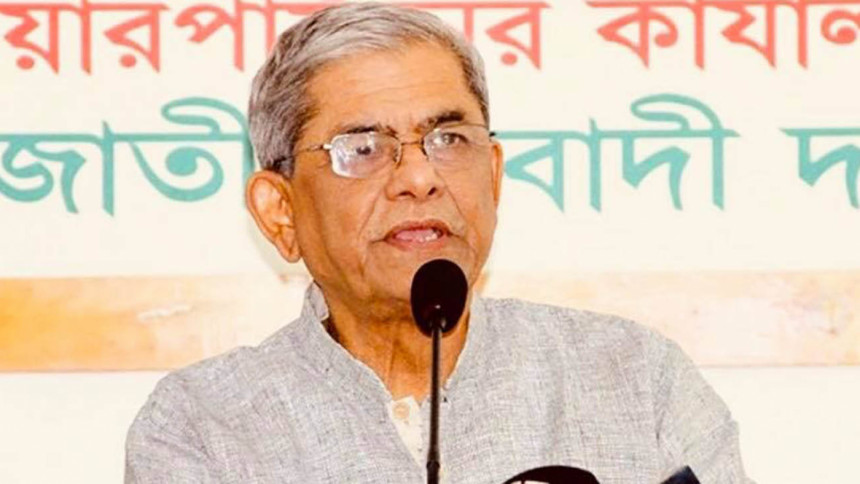 BNP Secretary General Mirza Fakhrul Islam Alamgir today alleged that the government is unable to bargain with India over the long-standing issues between the two countries.
"We never said that we should speak against India as there is no conflict with the country. The main problem is our government that has no capability to address our issues," Fakhrul said while addressing a seminar at a hotel in Dhaka.
He also said: "The government has lost its bargaining capacity as it is now hanged onto power depending on India."
Citing flaws in the deals recently inked with India, Fakhrul said, "Our country will be empty and its interest will vanish till the current government remains on power."
Referring to an MoU allowing India to take 1.82 cusec water from Feni River, Fakhrul said Feni is not a common river, rather it is Bangladesh's river. "India has been allowed to take water from the river while the prime minister couldn't say anything about the due share of Teesta River water," he alleged.   
Fakhrul also blamed the government for not presenting details of the deals in the parliament and said, "It is stated in our constitution that any kinds of the deal will have to be discussed in the House and rectified but it is never done."
Talking about the expatiate women workers, Fakhrul said Saudi Arabia deported a significant number of male and female Bangladeshi workers including 53 dead.
He also blasted the Foreign Minister AK Abdul Momen as he recently termed the incident as normal and said the number is very little in proportion to the size of workers.
Fakhrul said a fragile situation is prevailing in the country's economic sectors including banking and readymade garment while the government is claiming Bangladesh has been transformed into a role model of development.