Fair, inclusive polls important for Bangladesh: Bernicat
Bangladesh to win if peace wins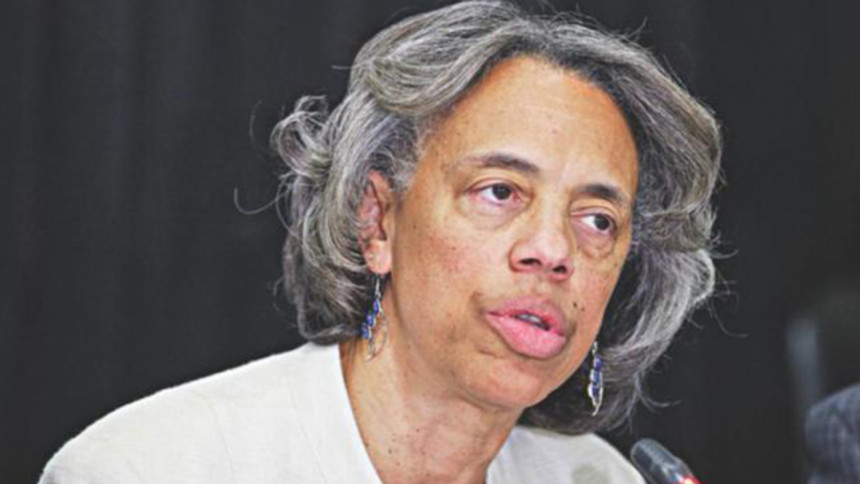 US Ambassador to Bangladesh Marcia Bernicat today said a free, fair and inclusive election is important for a democracy, especially for the one which is on track to become a middle-income country.
"Together, we can contribute to a peaceful and prosperous Bangladesh," she said.
The US Ambassador said political parties must accept their rivals as legitimate participations in the political process and as potential leaders of the next government, even when they disagree on issues or policies.
"It's essential that Bangladeshis urge nonviolence by all actors at every stage of the democratic process, before, during, and after the elections," Bernicat said.
She said violence serves only those who wish to undermine the democratic processes and the interest of Bangladesh and its citizens.
Democracy International brought together 400 Awami League and BNP leaders to inaugurate `Shantite Bijoy' Campaign', a national campaign ahead of the next national election, seeking peace centering the polls.
The campaign was launched at the Celebrity Hall of Bangabandhu International Convention Centre (BICC) with a slogan 'Bangladesh will win if peace wins.'
This campaign engages and raises awareness among registered political parties of Bangladesh and candidates in the upcoming national elections in favour of peaceful elections and tolerant politics.
Prime Minister's Political Affairs Adviser HT Imam, senior BNP leader DrMoyeen Khan, US Ambassador to Bangladesh Marcia Bernicat and British High Commissioner to Bangladesh Alison Blake along with senior political leaders attended the event.
The programme began with singing the national anthem.
A documentary was also screened on the occasion.
Speakers expressed the hope for peaceful and participatory polls.
Bernicat said all parties, groups and individuals should be free to participate fully in the political process leading up to the vote.
She said individuals from different political parties must be free to express their political views, campaign throughout the country and hold peaceful rallies and meetings without intimidation, reprisal or arbitrary restrictions.
The US Ambassador hoped the campaign will motivate all to an even greater commitment to keeping Bangladesh peaceful, and ensuring that all citizens enjoy the right to freely express their views and also to participate peacefully in the coming parliamentary elections.
Bernicat mentioned that peace, mutual tolerance and inclusivity - all have a strong tradition in Bangladesh.