Diamond from a coalmine
Says Hasina on new book based on Pakistan Intelligence Branch's reports on Bangabandhu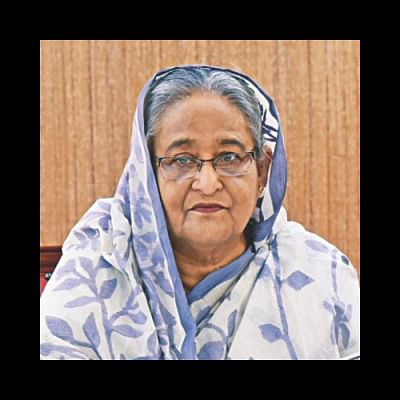 Prime Minister Sheikh Hasina yesterday said a new book based on Pakistan Intelligence Branch reports on Bangabandhu would provide people with a great opportunity to know about him elaborately.
"To me, it's a diamond from a coalmine. We have been able to find a diamond mine inside the coalmine," she said.
The PM was speaking at the publication ceremony of the first edition of "Secret Documents of Intelligence Branch on Father of the Nation Bangabandhu Sheikh Mujibur Rahman" at the Gono Bhaban.
Professor Emeritus Rafiqul Islam chaired the function while Bangla Academy Director General Prof Shamsuzzaman Khan took part in the discussion.
Hasina, the elder daughter of Bangabandhu, said the book is a priceless store of information.
"The IB [Intelligent Branch] reports are against Bangabandhu. There's nothing in favour of him, everything is against him. Why have we published these reports? … With this publication, people will know each and every activity, move and speech of the Father of the Nation from 1948 to 1971. There is so much information there," she said.
The PM also said the IB reports would give the readers, researchers and others an opportunity to find out the most valuable information about Bangabandhu. "The country's people will be able to know a lot about the Father of the Nation."
Mentioning that there are some questions about how Bangabandhu had contributed to the Language Movement as he had been in jail at that time, Hasina said, "The hostile attitude of a section of people will be gone after reading these documents."
Explaining the reason behind the publication of the IB reports, she said, "I took the step to publish those as the country's people will be able to divulge truth from these. They'll know the history of Bangladesh. They'll be able to know how we got the independence."
Inspector General of Police (IGP) Javed Patwary, Golam Mostafa of Hakkani Publishers and Father of the Nation Bangabandhu Sheikh Mujibur Rahman Memorial Trust Member Secretary Sheikh Hajizur Rahman also spoke at the programme.
Bangabandhu Memorial Trust is funding the publication. Hakkani Publishers will publish the book in 14 volumes.
Pakistani Intelligence Branch used to make reports on Bangabandhu almost every day.
The book also contains different information on the country's War of Liberation and the founding of the Awami League, letters written to Bangabandhu by his party leaders and workers, relatives and speeches delivered by him at different meetings and public rallies.