Jamaat faces heat over '71 apology
Razzaq quits party for its failure to apologise for anti-Liberation role;reform call grows louder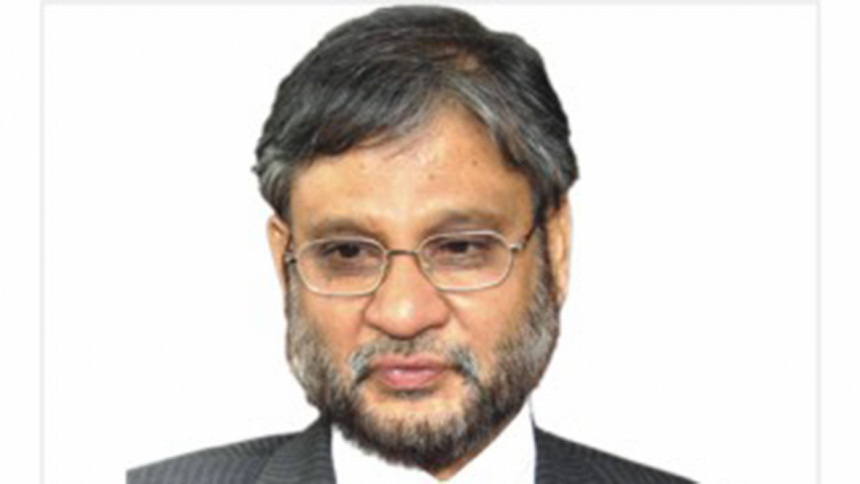 Jamaat's assistant secretary general Barrister Abdur Razzaq has resigned from the party, a move insiders say will create pressure on Jamaat to reform its charter.
Razzaq, also the chief counsel for some senior Jamaat leaders convicted of war crimes, took the decision citing the party's failure to apologise for its role in the Liberation War and bring reforms to its constitution.
The move came amid a rift between the party's young and old leaders over leadership and future strategies.
Jamaat-e-Islami, which opposed Bangladesh's birth during the 1971 war, had already been in trouble after the senior leaders were handed down punishment for crimes against humanity, said its insiders. Besides, it has lost its registration with the Election Commission.
Razzaq, who has been in London since 2013 following the execution of war criminal Jamaat leader Quader Molla, emailed his resignation letter to the party's Ameer Maqbul Ahmad.
In the letter, sent to the media yesterday, the lawyer said he had relentlessly been trying over the last three decades to "persuade Jamaat to have a frank discussion on the events of 1971, the party's role in those events and why it decided to support Pakistan".
He said he pushed Jamaat so that it apologises for that decision but he was "rebuffed by a section of the top leadership".
His requests to bring reforms to the party charter were also turned down, according to the letter.
Yesterday, Jamaat, in a press statement, said it was saddened and shocked by Razzaq's decision.
It, however, said any of its members could resign. "…we hope our cordial relation with him will continue," the statement added.
In an emergency meeting in December last year, Jamaat's central executive council, comprising mid-level leaders, had decided in principle that the party should apologise for its role in the war and develop an image of a pro-Bangladesh party with a new name.
But senior leaders, who are in its highest policy-making body Majlish-e-Shoora, stood firm on their pre-1971 principles, arguing that forgoing the existing ideology and adopting a new name would be the final nail in the party's coffin. 
Jamaat's Ameer Maqbul Ahmad also told his colleagues that he did not want to continue as the party chief, said party insiders.
Many other leaders might follow suit in the future, they said, without elaborating.
Insiders said top Jamaat leaders, including Maqbul, Ijjatullah, Dr Shafiqur Rahman and Golam Parwar, were rigid on their stance. It angered those seeking reforms to the party charter.
Talking to The Daily Star yesterday, a mid-level Jamaat leader, wishing not to be named, said, "Basically the stubbornness of the 'old guard' doesn't want to bring any change to the party. They understand the matter but don't want to address it."
Razzaq, who used to maintain Jamaat's ties with many countries, took various efforts to fix the issue. However, those were ignored by the party's top brass, he said. "He [Razzaq] is aggrieved, disturbed and frustrated."
Talking to these correspondents, several other party leaders said the rift over various leadership issues might widen and many others may leave Jamaat as well if it did not reform its charter.
WHAT'S IN THE LETTER
In his letter, dated February 5, Razzak said Jamaat's failure to address the 1971 issue and apologise has resulted in a stigma being attached to those who were not even involved in the decision [of supporting Pakistan]. 
"As a result, those who were born after 1971 and even the many unborn generations who may be associated with Jamaat in future will have to bear this burden.
"In 2005, I argued very vigorously for addressing the issue before the working committee; the result was an outright rejection. In 2007-2008, during the emergency, when allegations against Jamaat took a new dimension, I tried my best to convince Jamaat to address the issue.
"In the summer of 2011, the last open session of the Majlish-e-Shoora, I raised the 1971 issue with a special appeal to the young members of the Shoora to come forward and give leadership, only to be rebuffed by a section of the top leadership."
Regarding the latest effort, Razzak said, "Finally in January 2019, I advised the leadership of the necessity of taking responsibility for its predecessors' role in 1971. In the absence of any better or viable alternative, I also advised to dissolve Jamaat. But all my efforts have been unsuccessful. My decades of advice had fallen on deaf ears."
He also wrote that he tried to reform Jamaat "from within" ever since he joined the party.
"I appealed to bring fundamental changes to Jamaat's objects, plans and programmess in view of the change in world politics. As usual, there was no response.
"I was for structural reform, and full and effective participation of women."
"Jamaat has failed to rise to the challenge of representing the young Bangladeshi citizens," said the lawyer, who defended Jamaat leaders like Ghulam Azam, Motiur Rahman Nizami, Delwar Hossain Sayedee, Ali Ahsan Mohammad Mojaheed, and Abdul Quader Mollah at the International Crimes Tribunal.